45 Years Ago: Buffalo Springfield And Eric Clapton Busted In Topanga Canyon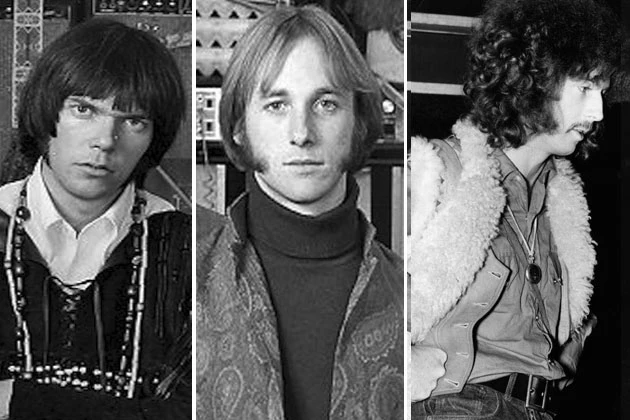 On March 20, 1968, a genuine rock and roll all star bust went down. At the home of then girlfriend of Stephen Stills, nestled in the legendary Topanga Canyon of California, members of Buffalo Springfield were getting a little out of hand.
Members of the band — Neil Young, Jim Messina, Richie Furay and Stephen Stills — were having a jam session with pal Eric Clapton. Though warned to cut the volume, the loud sounds carried on and ultimately caused a nearby neighbor to call the police.
"They were partyin…the Marshall amps were stacked," friend Linda Stevens recalled to Jimmy McDonough in the Neil Young biography 'Shakey,' "Clapton and Stephen were playing so loud the mountains were ringing. One of the neighbors didn't think it was so cool." Band member Dewey Martin had already left the house when, on his way down the road, saw a police car heading to where he just left. "It was too late to warn the band," he said. As police arrived, band members and friends tried valiantly to dispose of any illegal substance.
"Being the road manager, they handed it all to me" said Chris Sams, "I tried to flush is down the toilet and the toilet backed up. The cops came running in the bathroom and I'm sitting there looking at this pot floating around." Everyone there was arrested. Well, everyone except Stills, who managed to crawl out of a window and escape. The rest were hauled off to jail where, according to Jim Messina, Eric Clapton's long hair and manner of dress (including pink boots) amused the cops."They set him out front of us to humiliate him," said Messina, "It was a time when long hair was not cool."
Stills, in the meantime, already had phoned attorneys for his friends. All those arrested were found guilty only of disturbing the peace. Both Clapton and Young avoided any deportation threat, while road manager Sams received a fine of $300 and a three month probation.
Source:
45 Years Ago: Buffalo Springfield And Eric Clapton Busted In Topanga Canyon