Humble Pie's 'Rockin' the Fillmore' Gets Boxed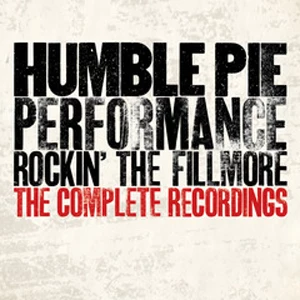 Humble Pie's 1971 double live album 'Performance: Rockin' the Fillmore' finally broke the British rock band in the U.S. after a couple years of missing the charts. The record reached No. 21 and gave the band the shot it needed to push forward.
On Oct. 29, an expanded version of that album will be released as a four-disc box set that gathers all four shows at New York's legendary Fillmore East from which the original 1971 record was culled.
Humble Pie — featuring Steve Marriott, Peter Frampton, Greg Ridley and Jerry Shirley — had already released four albums and a handful of singles when they played the Fillmore on May 28 and 29, 1971. They tore through four shows, blazing songs like Dr. John's 'I Walk on Gilded Splinters' (which they stretched out to more than 25 minutes onstage) and 'I Don't Need No Doctor,' originally recorded by Ray Charles, with blues-rock intensity. (The live version of 'Doctor' became the band's first hit, peaking at No. 73.)
The new box collects the entire run of shows and includes the original album's seven songs plus 15 previously unreleased performances. None of the tracks from the first show made it to the 1971 LP. The box set's remastered mix was supervised by Shirley and Frampton, who says in a press release, "It's like a breath of fresh air ."
Humble Pie's 'Rockin' the Fillmore' Track Listing
Disc One (05/28/71 Friday, First Show)
1. 'Four Day Creep'
2. 'I'm Ready'
3. 'I Walk on Gilded Splinters'
4. 'Hallelujah (I Love Her So)'
5. 'I Don't Need No Doctor'
Disc Two (05/28/71 Friday, Second Show)
1. 'Four Day Creep'
2. 'I'm Ready'
3. 'I Walk on Gilded Splinters'
4. 'Hallelujah (I Love Her So)'
5. 'Rollin' Stone'
6. 'I Don't Need No Doctor'
Disc Three (05/29/71 Saturday, First Show)
1. 'Four Day Creep'
2. 'I'm Ready'
3. 'I Walk on Gilded Splinters'
4. 'Hallelujah (I Love Her So)'
5. 'Stone Cold Fever'
Disc Four (05/29/71 Saturday, Second Show)
1. 'Four Day Creep'
2. 'I'm Ready'
3. 'I Walk on Gilded Splinters'
4. 'Hallelujah (I Love Her So)'
5. 'Rollin' Stone'
6. 'I Don't Need No Doctor'
Source:
Humble Pie's 'Rockin' the Fillmore' Gets Boxed