10 Great Classic Rock Merle Haggard Covers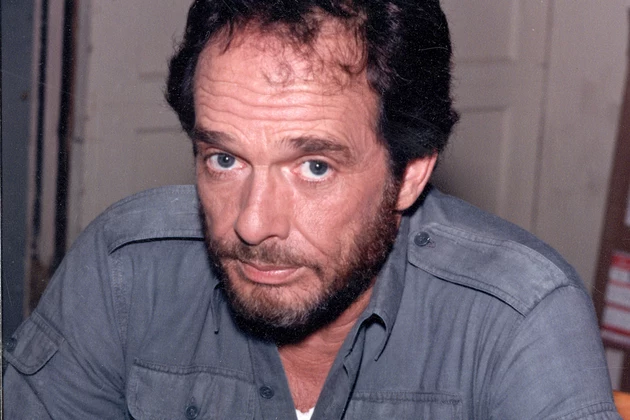 Honky-tonk hero Merle Haggard's death yesterday (April 6) impacted more than just the country-music community. His influence reached deep into the rock realm, too.
Some of it had to do with attitude. After all, he was the original country outlaw; Johnny Cash once reportedly paid tribute to Haggard by saying that he was "what they all think I am." Don't forget it was Haggard, not Cash, who did hard time before becoming a big star. He came by his badass image honestly. Then, there was country music's role as a key building block in rock 'n' roll history. Early legends like Elvis Presley and Carl Perkins played something best described as R&B with a down-home twang.
Merle combined all of that, creating a rough-and-ready sound that inspired plenty of rockers over the years. Here are just a few of the legends – including the Byrds, Lynyrd Skynyrd, Keith Richards, the Grateful Dead and John Fogerty – who have memorably covered Merle Haggard.
Lynyrd Skynyrd
"Honky Tonk Night Time Man"
The boys from Jacksonville, Fla., undoubtedly soaked up plenty of country sounds in their formative years, and it had a major effect on their music. Southern rock itself couldn't really exist without a hefty dose of country twang, and these guys were the genre's standard-bearers. Merle Haggard was the only artist other than J.J. Cale ever covered by the original lineup, and it's easy to hear why this ode to the hard-living, hell-raising night life found its way into their repertoire.
Psychedelic sojourns aside, the Grateful Dead were nothing if not roots-conscious. After all, they started out as a jug band before LSD entered their world. There are plenty of country covers (not to mention countrified original tunes) in their vast repertoire, but Merle was a California cowboy, so this Bay Area bunch was bound to feel simpatico with him. Haggard's classic tale of a regretful outlaw was a beloved part of Dead sets for years.
After making history with their hit-making folk-rock amalgam in the mid '60s, the Byrds famously fused rock and country, aided by new arrival Gram Parsons. Their 1968 album Sweetheart of the Rodeo is the Old Testament of the country-rock movement. That's Parsons himself you hear taking the mic on Merle's mournful jailbird tale, his lonesome tones lending an extra dash of anguish to the tune.
The Rolling Stones may have been more famous for covering classic blues tunes, but they always loved a good country song too. On this studio outtake from a 1977 session in Toronto, you can hear how deeply Keith Richards took Haggard's tragic-but-transcendent tale of a man on death row. With only a piano and his own ragged-but-right pipes, Keith brings the song to life in a way that could wet the eyes of the toughest customer.
George Thorogood
"Living With the Shades Pulled Down"
George Thorogood may not be the first name that comes to mind when you think of country music, but he has always had a huge soft spot for songs about the seamy side of life. So, when George sings "I fell in love with a working girl" at the opening of this Haggard tune, it's clear that he isn't talking about entering into an affair with a secretary. (And just in case you were wondering, yes, there's a sax on the original too.)
You might not be familiar with this group of scrappy, sleazy West coast rockers, but the legendary Lemmy Kilmister thought enough of Throw Rag to share the vocal duties on one of their tracks. And what would suit an epic imbiber like Motorhead's late frontman better than one of the world's most enduring drinking songs from the pen of the master?
Jorma Kaukonen
"More Than My Old Guitar"
Kaukonen may have blown minds when he plugged in and tripped out with the Jefferson Airplane, but he always had his unplugged, rootsy side too – as heard on some of the band's acoustic ballads. In later years, Jorma embraced his roots even more fully, finding room on his 2009 album River of Time for this relatively obscure Haggard song.
After he helped lead the Byrds into the cosmic-cowboy kingdom, Gram Parsons did the same with his own band, the Flying Burrito Brothers. He split during the sessions for their third album, but these seminal country-rockers continued down their chosen path. And what better song to help speed them on their journey than this one from Merle Haggard?
John Fogerty
"Today I Started Loving You Again"
After Creedence Clearwater Revival fell apart, John Fogerty got in touch with the twangier side of his influences by cutting an entire album of old-school country tunes. The album was initially released simply under the name Blue Ridge Rangers, with Fogerty's name absent from the artwork in order to separate himself from the CCR mythos. When you hear his pipes settling into Merle's anthem of heartache, however, there's no doubt who you're listening to.
As the driving force behind Country Joe and the Fish, Country Joe McDonald's rise to prominence in the San Francisco psychedelic scene of the '60s was solidified by his band's appearance in the Woodstock documentary. He never left his folkie side far behind though, and the acoustic front-porch feel McDonald lends to this wry, good-humored cut from Merle Haggard's songbook shows he still knew his way around a down-home tune.
Source:
10 Great Classic Rock Merle Haggard Covers