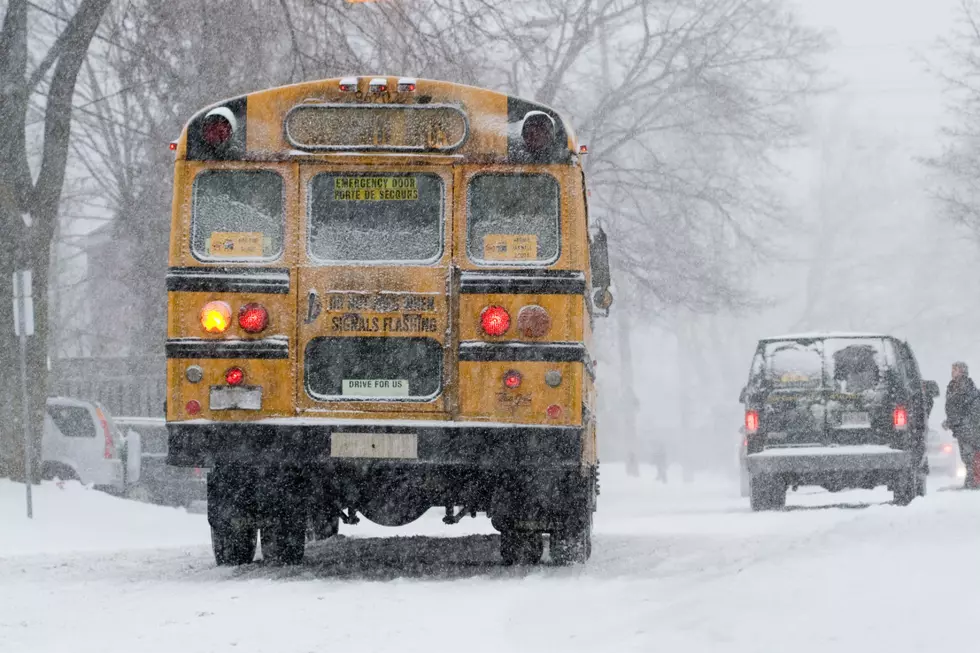 Storm Closings + Cancellations: Friday, Nov. 16, 2018
Roger Mcclean, ThinkStock
The first big storm of the year is here, and it's causing some schools and businesses to close early or cancel altogether.
Although it's not the first snow of the year, it's the first time we've posted cancellations. Remember to take it easy today and give yourself plenty of time to get to your destination. Consider putting at least some of the winter emergency kit items in your vehicle. (if you haven't put the kit together already) Fully charge your cellphone before leaving the house and program in emergency numbers, just in case you end up needing assistance.
Here's our list of cancellations and closings so far today. Remember to check back often, as we'll be updating the list throughout the day.
5 Town CSD - closed
All Saints Catholic School - closed
AOS 77 - closed
AOS 90 - closed
AOS 91 - closed
AOS 96 - closed
Athens Community School - closed
Augusta Schools - closed
Bangor Christian Schools - closed
Bangor Montessori School - closed
Bangor School Department - closed
Beatrice Rafferty School - closed
Beech Hill School - closed
Blue Hill Harbor School - closed
Brewer School Department - closed
Calais Day Treatment - closed
Calais Elementary School - closed
Calais Middle/High School - closed
Center Drive School in Orrington - closed
Cherryfield Elementary School - closed
Child Development Service PEDS - closed
Cobscook Experiential Program High - closed
Cornerspring Montessori - closed
Cornville Regional Charter School - closed
CSD 8 Airline Community School - closed
Dedham Elementary School - closed
Dirigo Montessori - closed
Dr. Lewis S. Libby school - closed
East Millinocket/Medway School dept - closed
East Range II - closed
Edmunds Consolidated School - closed
Edna Drinkwater School - closed
Ellsworth Schools and Adult Education - closed
Erskine Academy - closed
Glenburn School Department - closed. Afternoon parent conferences will be rescheduled
Hancock Grammar School - closed
Harmony School - closed
Hartland Christian School - closed
Helen S. Dunn School - closed
Hermon School Department - closed
Highview Christian Academy - closed
Husson University's Bangor and Southern Maine campuses - closed
Indian Township School - closed
John Bapst Memorial High school - closed and afterschool activities canceled
Jonesport Elementary School - closed
Kennebec Valley Community College - closed
Lamoine Consolidated School - closed
Lee/Winn Elementary School - closed
Lincoln Montessori - closed
Maine Academy of Natural Sciences in Hinckley - closed
Maine Maritime Academy - closed
MDI School Department/AOS 91 - closed
Milford School Department - closed
Millinocket School Department - closed
Mt. Jefferson Junior High School - closed
Penobscot Christian School - closed
Princeton School - closed
RSU 2 - closed
RSU 3 - closed
RSU 18 - closed
RSU 19 - closed
RSU 20 - closed
RSU 22 - closed
RSU 24 - closed
RSU 25 - closed
RSU 26 - closed
RSU 34 - closed
RSU 37 - closed
RSU 54 - closed
RSU 63 - closed
RSU 64 - closed
RSU 67 - closed
RSU 68 - closed
RSU 71 - closed
RSU 74 - closed
RSU 78 - closed
RSU 83/SAD 13 - closed
RSU 87/SAD 23 - closed
SAD 4 - closed
SAD 28 - closed
SAD 30 - closed
SAD 31 - closed
SAD 41 - closed
SAD 46 - closed
SAD 53 - closed
SAD 58 - closed
SAD 59 - closed
Sensational Minds Early Learning Academy - closed
Southwest Harbor Public Library - closed
Spurwink School, Cornville - closed
Stillwater Academy - closed
Stillwater Montessori - closed
St. Michael School - closed
Temple Academy - closed
UMA Augusta and Bangor Campuses - closed
UMA Dental Hygiene Clinic - closed
Union 69 - closed
Union 76 - closed
Union 93 - closed
United Technologies Center - closed
Unity College - closed
University of Maine at Machias - classes are cancelled. Merrill Library and Reynolds Center are also closed
Vassalboro Community School - closed
Veazie Community School - closed
Waldo County Technical Center - closed
Washington County Community College - closed
Waterville Schools - closed
Winslow Public Schools - closed
Woodland Elementary School - closed
Woodland Junior High School - closed
Bangor First United Methodist Church - closed
Bangor Housing - closed
Belfast District Court - Opening at 10 a.m.
Bradley Town Offices - closed
Charlotte Hobbs Memorial Library
Charleston Town Offices - closed
Child Development Services Downeast in Ellsworth and Machias - closed
Child Development Services Two Rivers in Brewer, Dover, and Stepping Stones - closed
ESM Whole Life Community Support Center - closed
Hampden Recreation Department and Skehan Recreation Center - closed
Hampden VFW - closed
Knox County Superior Court - Opening at 10 a.m.
KV Cap Transportation - closed except for urgent care and dialysis
Maine District Court - Waterville District court closed
Momentum Inc. in Hampden - closed
Partners for Peace - Offices closed
Penquis Transportation - closed, except for dialysis customers
Pleasant Point Health Center - closed
Pleasant Point Tribal Government - closed
Rockland District Court - closed
Samaritan Inc. Food Pantry - closed
Somerset County District/Superior Courts - closed
Southwest Harbor Public Library - closed
Special Children's Friends - closed
Waldo County Non-essential Government Offices - delayed 2 hours
Wellspring, Inc. - closed
More From WWMJ Ellsworth Maine