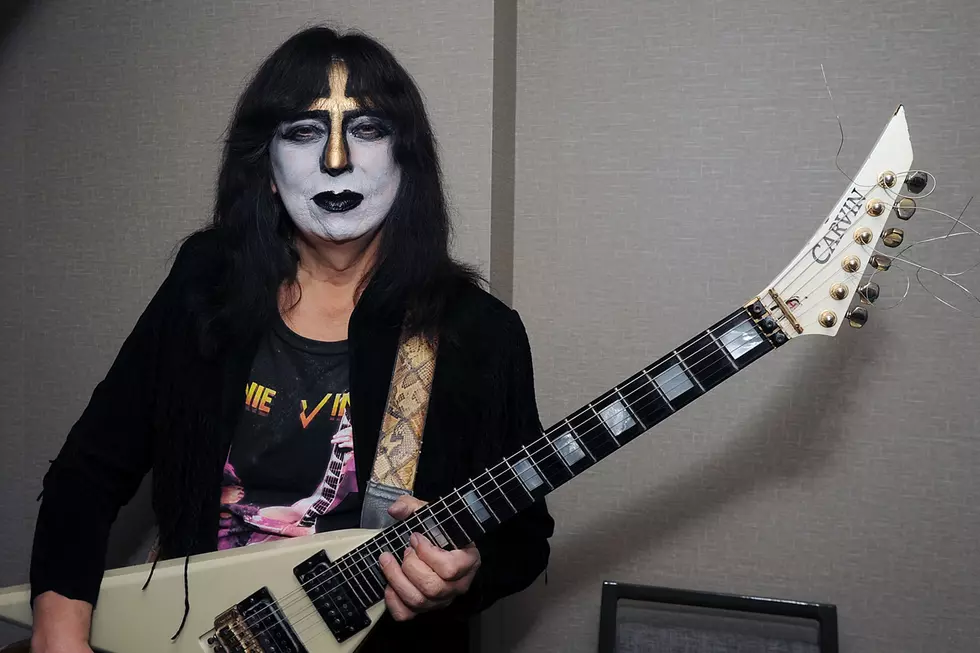 Vinnie Vincent Announces and Cans New Singer Within a Week
Bobby Bank, Getty Images
When Vinnie Vincent premiered his long-awaited new album Judgment Day (Guitarmageddon Pt. 1) in Nashville on May 19 and 20, it seemed like the mercurial ex-Kiss guitarist was finally ready to hit the ground running after decades away from the spotlight.
And then, in classic Vincent fashion, his plans changed in a flash.
The album listening party at Nashville's Starstruck studio featured a full-band performance, with vocal duties split between original Vinnie Vincent Invasion singer Robert Fleischman, who sang on the band's 1986 self-titled debut and Judgment Day, and newcomer Scott Board, who fronts the hard-rock cover band Bad Romeo and the original band No Love Lost. Vincent reportedly introduced Board as his new lead singer at the event and told the fans in attendance that the two had a lot of exciting plans in the works. But within roughly a week, Vincent backtracked on his lead singer reveal and said he was still searching for the right person for the job.
The confusion was documented in a series of posts on the Vinnie Vincent Legion Facebook group. "My moment of happiness was jammin' it out with my new singer Scott Board in our first studio shred performance on some of my favorite songs," Vincent wrote on May 23. "For me, the best time playing with a singer I've had since Rob and I cut the [first Vinnie Vincent Invasion] record." He also saluted Board, writing, "You da man! My friend, here's to us! I raise my glass to you. And it's only the beginning, my friend."
Shortly afterward, it was also the end.
On May 29 — six days after his initial announcement — Vincent (or his team) issued another statement claiming he was not moving forward with Board. "Vinnie has not officially chosen a singer at this point and has decided to keep looking," the statement said. "Any affirmative wording regarding a vocalist is misconstrued. Anyone claiming that prized position is incorrect and should immediately cease from promoting that belief and narrative to others."
Vincent followed up with the news that he was "auditioning singers for a new tour and record" and encouraged hopeful vocalists to submit auditions.
Board addressed the flip-flop in a lengthy Facebook post on Monday. "As a lifetime Kiss fan, I was very humbled and honored to be asked to join forces with Vinnie Vincent," he began. "Not only to sing with him at his album listening party last weekend in Nashville but I was also asked by Vinnie to become his new lead singer a few weeks ago after hearing my vocals on a number of his songs along with samples of some of my other performances."
The singer and guitarist reportedly bonded over their "love of the old blues artists" and "'old-school' type attitude," and Board said Vincent wanted to re-record the Invasion's 1988 sophomore album All Systems Go with him and collaborate on new material. The guitarist shared these plans at the Nashville listening party, where he touted Board as his new singer.
Board said he "really wanted to support Vinnie as a fan and as a friend to help get him back out into the music scene in a 'positive' way and felt I could be a good influence."
Things seemed to be looking up for Vincent and Board, as they "were in contact with each other about plans for me to come out and start re-recording ASG as recently as last week, a day after he released to the press about me being his new singer." But from that point on, Board said he received radio silence from the guitarist and his camp.
"The next thing I know, I received a message from a friend stating Vinnie had released a new statement that he had not named a new singer and that the prior message about me being his new vocalist was misconstrued," Board wrote. "I was never contacted by Vinnie or anyone in his camp advising that anything was wrong nor was I ever informed I was no longer the singer for Vinnie. This came totally out of the blue and I'm still scratching my head as to what exactly happened. I didn't go into any of this blindly or without knowledge of the history surrounding this artist, but I honestly didn't think this would have happened at this juncture of the journey."
Despite apparently losing his lead singer gig within a week, Board said he "will continue to wish Vinnie all the best going forward and continue praying for him just as I have from the very beginning and throughout this whole process. I hope my fans and his will do the same. I wish nothing but the best for him. In the end, I look at it as an extraordinary opportunity that I'm very grateful to have experienced."
In the meantime, Board will continue to play shows with Bad Romeo and is readying the release of No Love Lost's new album, Last Call, in August. Vincent, meanwhile, said he'll be sending Judgment Day to the pressing plant imminently. The album features vocals from Fleischman and will mark Vincent's first proper release since 1996's Euphoria EP.
Kiss Lineup Changes: A Complete Guide
An in-depth guide to all of the personnel changes undergone by the "hottest band in the land," Kiss.
More From WWMJ Ellsworth Maine