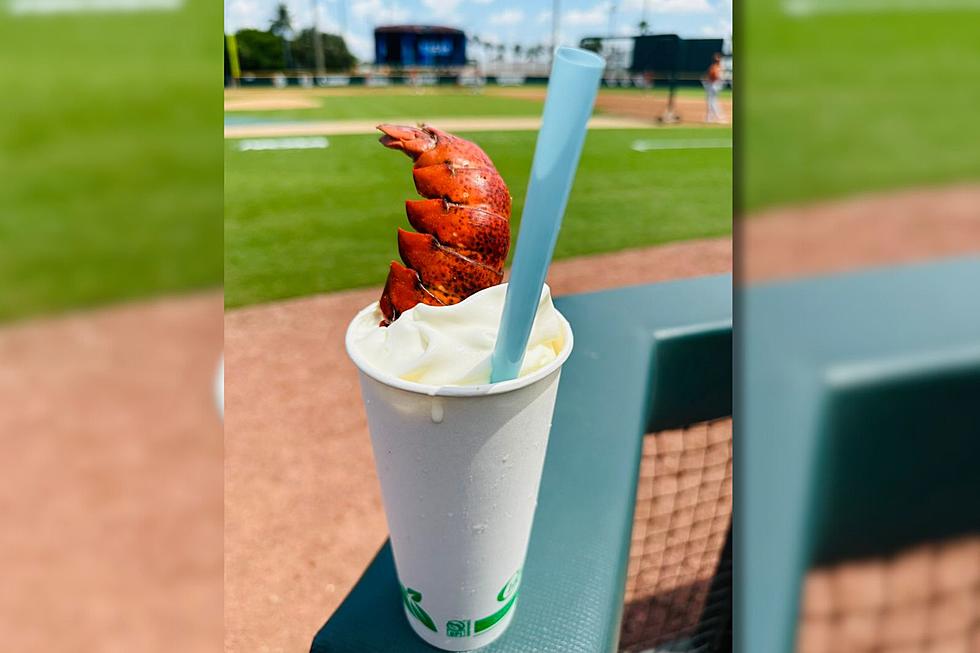 Would You Try This Maine Lobster Milkshake?
Credit: MarkLightShake on Twitter
NCAA baseball fans were treated to an unconventional delight this past weekend in Coral Gables, FL. The Maine Black Bears traveled down south to participate in the NCAA Men's College World Series, being matched up against the hosting University of Miami Hurricanes. To commemorate the occasion, a unique concoction known simply as the Maine Butter Lobster milkshake was made available. It instantly captured the attention and taste buds of the crowd, as well as social media. 
The news of this peculiar milkshake quickly spread across social media when food journalist Kari Steele, renowned for her coverage of unique ballpark culinary offerings, shared her discovery on Twitter. Steele's tweet describing the vanilla lobster milkshake at Miami Hurricanes baseball games amassed over 300,000 views, leaving folks back home in Maine scratching their heads in disbelief. 
It seems, however, that the popularity of this unlikely combination surpassed even its own expectations. Mark Light Shake, the exclusive shake shack available only at University of Miami baseball games, was forced to announce the regrettable news that the lobster shakes had completely sold out, giving major FOMO to those late to the party.
Mark Light Shake is known for concocting regional shakes in honor of visiting, opposing teams. Over the weekend, they also offered a Louisiana Tabasco flavor, as well as a Texas BBQ Brisket milkshake.
For those of us in the Pine Tree State, the notion of lobster and vanilla blending together may seem more like an experimental kitchen mishap than a culinary revelation. Yet, it's a testament to the diverse and adventurous nature of food culture that such combinations can find an audience and spark intrigue. 
While the Miami Hurricanes showcased their dominance against the Black Bears with a resounding 9-1 tournament victory, the Maine Butter Lobster milkshake stole some of the spotlights. 
While Maine did not win the College World Series this year, at least we got something that we'll never forget: a reminder of the power of culinary exploration and how food can connect people across different regions. 
And that's what's really important.
LOOK: 20 American foods that raise eyebrows outside of the US
Stac



ker
compiled a list of 20 unusual and uniquely American foods that might raise eyebrows outside the U.S.
More From WWMJ Ellsworth Maine