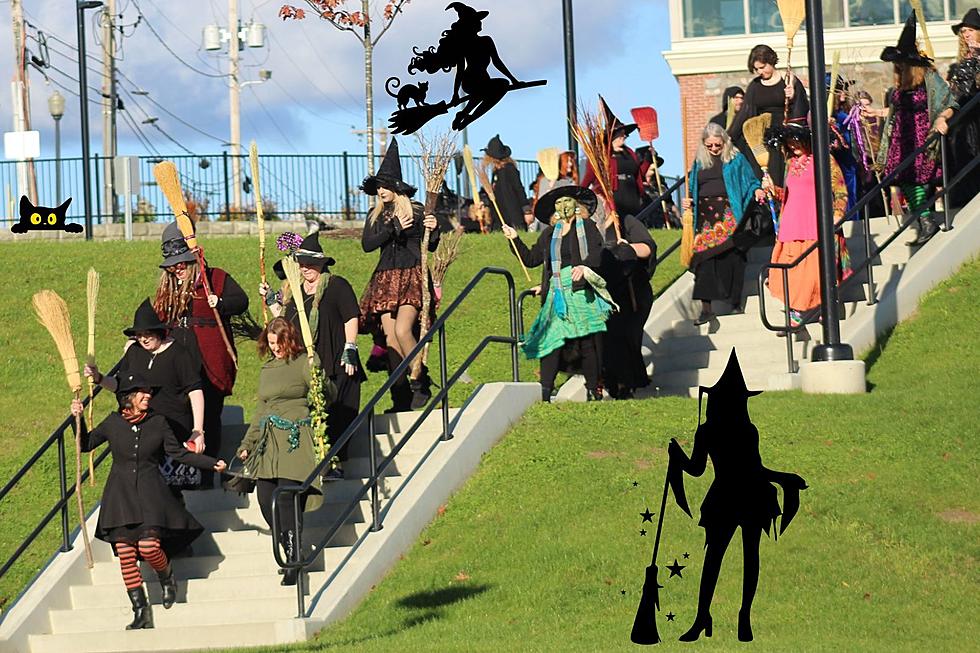 Like Magic, 2023 Maine Witch Walk is Moved to Bangor's Waterfront
Cindy Campbell, Townsquare Media Bangor
Response to the 2023 Maine Witch Walk has been so great that organizers have moved it to Bangor, where there's more room to dance.
What is the Maine Witch Walk?
As a Brewer Witch, I'm thrilled to see this fun pre-Halloween event return. It's a chance to let loose, let out your inner witch or warlock, and celebrate the season. The walk is great fun and includes an easy, choreographed witch dance that is a sight to see. I was there, on the Bangor waterfront, in 2019 and captured video of the dance.
Is There More Going On Than Just the Dance?
This year's Maine Witch Walk has been moved back to Bangor, but will start in the Tozier's parking lot on South Main Street in Brewer. Everyone, all ages, can dress up and take part in an event that's just about having fun and celebrating the season. The response to the event has been awesome, already, and so it's been moved to Bangor to allow more people to kick up their witchy boots. And there's a lot more going on this year than just the dance.
Hosted by Charmed in Brewer and Chris Packard, author of 'Mythical Creatures of Maine,' this year's Maine Witch Walk will be held on October 28th, 2023 from 1 until 4 in the afternoon. Costumed participants will walk across the Joshua Chamberlain Bridge and continue to the Bangor Waterfront, where the dance and other activities will take place in Waterfront Park. Specifically, the dance will be held at the compass rose on Front Street, which is on that bend in the road, next to Maine Savings Amphitheater. Chris says the fun doesn't end there.
After the dance, there will be some brief remarks and a story, followed by a short singing presentation by Women With Wings, a local singing circle. Following that, there will be a community drum circle. Participants can borrow a drum or bring their own.
In addition, the Halloween Goblin Market will be set up along Bangor's Waterfront Park between 1 and 4 p.m., with 30 vendors, authors, card readers, and psychics. A portion of the proceeds from the event will be donated to the Bangor Homeless Shelter.
Where Can I Get Updates As We Get Closer to the Date?
More information about the plans will be posted on the 2023 Maine Witch Walk Facebook page and on the Maine Witch Walk website, as the date gets closer. Grab your broom, pointy hat, and black clothes, and get ready to make some magic.
What Are the Signature Drinks From Every State?
LOOK: 25 must-visit hidden gems from across the US
From secret gardens to underground caves,
Stacker
compiled a list of 25 must-visit hidden gems from across the United States using travel guides, news articles, and company websites.
KEEP READING: What were the most popular baby names from the past 100 years?
More From WWMJ Ellsworth Maine