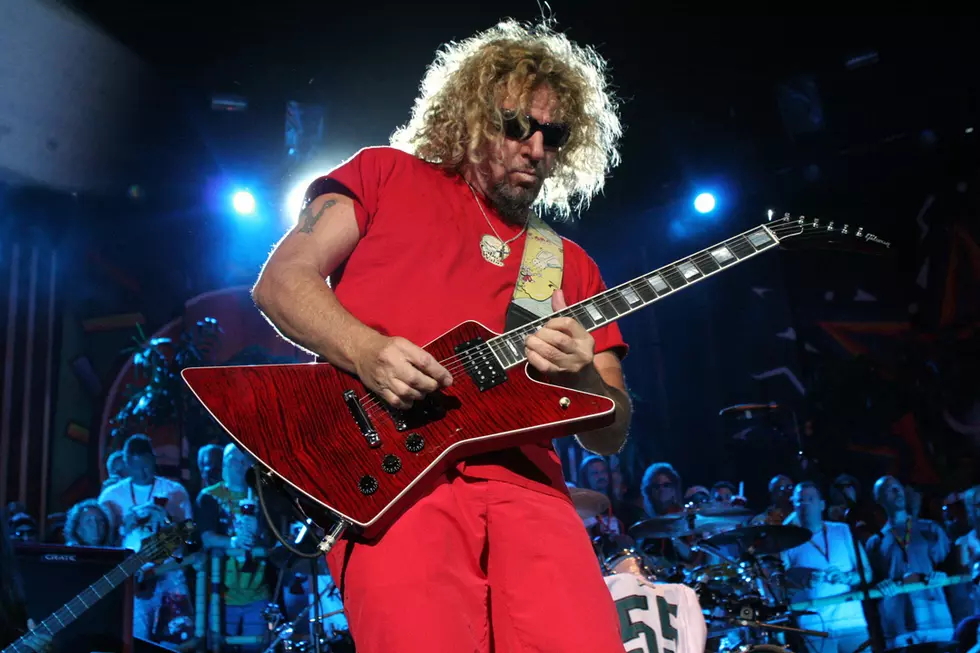 Top 10 Post-Van Halen Sammy Hagar Songs
Bill McCay, Getty Images
As our list of Sammy Hagar's best post-Van Halen songs demonstrates, anybody expecting the Red Rocker to quietly fade away after his unceremonious 1996 dismissal from the group was in for a big surprise.
Decades later, it's clear Hagar handled the transition back to solo artist just fine, releasing eight albums under his own name or with his new backing group, the Wabos, while his former bandmates managed just two new records (1998's III and 2012's A Different Kind of Truth) during the same period. He also teamed up with instrumental guitar superstar Joe Satriani, Red Hot Chili Peppers drummer Chad Smith and another Van Halen alumni, bassist Michael Anthony, for two well-received Chickenfoot records.
Hagar then began touring with Anthony, Wabos guitarist Vic Johnson and drummer Jason Bonham in a new group called the Circle. In fact, the only time he's admitted to being miserable was during the doomed 2004 reunion with Van Halen that produced three uninspired new songs for the Best of Both Worlds compilation.
The Top 10 Post-Van Halen Sammy Hagar Songs list pulls tracks from nearly all of these eras, and makes it apparent the Red Rocker can flourish in whatever situation he finds himself.
10

"Turnin' Left"

Chickenfoot

From: 'Chickenfoot' (2009)

This quicksilver little gem of a riff-rocker was buried deep on Chickenfoot's somewhat underrated first album. In addition to maintaining a frantic pace alongside drummer Chad Smith, bassist Michael Anthony proves that he and Hagar still share a special vocal chemistry, bringing to mind their work on Van Halen's For Unlawful Carnal Knowledge.

9

"Things've Changed"

Sammy Hagar and the Waboritas

From: 'Not 4 Sale' (2002)

One of the draws here is the guitar nod to Bob Seger's "Night Moves," and it's a great example of the earnestness Hagar brings to his best ballads. Interestingly, this track was penned by Hagar's longtime keyboardist Jesse Harms, who also played on David Lee Roth's Eat 'Em and Smile.

8

"The Message"

Sammy Hagar and the Waboritas

From: "Ten 13" (2001)

This dramatic, progressive-leaning song, another Jesse Harms composition, echoes Van Halen's "Mine All Mine" and "Right Now" thematically, with Hagar preaching the importance of self-awareness. He also makes the most of his chance to play guitar again, delivering one of his most soaring solos ever.

7

"High and Dry Again"

Sammy Hagar and the Waboritas

From: 'Red Voodoo' (1999)

Red Voodoo could have been titled How Sammy Got His Groove Back. He was already twice as productive in terms of LP output as his former band, and for his first effort with the Waboritas, he sounded relaxed, ready to party – see first single "Mas Tequila" – and overflowing with big irresistible choruses like the one featured on this warm, soul-infused bedroom plea.

6

"Down the Drain"

Chickenfoot

'Chickenfoot' (2009)

The only song written by all four members of Chickenfoot, "Down the Drain" is a dirty, sleazy piece of improvised mayhem. It's the track on their debut album where they feel most like a band and less like four artists feeling their way through a studio session. After Hagar opens the song by complimenting the track's chunky riff, Joe Satriani shows he knows how to serve a group dynamic rather than simply displaying his impressive skills.

5

"Leaving the Warmth of the Womb"

Sammy Hagar

From: 'Marching to Mars' (1997)

One of the surprises Hagar had for his first post-Van Halen album was a reunion with the original members of his first band, Montrose, who hadn't done a song together in more than 20 years. It's a sublime, dynamic number, toggling back and forth from acoustic to electric settings with some typically inspired playing by Ronnie Montrose. It was a welcome return, even if it was for just one track.

4

From: 'Chickenfoot III' (2011)

Chickenfoot's second album was a much more cohesive and diverse work than the first, with the chemistry the group built on tour shining brightly, despite the album being made on the fly due to the members' demanding outside schedules. Somehow, III also manages to sound even more fun, particularly on this late-era Zeppelin-influenced number, where Hagar imagines himself a rich man with "More change in my pocket than your boyfriend will ever make." Given his business ventures outside of music, he might not be too far off the mark.

3

From: 'Cosmic Universal Fashion' (2008)

Name-checking classics from Led Zeppelin, Van Halen and the Runaways, this track is a pure roar of Hagar fun. He also invited some of his best friends -- the Cult's Billy Duffy on guitar, Matt Sorum on drums and the ever-reliable Michael Anthony on bass -- along for the party. Their backing vocals make "LOUD" feel like a jam down at the corner bar … which is probably how it came to be in the first place.

2

"Make It Alright"

Sammy Hagar and the Waboritas

From: 'Not 4 Sale' (2002)

Hagar is often at his best when he's at his most simplistic. There's nothing particularly flashy or fancy here, just a great rock song with a catchy chorus that you can't help singing along to by the second time it comes around.

1

"Little White Lie"

Sammy Hagar

From: 'Marching to Mars' (1997)

"Little White Lie" is the quintessential post-Van Halen Sammy Hagar song, and served as the perfect opening salvo for his solo resurgence. This thinly veiled kiss-off to his former bandmates finds him spitting out angry verses with such passion that it's hard not to get caught up in the bravado. It's also one of his most sophisticated, textured songs, using acoustic guitars, a bluesy harmonica solo and stabbing electric chords to build an impressive amount of intensity in less than three minutes.
More From WWMJ Ellsworth Maine