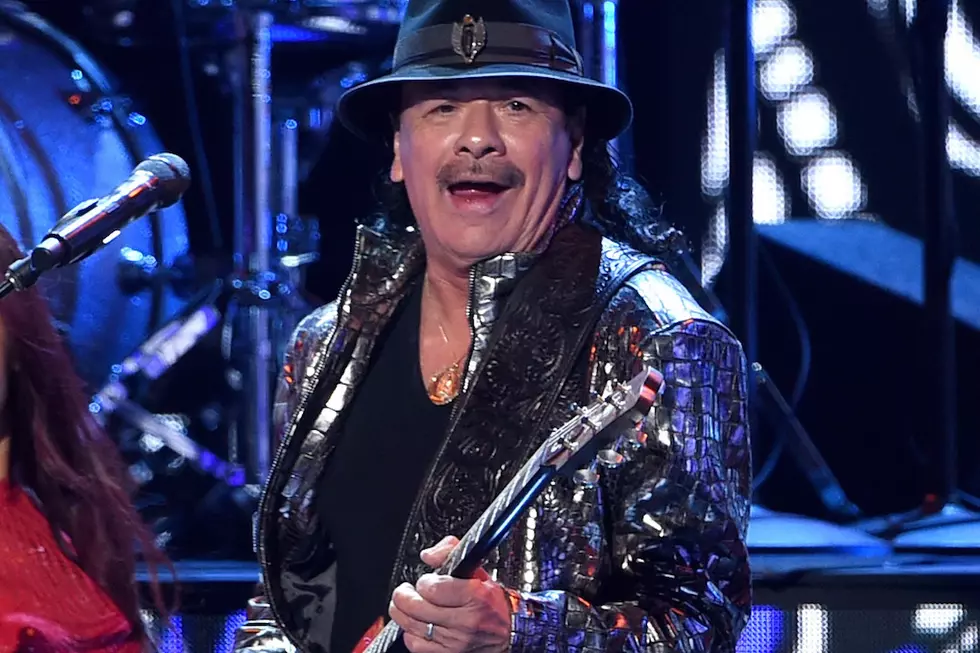 How Santana Reached New Commercial Heights With 'Supernatural'
Ethan Miller, Getty Images
If you had followed Santana from the time of their legendary Woodstock performance and 1969 self-titled debut record, there is a very good chance that you might not have believed that it was the same group behind 1999's multi-platinum release Supernatural.
Times were lean for Carlos Santana. Although he faithfully continued to release music long after the Woodstock generation had grown up and were tending to their families, his commercial appeal had long dwindled as the turn of the century approached.
In a 2000 interview with Rolling Stone, the guitarist admitted that he would probably "be a hobo" if it wasn't for his wife who, in 1994, helped reorganize the business side of his life. At her suggestion, Santana arranged a meeting with Clive Davis, the record executive who had originally signed him to Columbia in the '60s.
Santana told Davis that he wanted "to reconnect the molecules with the light," and make new music that would win him favor with a younger audience.
"I blueprinted the architectural plan for the album," Davis said in the Rolling Stone interview. "And that was having half the album be vintage Santana, in the spirit of 'Oye Como Va,' which he wanted for himself, and the other half I proposed was those organic collaborations that would not be a compromise of his integrity but also be calculated to serve him at radio."
Davis then culled a list of guest stars and songwriters -- including Matchbox Twenty's Rob Thomas, Eric Clapton and Dave Matthews -- to collaborate with the guitarist. Given Davis' history of hit-making, it should come as little surprise that his formula for Supernatural would make the record the biggest of Santana's career.
Watch Santana's Video for 'Smooth'
Released on June 15, 1999, the album went on to sell 15 million units in the United States alone, while also earning the guitarist eight Grammy Awards. "Smooth," the record's first single featuring vocals by Thomas, held down a position within the Top 10 for more than 30 weeks. Billboard eventually proclaimed the track to be the No. 1 song of the rock era.
Regardless of the song's massive popularity, it didn't stop rockers like Mastodon's Brent Hinds being open with their distaste of the song. "It's just like someone taking a carrot peeler and gouging it into your ears and skinning your ears," he said in 2013. "It's just — ech! Just talking about it I'm cringing."
Interestingly, in his interview with Rolling Stone, Santana owned up to the fact that he was chasing a hit record, noting, "I'm not at all into becoming a twilight-zone jukebox prisoner of the '60s." Safe to say Santana accomplished his mission with flying colors with Supernatural, arguably much to the distaste of his long-time fans.
The AV Club perhaps summed up the predicament of the record the best. "If you cared about Santana before Supernatural' you were precisely the audience that Supernatural was intended not to reach. In fact, if you cared about Santana before Supernatural, you probably hated Supernatural."
Where his debut record and 1970's Abraxas – in the true spirit of the Woodstock generation – were chock full of songs that seemingly knew no boundaries and thrived on a certain type of musical freedom, Supernatural just played things a little too safe.
See Santana and Other Rockers in the Top 100 Albums of the '70s