ZZ Top and Jeff Beck Announce Summer 2014 Tour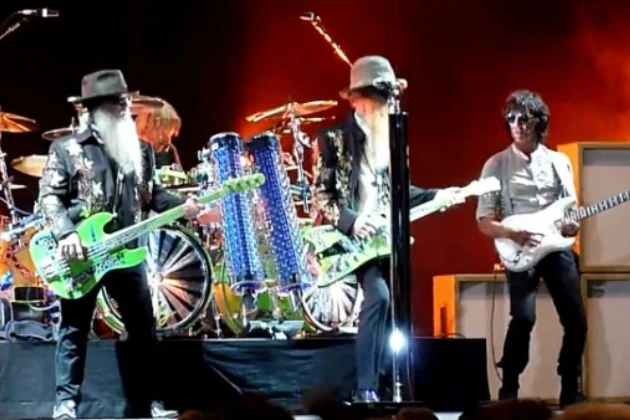 Guitar lovers, prepare yourselves for a live music feast: Jeff Beck and ZZ Top are going on tour together this summer.
The co-headlining dates, which are set to kick off in August and run through September, find the two acts traversing the U.S. while slinging riffs in a setup that will see Beck kicking off the evening, followed by ZZ Top, and concluding with a concert-concluding team-up. Although they hail from geographically far-flung locations, the U.K.-born Beck and his Texas-bred tourmates are a match that makes perfect musical sense.
Beck, who will be touring in advance of his upcoming new studio LP, referred to ZZ Top guitarist Billy Gibbons as "the Professor of Grunge" and added, "Ever since 'Eliminator,' I thought it would be great to play with ZZ Top."
Gibbons returned the compliment, adding, "Ever since experiencing 'Jeff's Boogie,' the prospect of performance with Jeff Beck on the deck brings us into focus with the curator of crunch."
Jeff Beck and ZZ Top Summer 2014 Tour Dates:
8/08 — Missoula, Mont.
8/09 — Woodinville, Wash.
8/10 — Eugene, Ore.
8/12 — Saratoga, Calif.
8/13 — Los Angeles, Calif.
8/15 — Murphys, Calif.
8/16 — Las Vegas, Nev.
8/20 — Englewood, Colo.
8/22 — Oklahoma City, Okla.
8/23 — Kansas City, Mo.
8/24 — Maryland Heights, Mo.
8/27 — Clarkston, Mich.
8/28 — Highland Park, Ill.
8/31 — Mashantucket, Ct.
9/02 — Boston, Mass.
9/03 — Columbia, Md.
9/04 — Wantagh, N.Y.
9/06 — Alpharetta, Ga.
9/07 — St. Augustine, Fla.
9/12 — The Woodlands, Texas
Source:
ZZ Top and Jeff Beck Announce Summer 2014 Tour