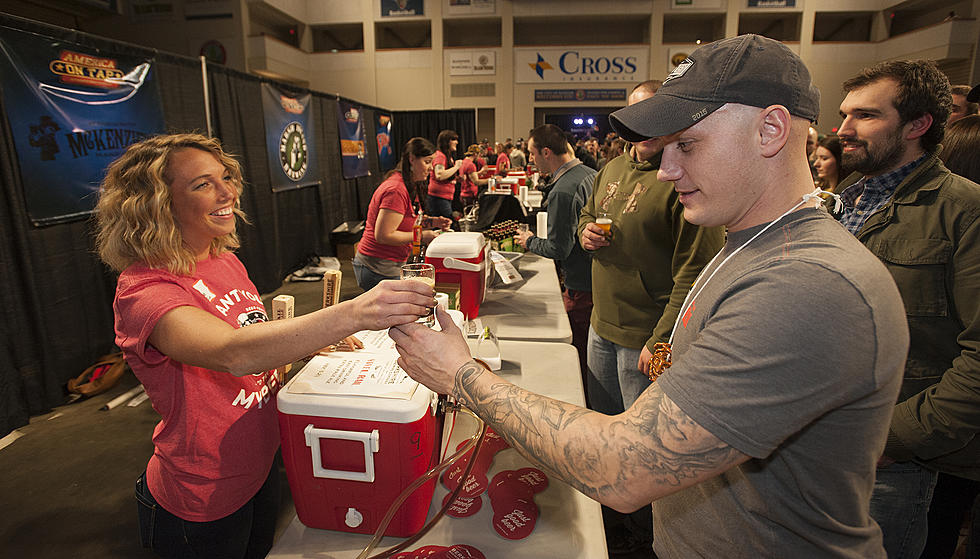 Bangor on Tap Returns to Cross Insurance Center on April 8, 2023
Kevin Bennett
Hey, craft beer fans – Bangor on Tap returns to Cross Insurance Center on April 8, 2023, with 90 craft beers, hard ciders, and spiked seltzers, plus music all day by the Adam Ezra Group.
Tickets are on sale at BangoronTap.com.
Sixty of the 90 featured craft beers, ciders, and spiked seltzers are from Maine with breweries from Kittery to Sangerville and everywhere in between. Fourteen of the breweries are brand new to Bangor on Tap this year. Plus, there are dozens of beers from New Hampshire, Vermont and all over the country.
Here's a list of the breweries that will be on hand.
14th Star Brewing (St Albans, Vermont)
2 Feet (Bangor)
Aegirs Den (mead) (Palermo)
Airline Brewing (Amherst)
Angry Orchard Brewing (Walden, NY)
Bangor Beer Co (Bangor)
Battery Steele (Portland)
Bissell Brothers (Milo)
Black Pug (Brunswick)
Boston Beer (Boston)
Brickyard Hollow (Freeport)
Cushnoc Brewing Co (Augusta)
Definitive Brewing Company (Portland)
Dogfish (Delaware)
Flight Deck Brewing (Boothbay)
Fogtown Brewing (Ellsworth)
Footbridge (Boothbay)
Funky Bow (Lyman)
Geary's Brewing Company (Portland)
Island Dog Brewing (S. Portland)
Jacks Abby (Massachusetts)
Liquid Riot (Portland)
Marsh Island Brewing (Orono)
Modelo-Pacifico (Mexico)
New Belgium Brewing (Colorado)
Nonesuch River (Scarborough)
Norumbega Cidery (New Gloucester)
Orchard Girls Cidery (Kingfield)
Penobscot Bay Brewery (Winterport)
Rising Tide (Portland)
Sea Dog Brewing Co. (Bangor)
Shackbury Cider (Vermont)
Shipyard Brewing Co. (Portland)
Stone Brewing (California)
Tribute (Vermont)
Two Knights Brewing (Sangerville)
Urban Farm Fermentory (Portland)
Winterport Ciders (Winterport)
Woodland Farms (Kittery)
Woodchuck Cidery (Vermont)
Zero Gravity (Vermont)
Bangor on Tap is presented by the American Releaf Green Therapy, Penobscot County – a branch of the County Federal Credit Union, Damon's Beverage.
Bangor on Tap: Brews, Tunes + Fun Through the Years
Bangor on Tap
has hosted thousands of people over the years. Craft beer, games, live music, and good company are found every year at this event, hosted by Townsquare Media at the Cross Insurance Center in Bangor. Enjoy scrolling through all the happy faces captured by photographer Kevin Bennett.
More From WWMJ Ellsworth Maine