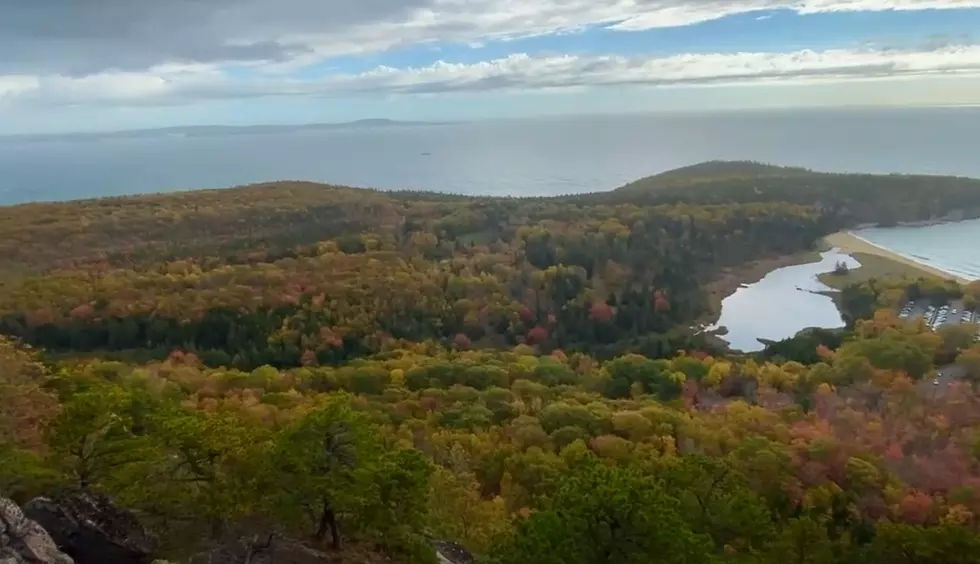 This Spot In Maine Named #1 Fall Foliage Destination In The U.S.
Mr & Mrs. Traveler YouTube
Time is running out to get a look at beautiful Maine fall foliage!
Fall is a great time to get outdoors, take in some fresh air and enjoy the amazing and colorful foliage here in Maine. Our state parks, mountains, farms and the coast are the ideal setting for leaf peeping.
A website called Green Matters has ranked the best places to see fall foliage in the United States, and Bar Harbor's Acadia National Park topped the list!
Acadia National Park is located along the mid-section of the Maine coast, southwest of Bar Harbor. The park preserves about half of Mount Desert Island, part of the Isle au Haut, the tip of the Schoodic Peninsula, and portions of 16 smaller outlying islands. They welcome several million visitors each year.
The park contains Cadillac Mountain, which is the tallest mountain on the Atlantic Coast of the United States. It covers 49,075 acres or 76 square miles.
There are a ton of activities from spring through autumn, including car and bus touring along the park's paved loop road, hiking, bicycling, and horseback riding on carriage roads. Rock climbing, kayaking and canoeing on lakes and ponds, swimming at Sand Beach and Echo Lake, and sea kayaking and guided boat tours on the ocean.
Winter activities at Acadia include cross-country skiing, snowshoeing, snowmobiling, and ice fishing.
Here is how they broke down the list:
#1 Acadia National Park, Maine
#2 Tunnel Of Trees, Michigan
#3 North Cascades National Park, Washington
#4 Jackson, Wyoming
#5 Stowe, Vermont
#6 June Lake, California
#7 Upstate New York
We have already hit the peak of fall foliage here in Maine, but there is still time to go exploring on a crisp, cool day. Here are the best spots in the state to do it:
• Southern Maine - Mid-Coast and South Coastal Maine, including Rockland, Camden, Portland, Kennebunkport and Kittery
• Eastern & Downeast Maine- Includes Houlton, Millinocket, Calais, Machias, Bar Harbor and Penobscot Bay
• Central Maine- Central and Southwestern Maine, including Bangor, August, and Fryeburg
• Western Maine- Western Mid-Maine, including Greenville, Rangeley, and Bethel
• Northern Maine- Fort Kent, Caribou and Presque Isle
50 Stunning Photos Show Acadia National Park's Beauty in the Fall Season
Acadia National Park boasts stunning views year-round, especially during the leaf-peeping months of Autumn. Here are the views you experience in Acadia during the fall season:
More From WWMJ Ellsworth Maine