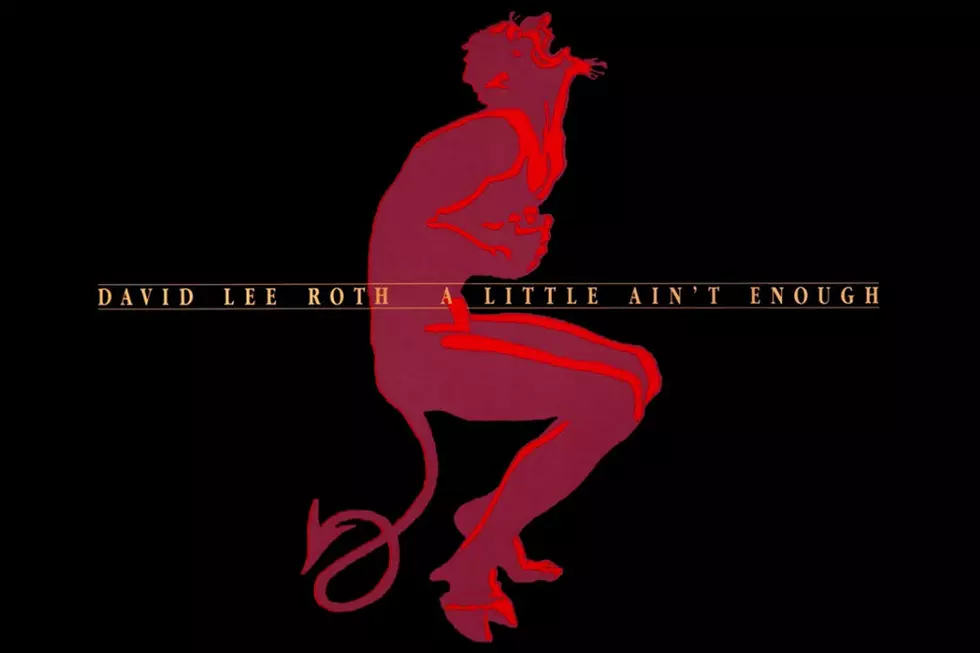 Revisiting David Lee Roth's Stumble on 'A Little Ain't Enough'
Warner Bros.
For the first few years after David Lee Roth's split from Van Halen, it looked like he and his former bandmates would be able to comfortably share space on the AOR airwaves, as fans turned his first two solo efforts into hits right alongside new releases from the group. But with his third LP, 1991's A Little Ain't Enough, his sales took a tumble — one from which his solo career would never really recover.
Released Jan. 15, 1991, A Little Ain't Enough served as a return to form of sorts for Roth, who'd earned the ire of some fans by dabbling in a more pop-oriented sound with his previous release, 1988's Skyscraper. Soldiering on after the departures of guitarist Steve Vai and bassist Billy Sheehan, Roth and drummer Gregg Bissonette put together a new band that included Bissonette's brother Matt on bass and an exciting young guitarist named Jason Becker.
After coming up with Eddie Van Halen and then going on to record with Vai, Roth had left some daunting shoes for Becker to fill, but the wunderkind guitarist — barely out of his teens when he hooked up with Roth — was up to the task. Already known for his work in the metal band Cacophony, which found him sharing space with future Megadeth member Marty Friedman, Becker had also released a well-received solo album, Perpetual Burn, in 1988.
By the time Becker was drafted into the band, the bulk of the material for A Little Ain't Enough had already been written, with Roth adding lyrics to songs penned by an array of writers that included band members and contributing musicians as well as professional songsmiths such as recording artist Robbie Nevil (who co-wrote the title track and first single) and Dio guitarist Craig Goldy. Becker ultimately contributed a pair of tracks, the album closers "It's Showtime!" and "Drop in the Bucket."
Sadly, shortly after joining Roth's band, Becker was diagnosed with amyotrophic lateral sclerosis (ALS), also known as Lou Gehrig's disease. Finding it progressively harder to play as his illness robbed him of motor control, Becker was forced to bow out of the lineup for the tour in support of the album, casting a pall over its release and unfortunately setting the tone for much of what was to follow.
Roth was still considered a major recording artist when A Little Ain't Enough was released, and the record initially made enough of a splash — aided in part by the publicity surrounding MTV's decision to ban the video for the first single — to crack the Top 20 and earn a gold certification for half a million in sales. But despite scoring a pair of Top 10 rock hits with "A Lil' Ain't Enough" and "Sensible Shoes," the album never really got going on pop radio, and by the summer, it had already run its course.
The sales slide started by A Little Ain't Enough would prove irreversible for Roth in the years to follow. By the time he released his next LP, 1994's Your Filthy Little Mouth, his brand of good-time hard rock had fallen almost completely out of vogue, and its dismal sales preceded a period in the indie-label wilderness that produced 1998's self-released DLR Band and 2003's covers-heavy Diamond Dave.
Roth's former bandmates, meanwhile, had their own issues to deal with. After parting ways with his replacement Sammy Hagar in 1996, they briefly welcomed Roth back into the fold for a pair of new tracks on a best-of collection before turning to Extreme singer Gary Cherone for 1998's ill-fated Van Halen III. Cherone's dismissal led to a brief reunion with Hagar — and then, finally, to the reunion with Roth that longtime fans had wanted for years.
Still, Roth's solo ambitions remained simmering on the back burner. Speaking with Rolling Stone in 2013, he teased the eventual release of an album called Somewhere Over the Rainbow Bar & Grill, which he described as a "jukebox musical," and admitted that while he enjoyed getting on stage and performing the old hits with Van Halen, "in terms of taking the music past where we found it, I'm not sure where that's going to go."
That question lingered in late 2015, when word got out that Roth's original solo band was planning a one-off club show during which they'd run through some of the old material, only to see the performance canceled by the fire marshal for overcrowding before they could even take the stage. Facing evident demand for a second act, Sheehan suggested that Roth and the band were open to the possibility of a larger-scale show, or even a tour. "Hoping to do it is not the same as planning to do it," he admitted. "We really hope it happens, and Dave was into it. He was great. We had a great time. It was just like the old days."
Becker, meanwhile, has survived well beyond his initial diagnosis, continuing to communicate with fans and release music with a system, designed by his father, that allows him to compose words and music through eye movement. In a 2015 interview, he even suggested that on his next album, he could include material originally recorded during the sessions for A Little Ain't Enough.
The Top 100 Albums of the '80s
More From WWMJ Ellsworth Maine