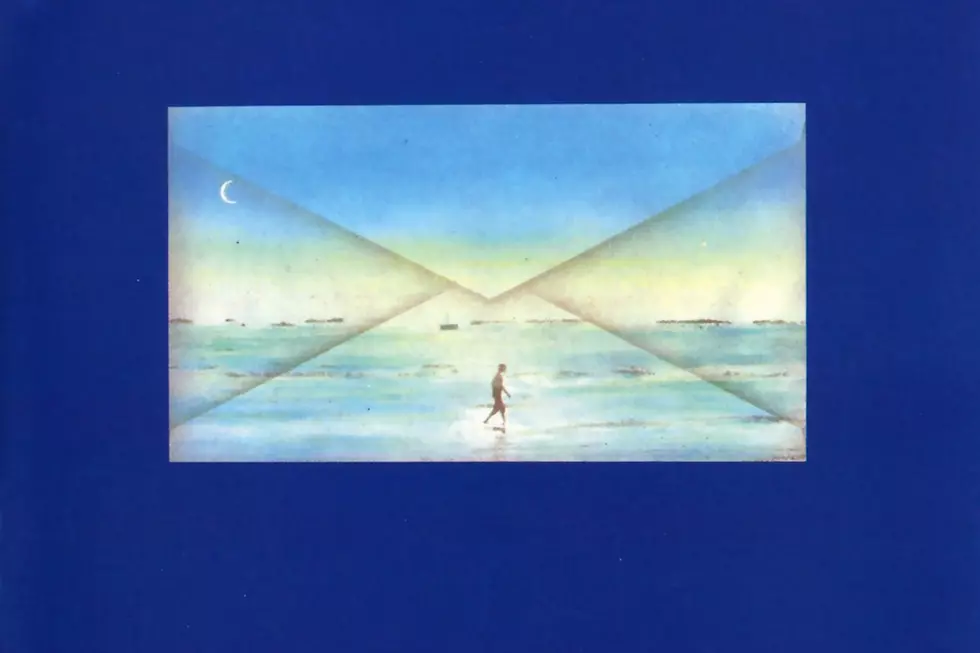 When Dire Straits Stuck to the Formula With 'Communique'
Warner Bros.
Tucked into that list were Dire Straits, whose first single, "Sultans of Swing" went to No. 5 on the Billboard Hot 100. The back-to-basics rock song that culminates in a one-minute ride out featuring Mark Knopfler's finger-picked lead guitar work was unlike anything on the pop charts at the time.
The single and the debut album earned Dire Straits critical praise and a large fan base – quite a feat for a band that had only gotten together a little more than a year before.
While "Sultans of Swing" was rocketing to the top of the charts in Australia and Germany, Warner Bros. wanted a quick follow-up to build on the success of the debut. Eight weeks after the release of Dire Straits, the band flew to the Bahamas to record their second album, Communique, which was released on June 15, 1979.
Produced by Muscle Shoals Sound Studio veterans Jerry Wexler and Barry Beckett, Communique picked up where Dire Straits' debut album left off. Mark Knoplfer described the album in an interview with Melody Maker's Richard Williams as "just another bunch of songs." Pressed by Williams to speak about the differences between the first and second album, Knopfler just said, "It's different. The bass and drums have been recorded differently, and the tracks are a bit more solid in that sense."
Knopfler and the other members of Dire Straits have, from the beginning of their music career, been rather understated about expanding on the intricacies of their music. As the Associated Press' Yardena Arar wrote in 1979, "Knopfler ... [comes] across like his music: unpretentious, not given to excess and thoroughly appealing."
That quality applied to bassist John Illsley as well. As he explained to Rolling Stone about the band's success, "We've been very lucky. No, I don't like that word. Let's say fortunate." However, band manager Ed Bicknell said it wasn't about being fortunate. Rather, it was a matter of timing. "For two years, nothing was happening the U.K except punk and New Wave – the Sid Viciouses of the world gibbering and gyrating and sticking needles in their bums. Americans resisted it. Suddenly, along comes this group that's playing tunes again, a contemporary rock band that longtime rock fans would want to see. There was a void. And they just plopped into it."
Listen to Dire Straits' 'Single Handed Sailor'
Dire Straits never felt comfortable being the center of attention. Their focus was on the music, not the fame, the flash or the fashion of the times. Their onstage personas mirror their offstage personalities: casual, unassuming, and not all that interested in the success they achieved. Indeed, on the eve of their second album, Knopfler wasn't "sitting around worrying whether it [Communique] will make as big a splash as the first effort," as Arar wrote.
And so it went with Communique, now seen as the band's sophomore slump. The album had a mixed response from critics. Hubert Bauch from the Montreal Gazette noted the similarities between the two records. "Communique is, in fact, almost a mirror image of Dire Straits, from the enigmatic painting on the jacket cover to the spacing of the cuts. 'Once Upon a Time in the West,' which leads off side one, distinctly echoes 'Down to the Waterline.' The same is true of 'Lady Writer' at the top of side two, a fast and nimble piece that matches 'Sultans of Swing.'" Fred Crafts from the Eugene Register-Guard wondered if "there is anything more to this band than Mark Knopfler's Bob Dylan imitation."
While the album only had one single that charted in the U.S. ("Lady Writer" at No. 45), Communique still hit No. 11, and was No. 1 in Germany, New Zealand and Sweden. It peaked at No. 5 in the band's home country, the U.K.
Communique does have similarities to the debut record, but part of that could be because Knopfler was under pressure to come up with new material so quickly. Still, despite the critic pointing out similarities between "Once Upon a Time in the West" and "Down to the Waterline," the two songs are very different from one another: the former being a mid-tempo number with a bluesier underpinning, and the latter having more in common with "Sultans of Swing" and "Lady Writer."
Certainly there are soundalikes, with Knopfler recycling slowed-down riffs from "Southbound Again" on the title track, and the finger-picking work on "Lady Writer" being a retread of "Sultans of Swing" reinforced the view that Communique was very much like a second disc of Dire Straits' debut. However, the comparisons stop with songs like "Where Do You Think You're Going?," "Single Handed Sailor" and "Follow Me Home," which demonstrate more accomplished lyric writing and musicianship.
Listen to Dire Straits' 'Lady Writer'
One thing is clear: Both projects opened a number of musical doors for some members of the band. Knopfler and drummer Pick Withers played on Dylan's Slow Train Coming and Knopfler played guitar on "Time Out of Mind" on Steely Dan's Gaucho – an experience Knopfler said to Melody Maker, "wasn't spontaneous and it wasn't fun."
Communique was also the last record David Knopfler was credited as playing on (he did play rhythm guitar on Making Movies but was not listed on the album's credits), as the Knopfler brothers had the proverbial "creative differences" and parted ways. Despite the tumult surrounding the album and tour, Mark Knopfler's experience on Communique taught him about record producing, and opened his own interests to film soundtrack work and producing other artists like Dylan and Aztec Camera.
The "other interests" for Mark Knopfler would certainly come to the fore in the '80s as the success of Dire Straits became a machine groaning under the weight of its own monstrosity. But even in 1979, Knopfler wasn't very sanguine about the future of Dire Straits. Foreshadowing what was taxing to his own mettle, Knopfler said to Richard Williams, "I just see it more as touring and touring and touring getting to be a pain in the arse. It's great to go out and play to people on tour, it's marvelous. I really enjoy it. But you can't help feeling it's a bunch of bloody nonsense. You feel that maybe you could be spending your time better doing other things."
By 1988, following the gargantuan success of Brothers in Arms, Knopfler said he needed a rest, and it was presumed Dire Straits were no more. With John Illsley releasing his second solo album, Glass in 1988 and then Mark Knopfler fronting the Notting Hillbillies in 1990, it seemed the band members had permanently moved on to other projects. Then, a year later, the band reformed and toured to promote their final studio album, On Every Street.
In 1995, without any fanfare and keeping with the personalities in the band, Dire Straits quietly broke up. Mark Knopfler started a successful solo career in 1996. John Illsley continued to be involved in music, but branched out into painting and is now an owner of a pub in England. Pick Withers, left the band after recording Dire Straits' Love Over Gold to be a touring and session drummer. David Knopfler's post-Dire Straits career included a number of solo albums and, like his brother, scoring music for film projects.
Dire Straits Albums Ranked 
More From WWMJ Ellsworth Maine