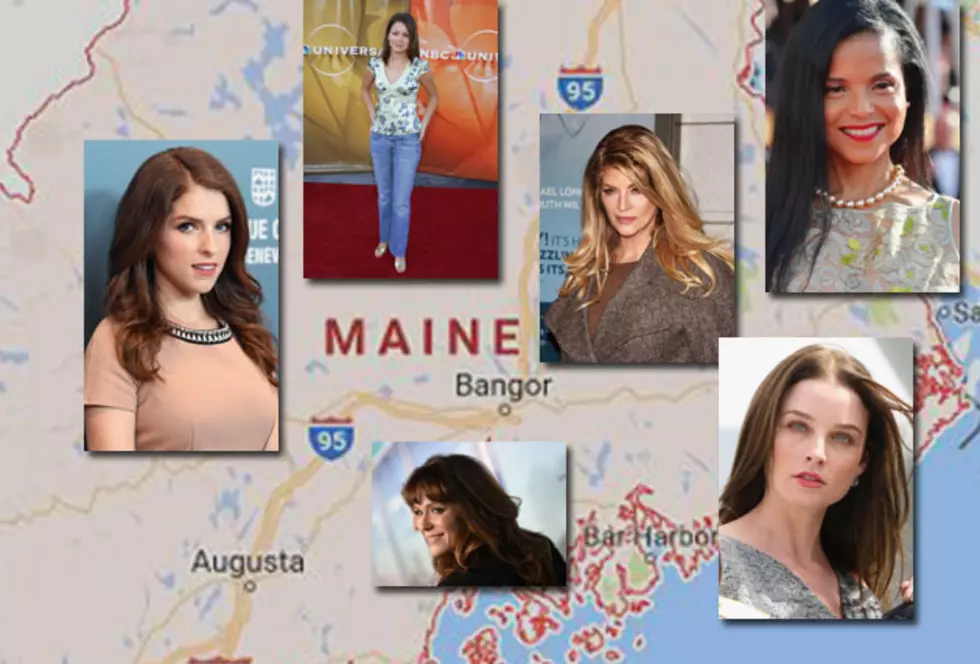 Getty Images/Google Maps
We've seen them on the big screen and on the TV in our living room, and maybe someday we'll see them pushing a cart full of groceries out to their car.
Actresses from Maine, or those currently living in the Pine Tree State.  How many are there?  Where do these elusive beauties reside?  We did a little diggin'.
Carlo Allegri/Getty Images

Carlo Allegri/Getty Images

1

Anna Belknap was born in Damariscotta and went to school at Lincoln Academy in Newcastle.  She has appeared on  big TV shows like CSI: NY, where she played detective Lindsay Monroe Messer.  She's had other roles on such notable shows as Law & Order: Special Victims Unit and Hawaii Five-O.

Andrew H. Walker/Getty Images

Andrew H. Walker/Getty Images

2

The Emmy Award winning actress was born in Kansas, but still has a 16 acre spread on Islesboro.  Kirstie made her big screen debut in Star Trek: The Wrath Of Khan in 1982.  By 1987, she was a regular on the hit TV show Cheers.  She also starred in the Look Who's Talking films series with John Travolta, her Islesboro neighbor.

Michael Buckner /Getty Images

Michael Buckner /Getty Images

3

Katie Aselton was born in Milbridge and is a Narraguagus High School graduate.  She was also Miss Maine Teen USA in 1995.  Katie has written, produced and also starred in a few limited release films, including Black Rock, a movie that was inspired by a stay at her parents home in Milbridge, and which was filmed here in Maine.  She has also appeared in the TV show The Office and Togetherness, a film on HBO.


Alberto E. Rodriguez/Getty Images

Alberto E. Rodriguez/Getty Images

4

Model, ballet dancer and actress, Victoria Rowell, was born in Portland and got her start in Leonard Part 6, a film produced by Bill Cosby.  Following the movie she appeared often on The Cosby Show. She then would become part of the cast of the daytime soap, The Young and the Restless, where she would receive three Daytime Emmy Award nominations. Rowell has also had parts in movies like, The Distinguished Gentlemen with Eddie Murphy,  Dumb & Dumber with Jim Carey, Barb Wire with Pamela Anderson and Eve's Bayou with Samuel L. Jackson.

Chris Jackson /Getty Images

Chris Jackson /Getty Images

5

The beautiful Rachel Emily Nichols was born in Augusta where her father taught school.  Nichols attended Cony High School before moving along to Columbia University in New York City.  While there Nichols began to explore modeling and landed big gigs with  Abercrombie & Fitch, Guess, and L'Oreal. Sooner rather than later she would show up on Sex And The City, The Insider,  Alias, P2, The Sisterhood of the Traveling Pants 2, G.I.  Joe: The Rise of the Cobra, Criminal Minds and Conan The Barbarian.

Jason Merritt /Getty Images

Jason Merritt /Getty Images

6

Born in Portland, the Deering High School graduate started out in New York City theater productions before winding up in the Broadway musical High Society.  She hit it big time with a supporting role in the Twilight movies. Her performance in the movie, Up In The Air earned her an Academy Award nomination for Best Supporting Actress!  The 31 year-old has also appeared in the Pitch Perfect movies, on Saturday Night Live, and this year's hit comedy, Mike And Dave Need Wedding Dates.
More From WWMJ Ellsworth Maine