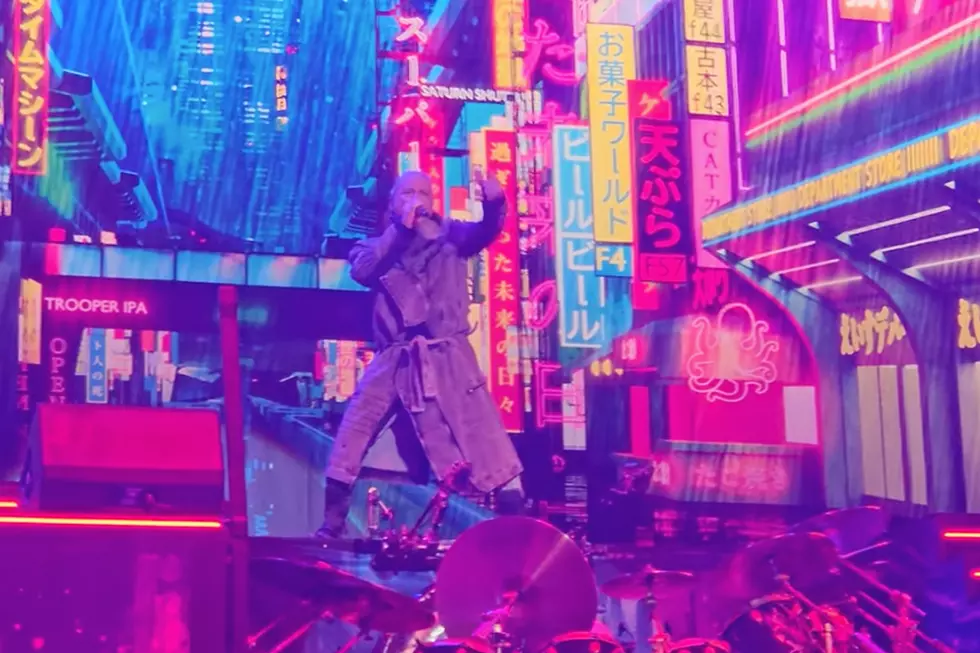 Iron Maiden Revamps Set for 2023 Opening Night: Video and Photos
YouTube
Iron Maiden kicked off their Future Past tour on Sunday at Ljubljana, Slovenia's Arena Stozice.
You can see the full set list, photos and videos from the performance below.
The British metal legends' current trek focuses on their most recent album, 2021's Senjutsu, along with their 1986 LP Somewhere in Time. Five songs from each album were played at tonight's show, including the long-awaited debut of Somewhere in Time's epic "Alexander the Great' and the first-ever performances of four different Senjutsu songs. All told, only four songs remained in the set list from closing night of the band's previous Legacy of the Beast tour.
With singer Bruce Dickinson sporting black goggles and a futuristic full-length jacket, Iron Maiden hit the stage in front of a set resembling the Blade Runner-style Somewhere in Time album art. In a rather unique move, the band announced the set list via Twitter as the show was happening, commemorating each new song with its own specialized image.
The band opened the last leg of its Legacy of the Beast tour with the first three tracks off Senjutsu, but Somewhere in Time has not received much playtime on recent outings.
"As it doesn't make a lot of sense to repeat this for a Senjutsu album tour, we thought about other options and we've decided to revisit Somewhere in Time as that tour didn't feature in the various retrospective history tours we've played over the years," bassist Steve Harris said in a statement.
"They were based on our '80s concert videos and sadly we did not film that tour," he continued. "We have had lots of requests from fans over the years for many tracks on it so we are now going to play them, plus of course a few others we know you will like! It will also be particularly satisfying to finally get to play some of the more epic tracks on Senjutsu, it's been a long wait!"
Watch Iron Maiden Perform 'Somewhere in Time'
The European leg of the Future Past tour is scheduled to run through early August, before Iron Maiden heads to North America for a trio of Canadian shows in late September and early October. They'll also appear at California's Power Trip festival alongside Metallica, Ozzy Osbourne, AC/DC, Guns N' Roses and Tool.
Watch Iron Maiden Perform 'Alexander the Great'
Watch Iron Maiden Perform 'Heaven Can Wait'
Iron Maiden, 5/28/23, Arena Stozice, Ljubljana (stats from setlist.fm)

1. "Caught Somewhere in Time" (first time played since 1987)
2. "Stranger in a Strange Land" (first time since 1999)
3. "The Writing on the Wall"
4. "Days of Future Past" (live debut)
5. "The Time Machine" (live debut)
6. "The Prisoner" (first time since 2014)
7. "Death of the Celts" (live debut)
8. "Can I Play With Madness" (first time since 2014)
9. "Heaven Can Wait" (first time since 2008)
10. "Alexander the Great" (live debut)
11. "Fear of the Dark"
12. "Iron Maiden"
13. "Hell on Earth" (live debut)
14. "The Trooper"
15. "Wasted Years" (first time since 2017)
Iron Maiden Albums Ranked
When ranking Iron Maiden albums, perhaps the most striking thing is that they succeeded despite changing lead singers on three separate occasions.
More From WWMJ Ellsworth Maine