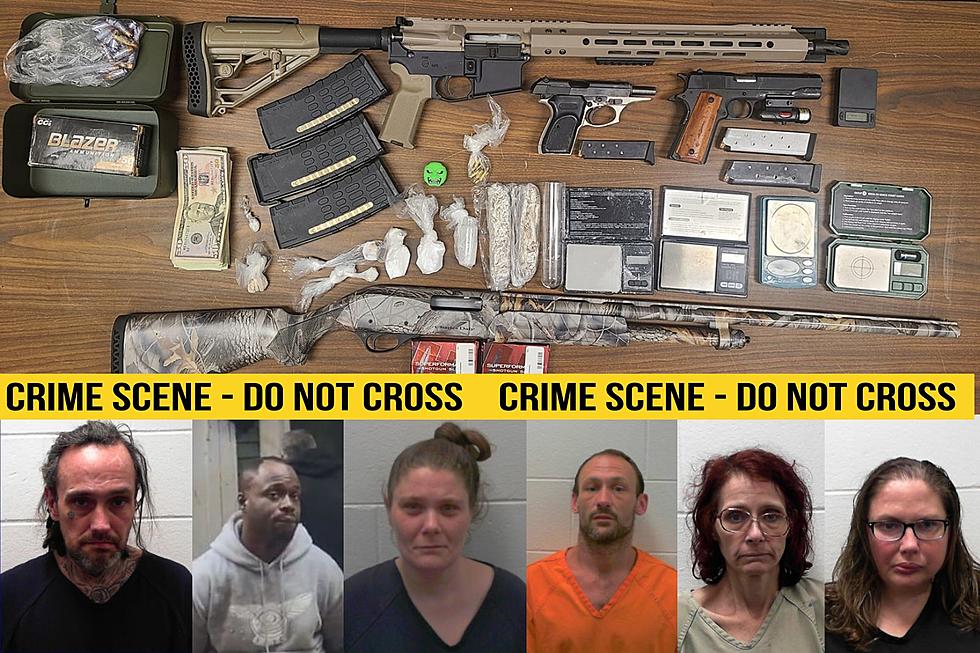 6 People Arrested in the Raid of an Auburn Drug House
Auburn Police Department
It was a dramatic bust, with drugs, an illegal gun, and even people going out the windows as police arrived at a drug house in Auburn.
Where Was the House That Was Searched?
On Tuesday, members of the Auburn and Lewiston Police Departments executed a search warrant at 15 Western Prom in Auburn. The warrant was in response to complaints from neighbors about suspicions of illegal drug activity and other criminal acts. Police arrived at the residence and knocked on the door, causing panic among the people inside.
Before entering the house, police saw a man allegedly throw a handgun from a third-floor window, while a bag of narcotics fell from another window. At the same time, Auburn Police say two people tried to exit the building through even more windows. The officers quickly secured the firearm and narcotics and grabbed the two fleeing suspects.
Officers entered the building and found a void in a wall at the end of a crawl space. When they removed the wall, police found three more suspects hiding inside, including the man who had allegedly thrown the gun from the window. In all, there were 23 people inside the home, several of whom were on bail contracts for pending cases. Others had outstanding warrants for their arrest.
Who Was Arrested?
Six people were taken into custody:
Matthew Messenger, 42, of Auburn was arrested on 4 outstanding warrants for theft and numerous drug-related offenses. He's also been charged with illegal possession of a firearm by a felon and violation of conditions of release. Additional drug charges are expected. His bail was set at $30,000.
Hakeem Warling, 29, of New York was charged with illegal possession of a firearm by a felon. He was also charged with criminal simulation because the firearm he was accused of throwing out the window had the serial number scratched off. Warling's bail was set at $2,500.
Nadine Small, 52, of Auburn was arrested for being a fugitive from justice out of New Hampshire. She will be extradited to face charges related to identity theft.
Joanna Sherrer, 43, of Phillips was arrested on three outstanding warrants for multiple theft charges.
Christopher Noel, 38, from Lisbon was arrested on two outstanding warrants for aggravated assault, assault, and driving offenses.
Crystal Guilbault, 36, was arrested on an outstanding warrant for theft and violations of conditions of release.
What Was Seized in the Search?
There were a variety of drugs seized during the search, including fentanyl, crack cocaine, methamphetamine, and psilocybin mushrooms. Police also located more firearms, ammunition, and items consistent with drug manufacturing and trafficking, as well as over $1,100 in suspected drug proceeds.
Once the search was complete, police contacted the Auburn Code Enforcement Officers who then conducted an inspection of the property. The residence was deemed "Uninhabitable" and was secured by the Auburn Public Works Department.
How Many in America: From Guns to Ghost Towns
Can you take a guess as to how many public schools are in the U.S.? Do you have any clue as to how many billionaires might be residing there? Read on to find out—and learn a thing or two about each of these selection's cultural significance and legacy along the way.
Gallery Credit: RACHEL CAVANAUGH
LOOK: What major laws were passed the year you were born?
Data for this list was acquired from trusted online sources and news outlets. Read on to discover what major law was passed the year you were born and learn its name, the vote count (where relevant), and its impact and significance.
Gallery Credit: Katelyn Leboff
What Are the Signature Drinks From Every State?
More From WWMJ Ellsworth Maine