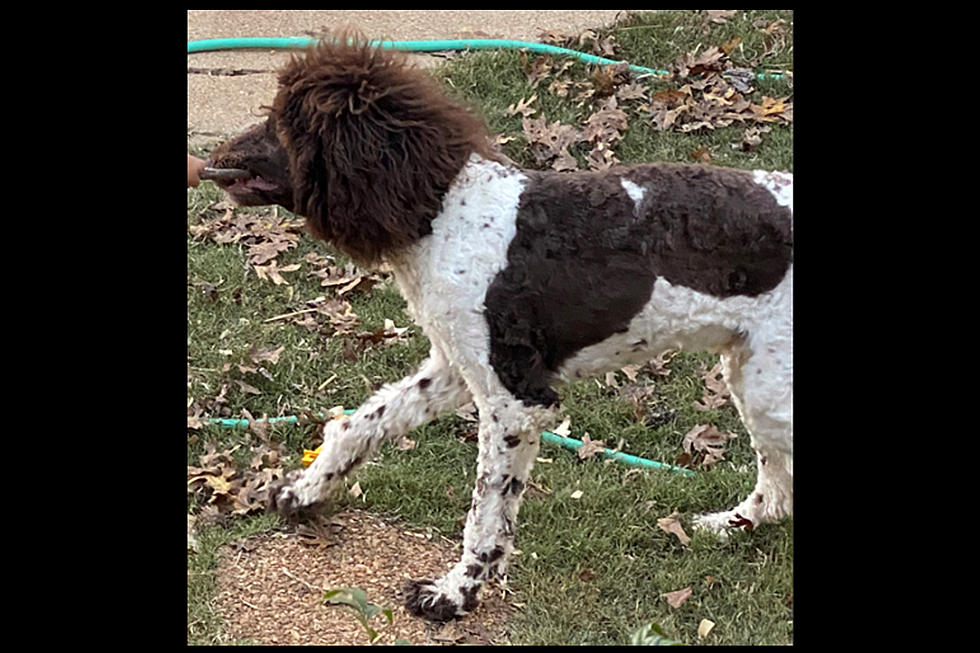 Search On For Dog That Went Missing After Big-Rig Crash In Bangor
Courtesy Bangor Animal Control
Authorities are asking for folks to be on the lookout for a large poodle on the run in Bangor today.
Trisha Bruen, Animal Control Officer for Bangor, says that the dog named Rocket ran off from a tractor-trailer rig last week. His owner, a driver from out of state, suffered a medical emergency on the interstate, crashing the truck. In the chaos of getting the person taken care of, the dog escaped the cab of the truck and took off.
Bruen says Rocket is described as being a " young brown and white Royal Standard Poodle with short body cut and large brown 'Afro'." The dog was last spotted running along the area of Mt. Hope and Hogan Road in Bangor. She says if you see Rocket, don't try to approach or coax the dog near. The best thing to do would be to report the location of the sighting to dispatch, by calling Bangor Dispatch at 947-7384  and choosing the option "0".
"We are waiting for him to calm down and recover from his trauma and choose a person, home, or business to approach. Previous sightings resulted in him running away from people. We are asking people not to call out, run after, or hike through the woods looking for him. We need him to settle down and make his choice. At that time we are asking "the chosen ones" to put food out for him and notify Bangor Dispatch of the sighting. I will be working with the lucky family to set up a feeding station and camera to monitor the spot. We want to have him build trust and either be lured in eventually or at least stick around long enough for his owner's family to arrive and secure him."
If you remember the case of Beaver, the Alaskan Sled Dog, who got loose from Bangor International Airport this spring, that's a great example of a dog getting spooked and evading capture because it had been traumatized.
According to a report by WABI-TV, Rocket's owner is in a hospital in Portland, recovering from the crash.
LOOK: The least obedient dog breeds
Check out these 50 fascinating facts about dogs:
More From WWMJ Ellsworth Maine