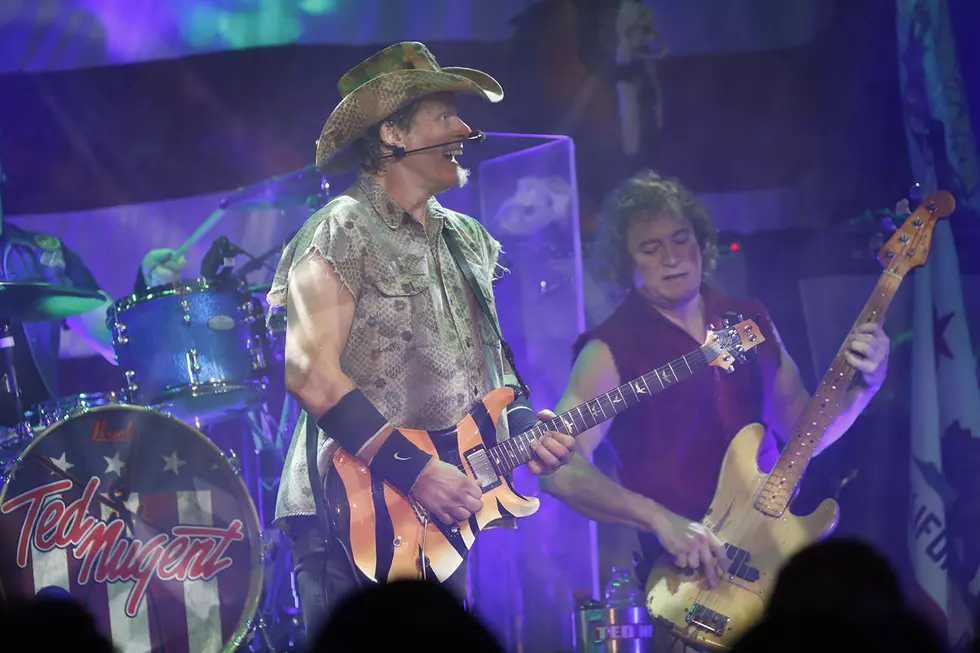 Ted Nugent Shakes Things Up as 2019 Tour Opens: Set List, Photos
Alex Kluft, UCR
Ted Nugent kicked off his The Music Made Me Do It Again! tour this past weekend. You can see photos, the set list and a full report from Sunday night's show at the Canyon in Santa Clarita, Calif., below.
In a break from tradition, Nugent, drummer Jason Hartless and bassist Greg Smith started the set with "Stranglehold." For years the track served as part of a three-song closing volley alongside "Cat Scratch Fever" and "Great White Buffalo."
More surprises followed mid-set, as the trio dusted off the rarely played "A Thousand Knives," "Street Rats" and "Death by Misadventure." Former Nugent drummer Tommy Clufetos joined in for a rousing "Motor City Madhouse."
Watch Ted Nugent Perform 'Street Rats' and 'Death by Misadventure'
"This is the real California," a gleeful Nugent declared between songs. "My guitar likes you, she really likes you. ... You are the shit-kickers. You come to hear some tasty guitar licks! This is what I do every summer -- rock my balls off."
The tour, which gets its title from the rocker's 2018 release The Music Made Me Do It, finds Nugent perform throughout the western U.S. in July, before August stops in Missouri, Ohio, Pennsylvania and New York.
The final stop of the trek will be a homecoming of sorts on Aug. 31 in Clarkston, Mich., just north of the Motor City Madman's hometown of Detroit. You can get complete show and ticket information at his official website.
Nugent first rose to fame in the late '60s as a member of psychedelic rock band the Amboy Dukes. His highest commercial success came as a solo artist in the '70s, as the rocker scored four multi-platinum selling studio albums between 1975 and 1978. At the same time, the massive success of his live album Double Live Gonzo! helped cement Nugent as one of rock's wildest and most engaging performers.
Ted Nugent, Santa Clarita, Calif., July 21, 2019
1. "Stranglehold" (from Ted Nugent, 1975)
2. "Gonzo" (from Double Live Gonzo!, 1978)
3. "Wango Tango" (from Scream Dream, 1980)
4. "Paralyzed" (from State of Shock, 1979)
5. "Wang Dang Sweet Poontang" (from Cat Scratch Fever, 1977)
6. "A Thousand Knives" (from Cat Scratch Fever, 1977)
7. "Street Rats" (from Free-for-All, 1976)
8. "Death by Misadventure" (from Cat Scratch Fever, 1977)
9. "Free-for-All" (from Free-for-All, 1976)
10. "Painkiller" (from Little Miss Dangerous, 1986)
11. "Motor City Madhouse" (from Ted Nugent, 1975)
12. "Need You Bad" (from Weekend Warriors, 1978)
13. "Hey Baby" (from Ted Nugent, 1975)
14. "The Music Made Me Do It" (from The Music Made Me Do It, 2018)
15. "Good Friends and a Bottle of Wine" (from Weekend Warriors, 1978)
16. "Fred Bear" (from Spirit of the Wild, 1995)
17. "Cat Scratch Fever" (from Cat Scratch Fever, 1977)
18. "Great White Buffalo" (from Tooth Fang & Claw, 1974)
More From WWMJ Ellsworth Maine