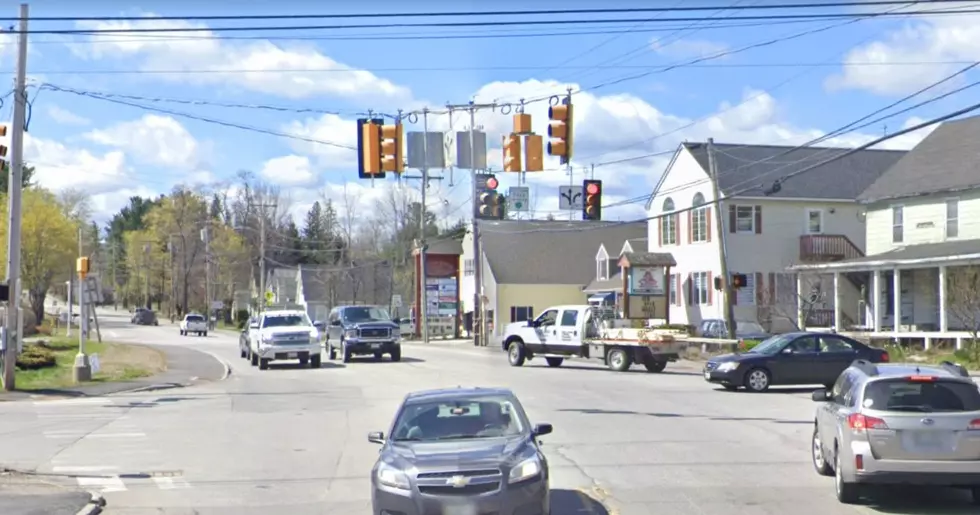 Traffic Light Maintenance to Cause Headaches for Hampden Commuters
Google Street View
Hampden isn't a big town.
At just under 10,000 people, Hampden isn't a boom town to visit. There's no real tourist attraction to speak of, despite it's rich history in the formative days of Maine and even our United States. Our most famous residents are probably Hannibal Hamlin and former baseball star Mike Bordick.
Other than that, it's just the little town next to Bangor where people live. So when anything happens, it's kind of a big deal. Especially when it comes to messing with the morning commute. What Hampden lacks in residents, it makes up for in commuters who pass through from Etna, Dixmont, Winterport, etc.
That said, today's commute will be on the tricky side.
Today on on the corner of Western Ave. and Main Road, the traffic signals are going to transferred, as it's been described by the town in a Facebook post yesterday. They removed an empty house right along the corner of that intersection, and there's a lot of speculation about widening the turn on that intersection.
It's possible that maybe this is the first phase of that work. Windmill blades often come through there and it's quite the process to shut down roads to accommodate the 200ft blades, en route to their final destination. Or, it's just a simple project to streamline that intersection. We'll see.
At any rate, the town is asking people to choose a different route, as it's likely to be a bit of a nightmare through that area today. There's also no word as to whether this will be finished today, or if it's going to continue until the project is completed. Cross your fingers for a speedy end to the work.
We're betting that sitting at a construction site isn't on this list. Even when it feels like it should be...
Top 10 Leading Causes of Death in Maine
25 Stores That Mainers Want to Come to Their Town
Mainers share what stores they want to see move into their town.
12 Restaurants & Bars in Maine with Something Fun to Do While You Eat & Drink
I personally love a place that offers not only good food and drinks but something to do while I enjoy those things, especially when I'm with a group of friends. Here are a few places in Maine that offer activities while you sip and dine:
More From WWMJ Ellsworth Maine