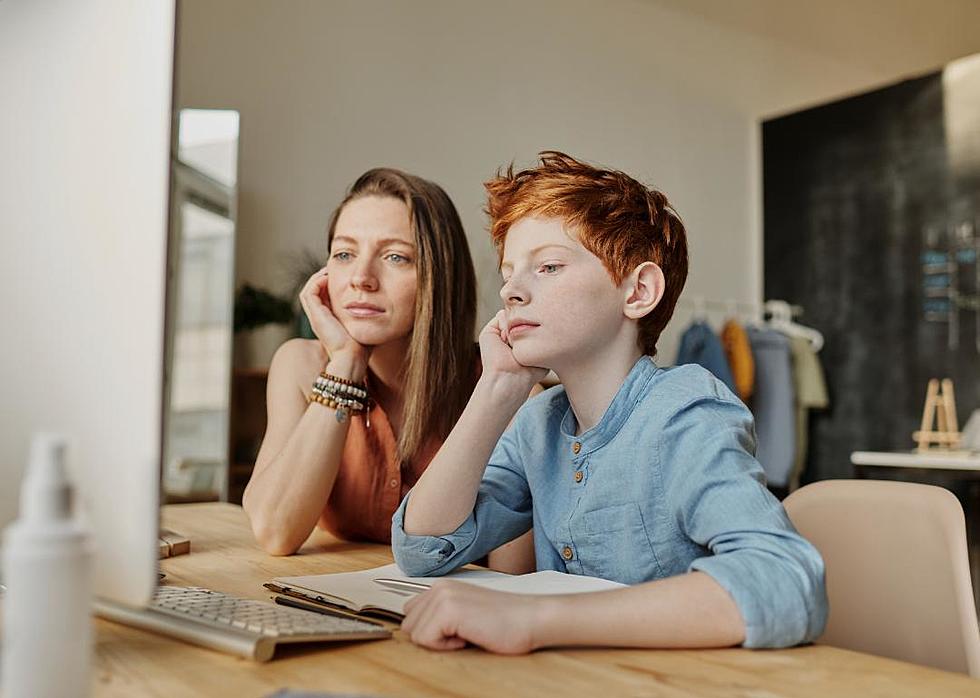 What All Parents Should Know To Keep Kids Safe Online
Canva
As kids get ready to head back for a new school year at the end of the month, many of them will be relying heavily on the internet and their computers to complete their studies.
More kids online in many cases could mean more opportunities for those that would try to do them harm.
According to the Portland Press Herald, the Maine State Police computer crimes unit received over a thousand leads last year regarding kids being exploited online. Unfortunately, the number they've received this year has already doubled.
"In 2021, Maine's unit alone fielded 1,236 leads. Sophisticated computer algorithms generate the tips automatically, and they all pass through the National Center for Missing and Exploited Children.
We reached out to local authorities to get an idea of what kinds of precautions parents and students should be taking to keep themselves safe in cyberspace.
Officer Andy Whitehouse has worked in law enforcement for almost 30 years. Having spent time in some of the local school departments and recognizing there was a need for online safety information in these communities, Whitehouse created an online safety program.
The program was designed for educators, parents, and students, and highlighted some of the local and national cases involving internet crimes against kids.
I happened to attend one of those programs and was struck with how much there is to be aware of when it comes to keeping kids safe online.
Technology is ever-evolving, as are threats to kids while they're using computers or tablets. 
Authorities say it's important to keep up with the new threats.
Andrew Whitehouse, said "Parents should be aware of Snap Chat, Instagram, and Whats App. These are probably the most used apps by children." He says if you think your child might be mixed up with something they shouldn't be online, watch how they act, and then take action, yourself. "I have always believed that changes in a child's behavior, suddenly becoming more withdrawn, angry, or secretive are huge warning signs. Also, don't be afraid to cut off or limit internet service during nighttime hours."
Whitehouse says there are some simple things parents can do to help keep their kids safer in online situations. "Parents should always use parent control apps. Most of the major carriers offer some type of app that parents can use to monitor activity on their children's phones and computers. If this is not an option then parents should always have access to their children's phones, i.e their passwords or fingerprint. I would always recommend talking to their children about cyberstalking and not accepting friend requests from friends of friends. Parents should occasionally check friend lists and if they don't know a friend ask their child about it."
And Whitehouse says if you need help starting the conversation, there are videos, like the one Coby Persin produced on YouTube, that show just how real the threat of using these Apps unchecked can be to children...Even if the parents think their kids would never fall for the traps of a predator. "It's Scary to think about, however, it's a great conversation starter."
As a parent, I'll tell you it was hard to watch the video, but I made sure, after I had checked it out, that I watched it again with my kids because I think Whitehouse is right, it effectively demonstrates, in a controlled way, what the potential consequences could be, and starts the dialogue about the topic of internet, cell-phone, and social media safety.

And in this day and age, where there's a selfie or photo taken every second of every day, it's also important to tell kids that once they take a photo and send it to someone, they have given up all control as to who can see that photo, share the photo, or use the photo against them. In other words, if you don't want the world to see it, don't send it, and better yet, don't take it!
Also, remember this: just because you talk about or say it once, doesn't mean they're gonna get it. How many times do you have to ask them to clear their plates or clean their room? If you have to repeat those simple things, you're going to want to repeat the important ones even more.
If you have a question about what something is online, or what a certain app does, don't be afraid to ask. Ask a friend, and look it up online. Call law enforcement directly if you have real concerns. Yes, technology is ever evolving and hard to keep on top of. But don't let keep you from helping keep your kids safe!
Whitehouse says that while most parents think that it's a problem that happens in other parts of the country, the threats are very real, and certainly hit close to home, even here in Maine.
The #1 thing authorities say parents can do to keep their kids safe online is talk to their children; Talk to them about what they're looking at online, what sites they're going to, who they are talking with, and who, if anyone, is trying to talk with them?
While having a conversation with your kids about online safety can be uncomfortable and seem overwhelming, Officer Whitehouse says there are a number of great resources out there that can help get the dialogue started, and even help you monitor your kids' online activity to keep them safe. One such website is, https://www.netsmartzkids.org/.
Remind children to never, ever give out personal information about themselves, their family, or where they live to anyone online.
The biggest takeaway from the program Whitehouse put together: Stop thinking of checking on your kids as an invasion of privacy.
It is not only your right as a parent to keep young, forming minds safe from harm, but it's also your responsibility--especially since, in many cases, you're the one providing the device and the access to the internet.
Other websites such as "Bark" not only provide internet safety services, but are also a wealth of knowledge when it comes to helping parents educate themselves on the newer, more dangerous trends, and even the ever-evolving slang terms.
Old Time Sayings From Our Parents and Grandparents
All the things the old folks used to say.
Here are some tips for self-care during the pandemic:
More From WWMJ Ellsworth Maine