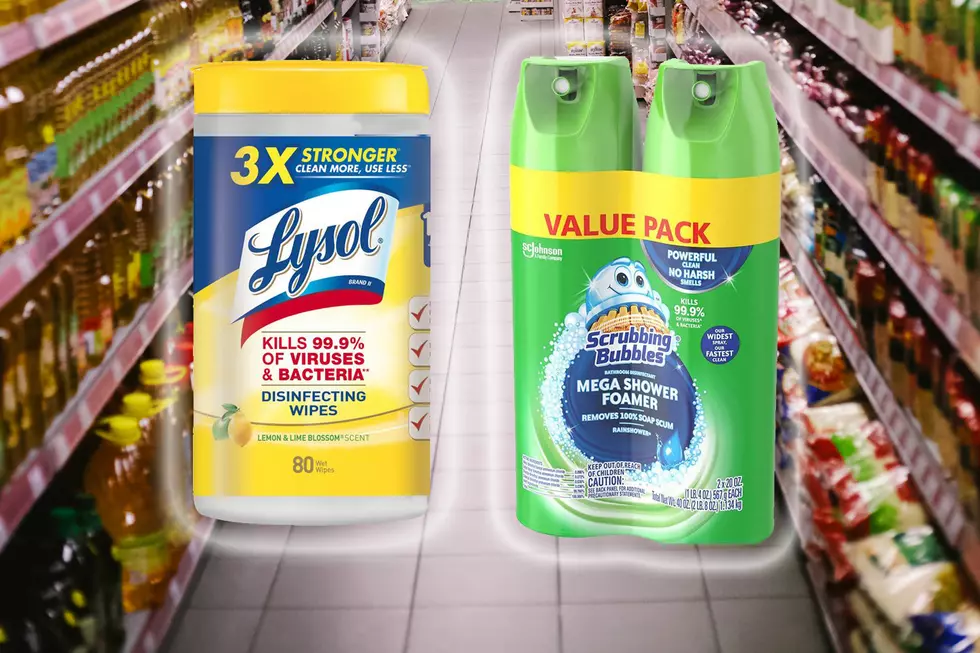 Why Mainers Pay A 15¢ Pesticide Fee At Checkout For Lysol Wipes & Scrubbing Bubbles
Walmart.com/unsplash
Apparently, people sometimes do read their receipts.
People across the state have taken notice of a 15¢ "pesticide fee" listed on their cash receipts in addition to the regular price when buying products like Lysol Disinfecting Wipes and Scrubbing Bubbles Mega Shower Foamer.  So what's up with that?
Back on June 16th of 2020, a new law was implemented here in Maine. It's called the Pesticide Container Fee, and it's applied at the check out counter of any store here in the state when buying things like flea collars for pets, pool chlorination tablets, and yes, things like Lysol Disinfecting Wipes and Scrubbing Bubbles products.  As a matter of fact, many cleaning products, sanitizers, and disinfectants like Clorox wipes are assessed the Pesticide Container Fee at checkout.
No, the Pesticide Fee has nothing to do with the COVID-19 pandemic, even though the Center for Disease Control recommends numerous products included on the list.
For a full list of products that are taxed 15¢ at the cash register by the Maine Board of Pesticide Control and the Maine Revenue Service, go HERE, there's over a thousand of them.
Since last June the state has collected over $84,000 in Pesticide Container Fees, according to WGME.com.  So, where does the cash go?
It goes to the University of Maine Cooperative Extension Diagnostic and Research Laboratory.  The Lab was established back in June of 2018, the the researchers there focus on protecting Maine's natural resources, food safety, human health, and "unique diagnostic and testing services for Maine's future," according to their website.  Yes, this is the place where one would send a tick to be tested for Lyme disease.
So now when the check out clerk at Walmart hands that cash receipt over to you with a 15¢ "pesticide fee" on it, you'll know better than to yell at them.  Or, at least you'll now know who to yell at.
LOOK: Here are 25 ways you could start saving money today
These money-saving tips—from finding discounts to simple changes to your daily habits—can come in handy whether you have a specific savings goal, want to stash away cash for retirement, or just want to pinch pennies. It's never too late to be more financially savvy. Read on to learn more about how you can start saving now. [
From:
25 ways you could be saving money today
]
KEEP READING: What were the most popular baby names from the past 100 years?
More From WWMJ Ellsworth Maine