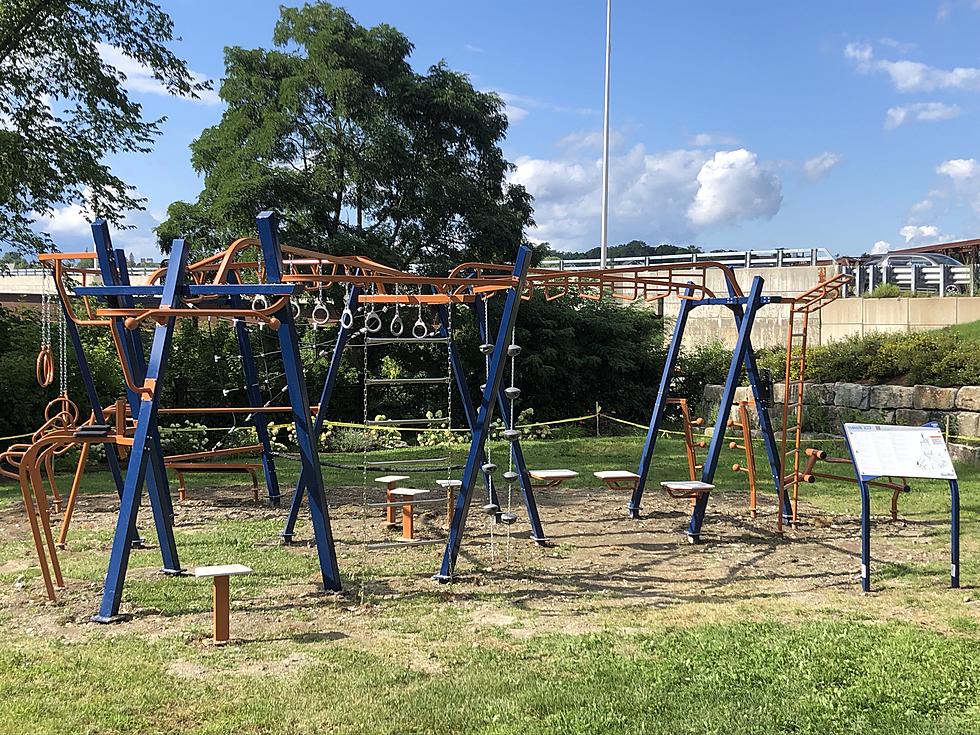 Why Should Kids Have All The Fun? New Outdoor Fitness Center Opens In Brewer Next Week
Fitness Equipment at Veteran's Park in Brewer, courtesy of City Of Brewer
What used to be an empty park on the corner of State St. and Penobscot St. in Brewer, will soon be a place for teens and adults to get some exercise outside. The City plans to unveil the new outdoor fitness center in Veterans Park on the North end of the Riverwalk, next week.
Renee Doble, Deputy Directory of Economic Development for Brewer, says city officials started to toss around the idea of putting something special in that spot in May of this year.
"We wanted to put something in there that would draw more people down. With the pandemic, everybody was doing more things outside. So it just seemed like a great opportunity to have fitness equipment outside so that people could work out either along the walk or go work out and then go for a walk."
Doble says the total price tag for the project is $63,545. Machias Savings Bank stepped up with a sizeable donation that covered almost half of that, and the equipment was ordered this spring. But like with most things being shipped in this new Covid world, it took some time for the gear to arrive, and then even more time for it to be installed. However, the new space is now just a small step away from being finished.
To see what it will look like when it's done,
click here. 
The new outdoor fitness center will be for teenagers and adults, featuring equipment that can be used to work on a number of different fitness goals, Doble says, including aerobics, muscle development, core strength, balance, and flexibility. She says each piece of equipment will have a scannable QR code on it, that will link folks to information about what specific exercises can be done with each piece. This info will also be available on the City of Brewer's website,
and this link. 
Doble says the city plans to have a ribbon-cutting ceremony on Friday, September 17 at 3:30 PM to unveil the facility. There will be a couple of local fitness instructors on hand, at the ribbon-cutting, to help walk folks through some of the workouts they can do at the new Outdoor Fitness Center. The instructors will also be on hand from 8 AM to 12 PM, that Saturday the 18th and Sunday the 19th for anyone looking for some help and guidance using the new facility.
"We hope to bring people to the area, and help them stay fit and healthy. And as we bring people to the Waterfront, that brings businesses to the Waterfront."
Mike Martin, Brewer Parks and Recreation Director, says the only thing they are waiting for is the safety surface to be delivered and put down. Then the project will be complete.
40 Trails Within 20 Minutes of Bangor
Here's a bucket list of areas to visit for a workout, a walk with the dog or a weekend walk with the kids. Here are 40 easy to get to, convenient locations to get out in the Bangor Area.
READ MORE: 10 free apps to help you get fit in our new normal
Here are some tips for self-care during the pandemic:
More From WWMJ Ellsworth Maine