Foxy Friday Face-Off: Jessica VS Scarlett [VIDEOS + POLL]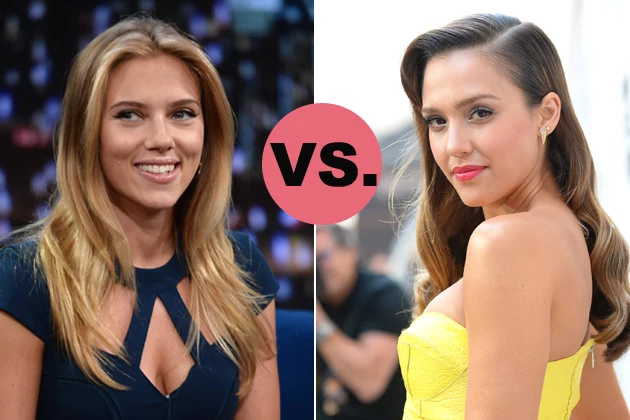 Our quest for the Foxiest female on the planet continues!
The finals in the Eastern Division are now set, as last week our listeners voted Sports Illustrated swimsuit model Kate Upton into the next  round! This happened much to the dismay of Red Sox fans everywhere, as local favorite Jenny Dell was sent to the bullpen.
Make sure that you click on our fancy bracket to see  where your favorite Fox is!
This week we look to the West as it's now time for the Final Round in that Division! Who will make it to the Championship Round? Cast your vote (or votes) in the poll below the videos! Vote as often as you like!
Here are our Foxy contestants!
The lovely Jessica Alba, sheer words cannot express her level of foxiness!  Jessica made her way into the finals by squeaking by actress Megan Fox!  A television and movie actress, she's also a model, business owner and mother. She's come a long way since her start in the Fox TV show Dark Angel.  She's one of the most beautiful females on this planet, or any other planet for that matter.
Our second contestant from the West is Scarlett Johannson!  Scarlett made her way into the finals by narrowly edging out  actress Jennifer Love Hewitt!  Actress Scarlett was recently named Esquire magazine's 2013 "Sexiest Woman Alive", and who can argue with that!