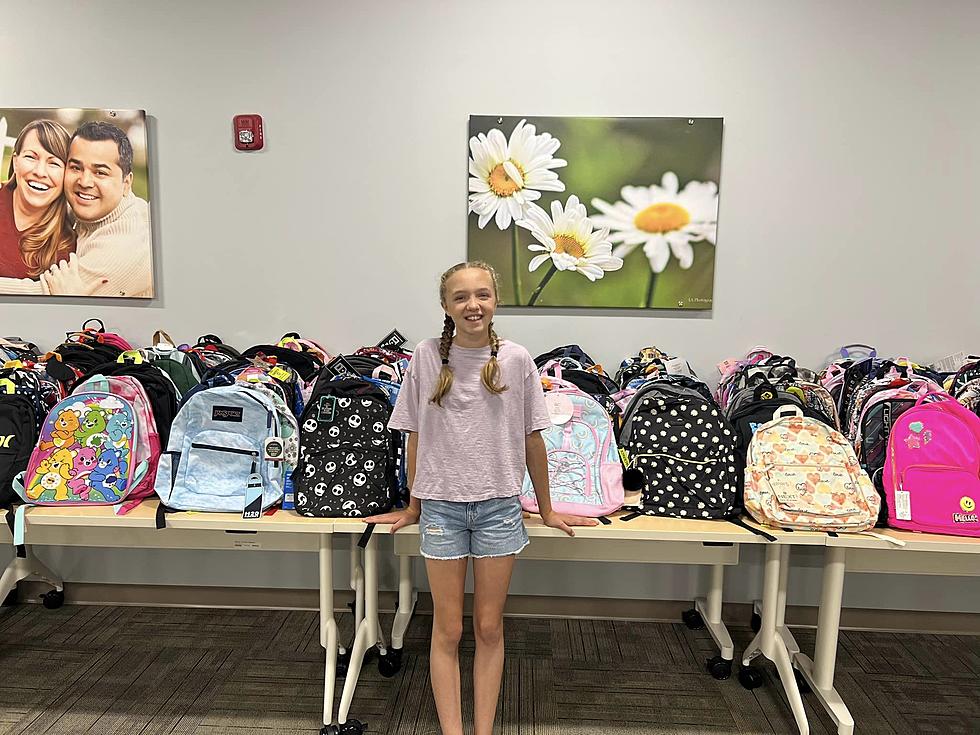 12-Year-Old Brewer Girl Donates Over $7K in Backpacks To Penquis
Back packs1, Penquis Facebook
Many school-aged kids are busy soaking up the last two or three weeks of vacation, while their parents and caregivers are trying to gather up all the new clothes and supplies these students will need when they head back to school.
It's likely the price of everything they need will have risen from last year to this one. And many families will struggle to find the extra money and hopefully reach out to area organizations for help.
One such organization, Penquis, has certain programs that can help families in need with things like back-to-school supplies. One of them is the Penquis "We've Got Your Back" backpack program.
The Penquis website lists that 1016 kids have signed up for help with school supplies this year. Their overall goal is to raise $60,000 worth of backpacks to help provide those kids with the literal tools they will need to succeed. And they're almost halfway there, with a goal of 300 more backpacks.
12-year-old Ava Burke from Brewer has been collecting backpacks for the Penquis "We've Got Your Back" program for half of her young life. She started when she was just 6 years old, having asked her family for backpacks instead of presents that year. That first year, she managed to donate 12 backpacks.
This year, she donated over 300 backpacks for the organization; backpacks that will help other kids in the area have some of the supplies they need for when school returns to session in a few short weeks.
According to the Penquis Facebook Page, Burke donated 331 backpacks, valued at about $7,000.  A big chunk of why Penquis is halfway to meeting its backpack goal is thanks to donations from extraordinary people like Burke.
"She worked tirelessly all year collecting donations from friends, businesses, and civic organizations all year long. She first did this when she was six years old and asked for backpacks instead of birthday gifts. She got 12 that first year! Look where she is today, over 300! We are so thankful for champions like Ava and her parents who support her efforts."
Well done, Ava Burke. Thank you for helping kids across Eastern Maine.
If you'd like to donate to this Penquis program, you can do so by clicking here.
Do you remember back-to-school shopping in Maine? Maybe this will help jog your memory.
Stunning Old School Shopping Bags
This is a huge chunk of Maine's past.
More From WWMJ Ellsworth Maine