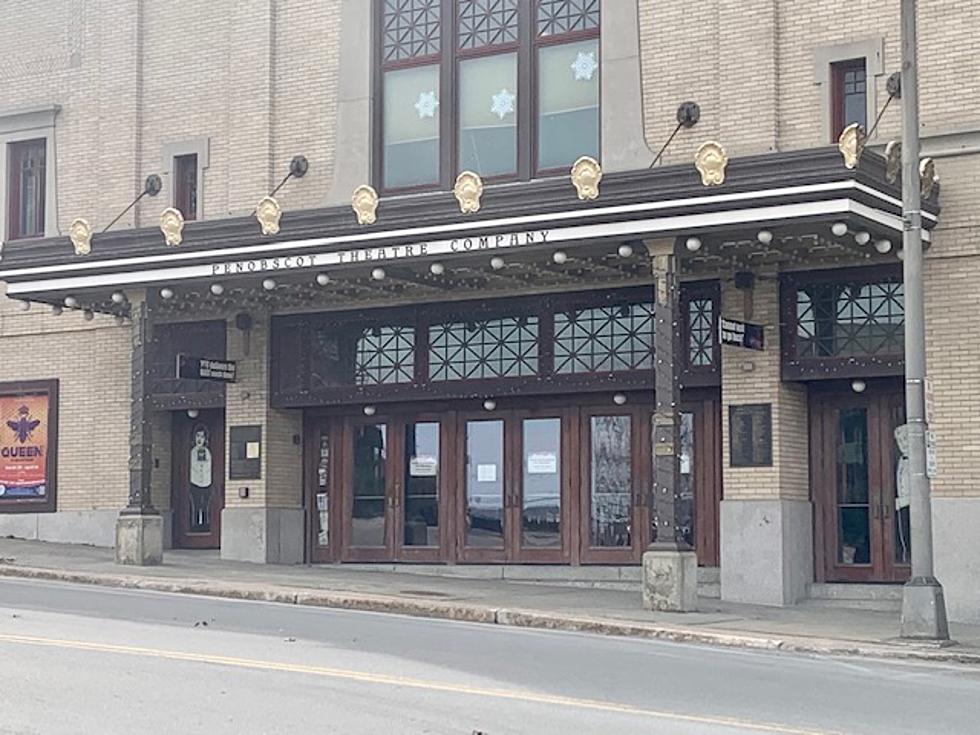 Penobscot Theatre To Expand Next Door To Create Bar/Cafe in Downtown Bangor
Penobscot Theatre 9, Cori Skall
Things are happening on Main Street in Bangor, as The Penobscot Theatre Company gets ready to expand and add something extra to the nightlife in Downtown Bangor.
According to the Executive Director of the theater, Jen Shepard, there will soon be a new place to go for lite fare and drinks, directly attached to Penobscot Theatre.
It's going to be called "The Stage Door" and it's located right next door, where the old Valentine Footwear storefront was located.
"I have been thinking about how to diversify, what we could add to the theater...I used to own Improv Acadia in Bar Harbor so I've owned and operated a theater with a bar and I thought this would be just what we're looking for because another thing we were looking for was how do we expand the evening for people. Like how do we make it a full evening experience? And this is that."
Shepard says that talks about a possible expansion started in December of last year, and really ramped up when Valentine Footwear closed up shop. The renovations to the space started recently and are coming along nicely.
"We've begun to remodel that space at 115 Main Street into a cafe with a bar, that will be directly attached to the theater. We cut through the walls between 131 and 115 and have created a pathway into that space. "
Shepard says the Theater, which owns the Bangor Opera House at 131 Main Street has been working closely with the landlord of the property at 115, Louie Morrison, to transform the space from a shoe shop to an eatery.
"First we had to cut through 3 feet of brick and mortar and break up the drywall. It's been really cool actually because we got to open up the wall between the two buildings and kind of like look inside and see the history."
Shepard says along with adding another bathroom to the space and building up the kitchen, crews are hard at work framing the bar, with the hopes of doing a soft opening with the launch of their next show in May.
"It'll be a full-service bar with wine, beer, and spirits and craft cocktails and some really fun stuff, I think we're going to play with like the names of our shows and pay homage to the great supporters of the theatre by naming drinks after them. We'll have some lite bites and we'll develop the menu as we go along, but I know we're gonna open with a pretty tight menu of 3-5 savory dishes and 2-3 desserts."
The new space will be open for patrons to pop in during intermission and get a beverage or a snack, but it will also be open before and after shows, too, Shepard says.
"Anytime there's a performance at Penobscot Theatre, The Stage Door will be open at least two hours before curtain and at least one hour after the show, if not longer...I think the actors will come over and the directors will come over and you'll get to interact more with the folks, and that's what we want. We want to interact more with our patrons."
Shepard says it's not only when plays are taking place that the bar will open. Since there is a separate entryway for the times shows are not in session, folks will be able to visit during the off-times, as well.
"When there's not a show, we'll probably start with 3-4 days a week... We're also going to have some form of entertainment in there some of the time. We're trying to figure out right now how much additional programming we'll do. But the bar will have some sort of regular schedule."
Shepard says the Grand Opening of The Stage Door will be June 16th, when "Mary Poppins" opens at the Penobscot Theatre.
12 Maine Downtowns That Are Worth A Visit
One of the cool things we have in Maine are a lot of great downtowns. Each one is just a little different and each one has a bunch of great, local, businesses. These are a few you may want to visit in the next year.
More From WWMJ Ellsworth Maine