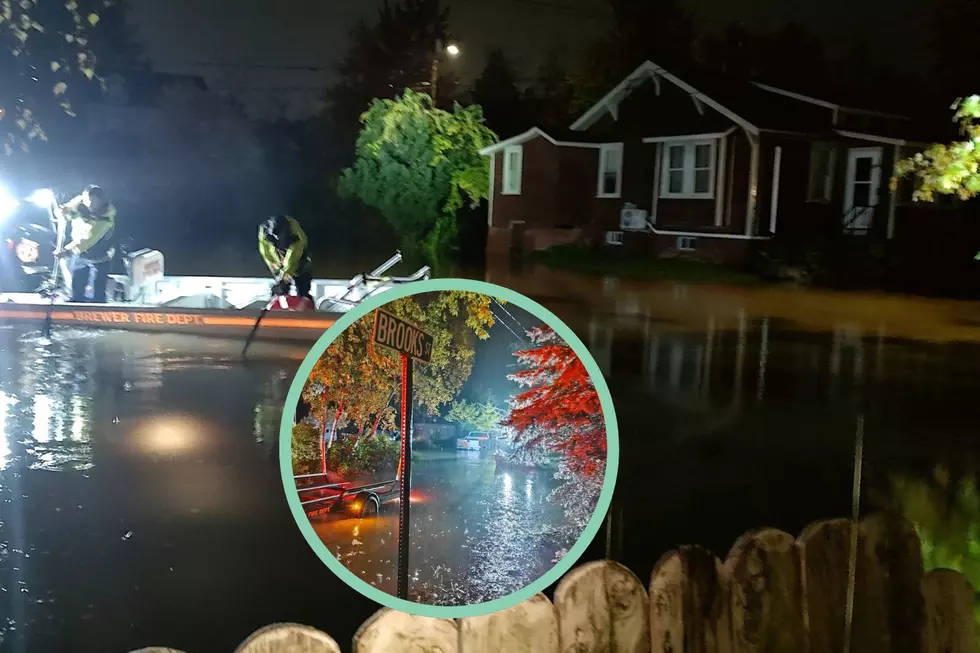 Brewer Firefighters Use New Boat to Rescue a Flooded-Out Family
Brewer Fire Department via Facebook
Friday's rain and wind storm wreaked havoc on a lot of Mainers, including a Brewer family who had to be rescued from their home by boat.
Where in Brewer Was This?
What a crazy start to the weekend. Hours of heavy rain caused flooding in areas that don't usually fill with water. And those high winds took down branches and trees that blocked roadways and prompted power outages, even totally washing out one portion of Pushaw Road in Glenburn. Road crews and first responders were busy, keeping everyone safe, including in Brewer where firefighters were faced with a unique situation.
It was around 4:30 Saturday morning when firefighters learned of a family on Brooks Street in Brewer that was stranded in their rapidly flooding house. The suddenly aptly-named Brooks Street is located off State Street, next to the Eastern Avenue intersection. The caller told a dispatcher that the home's basement had about 4 feet of water and that the house was filling with gasoline fumes. The residence was surrounded by water and the family needed help getting to safety.
What Boat Did Firefighters Use?
Firefighters responded and found significant flooding, according to a post on the department's Facebook page.
The engine crew arrived on scene and quickly realized this house was now located on the newly formed Brooks Street Island.
Since rescue workers had no idea how deep the water was or what might be under the water, they decided to launch their brand new Boat 30, which was purchased with funds granted to the department by the Firehouse Subs Public Safety Foundation. With the watercraft, firefighters were able to ferry the adults and children to safety, traveling about 200' to dry land.
 How Bad Was the Flooding?
Once the family was safe, fire crews explored the situation and found that the water was close to 5 feet deep in several areas, which could have been dangerous for the family to navigate, especially for the children. Thanks to their newly acquired boat, Brewer firefighters were able to ferry the family to dry land where they could wait out the storm.
Most Expensive Home in Brewer
Would you live here if you could?
These Are Maine's Most Popular First Names; Is One Yours?
Ever wonder if your name is trending or how many other people share your name? Here is a list of the most popular first names in Maine!
More From WWMJ Ellsworth Maine