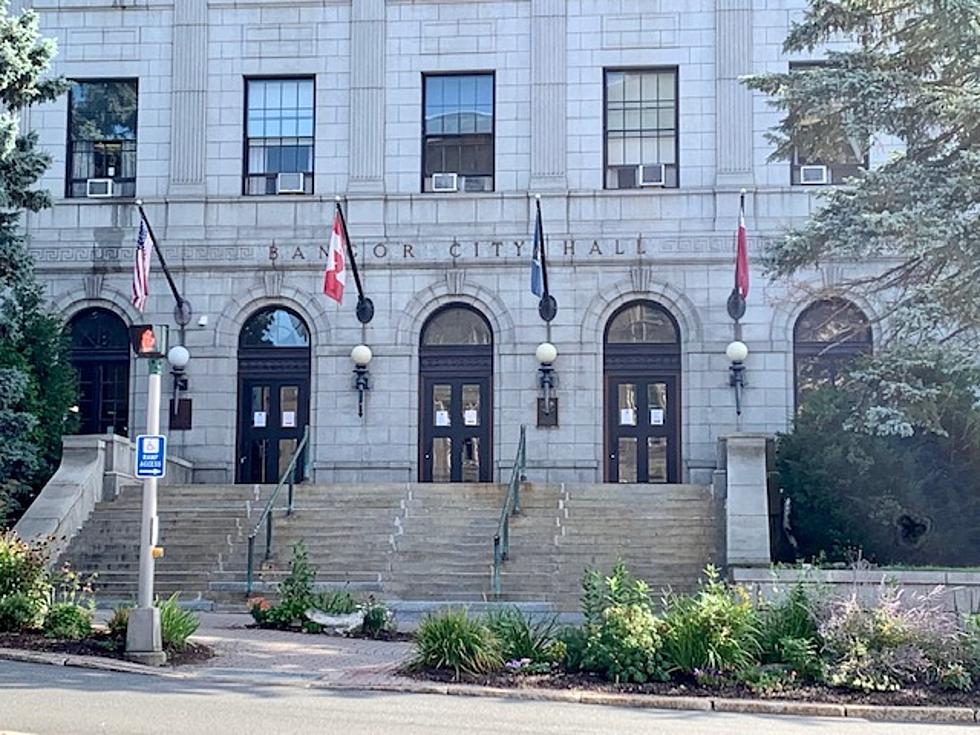 City Council To Consider Live Entertainment Permit For Bangor Mall Venue
Bangor City Hall 3, Cori Skall
Ever since G-Force Entertainment opened up in its new spot inside the Bangor Mall over a year ago, they've been doing what it can to provide Bangor with options for entertainment and fun, while also employing a number of local folks.
According to owners Brian and Plavnick they offer "activities during the day for families and at night fun for adults, everything from axe throwing, karaoke, live bands, comedy, hip hop, dance lessons, arm wrestling, Yu-Gi-Oh card playing, corn hole, laser tag, arcade and on and on...We employ 15 people [and] 4 of them have special needs, plus we also provide an outlet for many other special needs folks to come in and work here through a state program here getting job experience...This gives them the ability to feel like they are part of our community here in Maine. "
The club even recently announced that Kip Winger, of Winger fame, would be appearing at the venue in April, which stirred up quite a bit of interest.
But then, at the beginning of the month, GForce took to its Facebook Page to offer a cryptic message that they'd be halting all live entertainment for the month.
"Due to unforeseen circumstances we have postponed our concerts and shows for the Month of March. We will be reaching out with the new dates soon. All shows in April will continue. During March we are still open and for business including the bar/restaurant and all other activities."
Then, just this week, they shared a link, for an online petition put together on Change.org, which asked folks to sign the petition and to reach out to city councilors showing support for the venue.
The person who put the petition together alleged that the city is trying to paint the place as "creating an unsafe environment." They say the Bangor Police Chief is recommending that they be shut down. (We reached out to the chief, but have not heard back.)
While the Plavnicks say they are not responsible for the online petition, they do share that same impression.
"About 25 years ago my wife and I set a goal of having a community entertainment center that was all-inclusive. We finally got to the point where we could do that. We broke ground about 3 years ago putting everything we had and more.., For a total of about 1 million dollars (we are all in on this project ). From the start it was an uphill battle even after we turned in our approved buildout plans...we had trouble."
The Plavnicks say that while they had a state entertainment license, which had been recently renewed, they were not aware they needed another one from the City. The Plavnicks say they were advised that all they needed to do to obtain the Special Amusement Permit, as it's called, was to go to City Hall and pay for it. But that was not the case, and they were later told the City Council would have to review the case, but that that review would not take place until the end of the month.
The Plavnicks say they had no choice but to cancel all of their future bookings (with the exception of Winger (whom they hope they'll still be able to host) until the city could review the case. While the Plavnicks say they are frustrated with the situation, feel targeted, and are out thousands of dollars at this point, folks at the city level disagree.
The City Manager, on the other hand, says this is simply a case of the venue not having the correct permit to hold live shows, or dancing in that space.
According to Bangor City Manager Debbie Laurie, Monday evening's meeting has nothing to do with a renewal or removal of an existing license or permit but will address the issue of whether or not to grant GForce the Special Amusement Permit.
"The only item before the city for action is the special amusement permit application, which allows for live entertainment in an establishment with a state liquor license...We were unaware of the online petition until we began receiving emails.  In reviewing the petition, it isn't accurate...It is not a revocation of any license or permit.  State law and local ordinance require that establishments licensed by the State of Maine to sell liquor must have a special amusement permit for live entertainment.   City staff reached out to the business when they became aware that live entertainment was being offered and that they did not have the appropriate permit."
Laurie said when the venue started to advertise live shows, folks at the City reached out to the venue about the missing permit.
"...They did not have a special amusement permit.  They did have a liquor license.  If a business has a state-issued liquor license and is offering live entertainment they are required to have a special amusement permit.  They had never applied for said permit before.  A staff member saw an ad offering live entertainment – which prompted the outreach to the business to let them know about the requirement."
If you'd like to weigh in on the matter, the meeting to grant or decline the Special Amusement Permit for G-Force Entertainment will take place on March 27 at 7 PM at Bangor City Hall.
Who is Coming to Bangor in Concert this Summer?
Upcoming concerts for the summer of 2023 at Maine Savings Amphitheater
More From WWMJ Ellsworth Maine