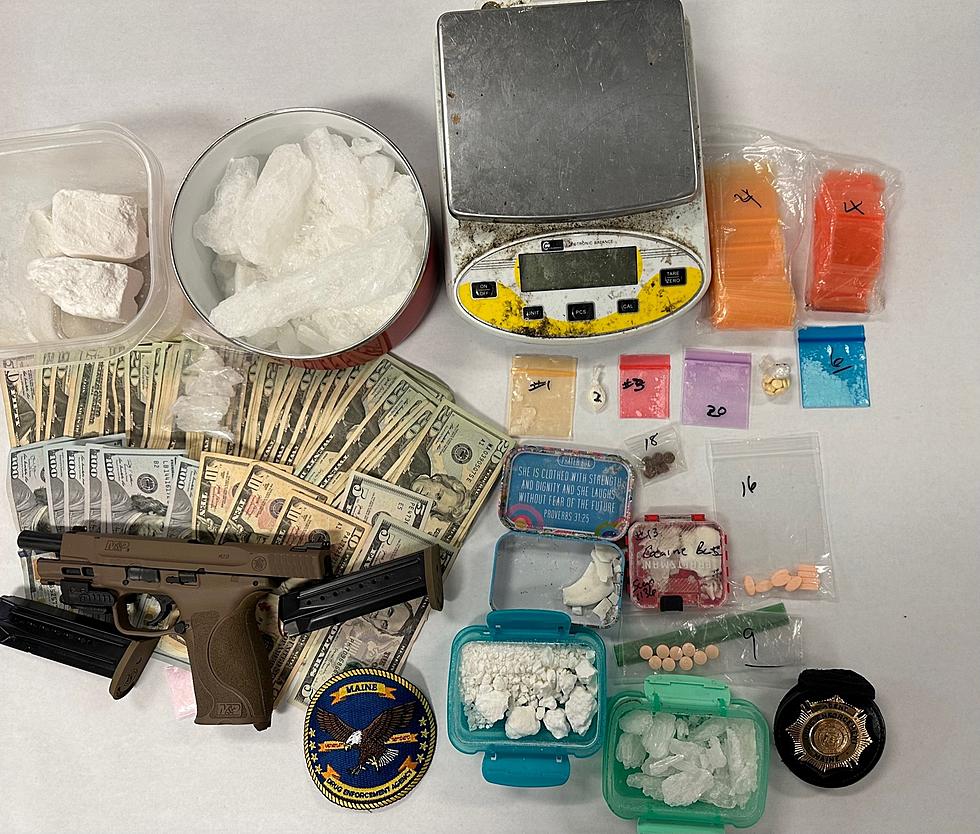 Authorities Say South Portland Man Arrested With $80,000 Worth Of Drugs
South Portland Drug Bust, ME Department of Public Safety.
A month-long investigation by the MDEA Cumberland District Task Force has led to the arrest of a man from South Portland. Authorities started to look into 52-year-old  Michael McNamara last month, as they suspected him of illegally trafficking drugs.
Authorities say that on several occasions, McNamara, while working as the General Manager of the Spring Point Tavern in South Portland, sold drugs to undercover agents during business hours.
During a traffic stop Monday evening, South Portland Police found McNamara was in possession of drugs and a firearm (which he was not supposed to have) and they arrested him without issue.
They then got a search warrant for his home. According to Commander Scott Pelletier with the Maine Department of Public Safety, the search of McNamara's home proved to be fruitful, as investigators recovered about $80,000 worth of drugs.
"Following his arrest, Agents and South Portland Police executed a search warrant at McNamara's Preble Street, South Portland residence. The search resulted in the seizure of over 1.5 pounds (680 grams) of crystal methamphetamine, ½ pound of cocaine (226.5 grams), 1 ounce of crack cocaine (28.35 grams), and a 9mm handgun. Several other types of unidentified pills and items associated with drug packaging and distribution was also seized."
McNamara was taken to Cumberland County Jail, His bail was set at $100,000 cash. He appeared in court Tuesday on several charges including:
"(3) counts Aggravated Trafficking methamphetamine, (3) counts Aggravated Trafficking with a Firearm, Possession of a Firearm by a Prohibited Person, (4) counts Possession of Scheduled Drugs."
Commander Pelletier says McNamara's arrest one just a small part of a wider effort by law enforcement in Maine to disrupt drug distribution chains and expects more arrests will be made as the investigation continues.
Parents Should Familiarize Themselves with These Illegal Drugs
Knowledge is power, especially when it comes to recognizing and understanding when your child becomes involved with illegal drugs.
10 Alternative Rock Songs Written Under the Influence of Alcohol or Drugs
Drugs are a part of life. They are also a part of rock — even alternative rock. So because heavy metal and classic rock already have so many inebriated tales of their own, here are a few from the alt-rock end of things.
Stars Who Were Convicted or Charged With Crimes
Here are 25 celebrities who have been convicted or charged with crimes, ranging from minor felonies to serious offenses.
Do you have our free app yet? If you don't, give it a try. It lets you listen to us anywhere. You can hear all your favorite songs, plus keep up with everything happening in our area. If you want, we'll even send you alerts when something new happens. There are prizes to win and fun to be had. Just enter your mobile number in the box below, and we'll shoot you a link so you won't miss a thing.
More From WWMJ Ellsworth Maine