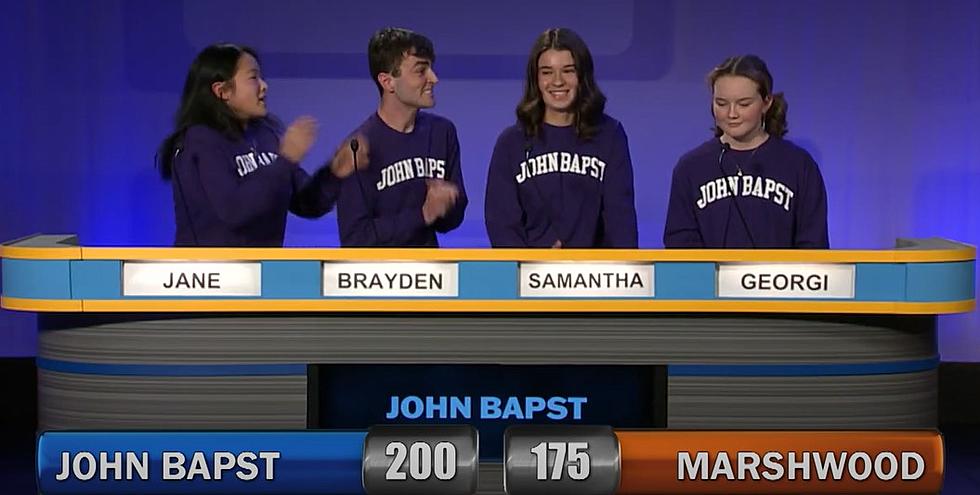 John Bapst Scores A Dramtic Win On 'High School Quiz Show Maine
Maine Public YouTube
It came down to the wire, but the Crusaders came up big with the win!
High School Quiz Show Maine, hosted by Todd Gutner, the Chief Meteorologist from News Center Maine, is a locally produced television show that features four-student teams from Maine high schools against each other in a single-elimination, academic bracket competition.
In the latest episode, the John Bapst Crusaders snagged a last second win, in dramatic fashion, 200-175, against the Marshwood High School Hawks, from South Berwick.
Jayne, Brayden, Samantha, and Georgi, brought the victory home for the Crusdaers, who advance to the next round.
In other John Bapst news, Athletic Director and Head Football Coach (and my broher-in-law!) Dan O'Connell, has been presented with the prestigious NIAAA State Award of Merit.
High School Quiz Show Maine recently posted a TikTok clip with a behind the scenes look at all the fun of this season!
Questions used in each contest feature literature, history, science and math, plus questions about current events and general knowledge. Each episode will feature video questions from notable civic and business leaders in Maine.
New episodes of High School Quiz Show: Maine air every Thursday, at 8:00 pm, with a rebroadcast on Fridays starting at 2:00 pm and Sundays at 5:00 pm.
Once aired, each episode is available at mainepublic.org every Thursday evening.
The winning team will receive a $1,000 gift to their school's Project Graduation with the runner-up being awarded a $500 gift.
24 Essential Things To Do and See In Bangor Maine
Must see and must do list of all the places locals and tourists alike should visit in the Queen City.
More From WWMJ Ellsworth Maine