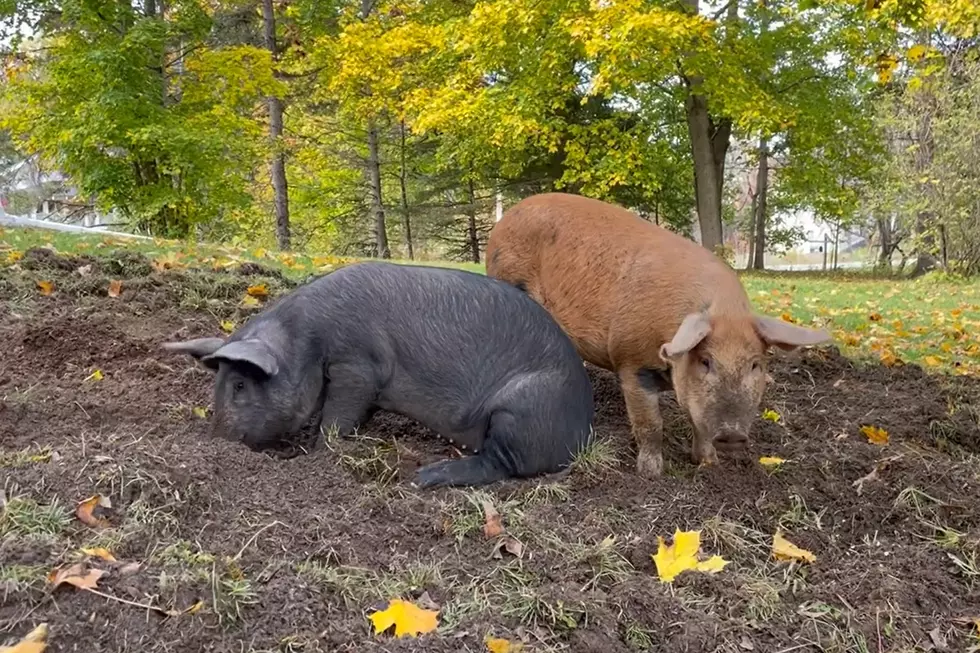 Pair of Little Piggies Didn't Go To Market, But Did Dig Up an Ohio Street Lawn
Bangor Police Department via Facebook
What's with all the livestock on the run these days?
It's beginning to make us wonder.
Not too long ago we told you about some cows that had escaped in the Alton area.
Then earlier in the month, we had a story about a different set of cows who were on the run in Orland. 
Last week, Holden's Police Chief had a "close encounter of the pig kind" with a sneaky swine that got loose and was on the run.
Two of Bangor's Best were met with a similar situation Monday morning as a pair of piggies turned up in a yard on Ohio Street, which wasn't their own, and set about digging up some dirt!
Thomas Graban has worked for the City of Bangor's Parking Enforcement division for 15 years now.
"I have never had to deal with pigs. "
Graban was drafted by Bangor's Animal Control Officer, Trisha Bruen, to corral some pigs that got loose from a farm on Ohio Street.
"I ran into our dog catcher and she asked me if I would come and help her. "
The pair of pigs were rooting around in a yard on outer Ohio St. with no owner in sight. So Graban and Bruen had the challenge of keeping the pigs contained while going door to door to locate their owner.
"We were going to try to load them into a cage, but couldn't find one big enough to fit them."
The owner was eventually located and was completely unaware that the pigs had gone rogue.
It took about an hour, after the owner arrived, to load the pigs onto the trailer. But once they were contained, they were happy hogs indeed, said Graban.
The trick to getting the pigs to cooperate?
"I guess the pigs like mayonnaise so they put food down and put the mayonnaise on an they walked right up the trailer."
Animal Control Officer Bruen says it was definitely an action-packed day.
"A wonderful adventure For Roto and Tiller and the rest of us. Lots of digging, followed by a snack of chicken and Mayo sandwiches (heavy on the Mayo) and a lovely dessert of homemade potato chips drizzled in yes, more Mayo, and the girls were ready to load into the trailer and head home for a nap."
It's certainly not a day neither Bruen nor Graban will forget any time soon.
Said Graban, "Just when you think you've seen everything, something else comes along."
Job well done to Bangor's Animal Control Officer and Porking--we mean the Parking Enforcement division.
17 Wild Animals You Could See in Bangor
A young moose was seen munching on trees in the Bangor City Forest recently. Here are some other animals that are known to live in the Bangor city limits, particularly within the Bangor City Forest, a 600+-acre preserve in the city.
More From WWMJ Ellsworth Maine