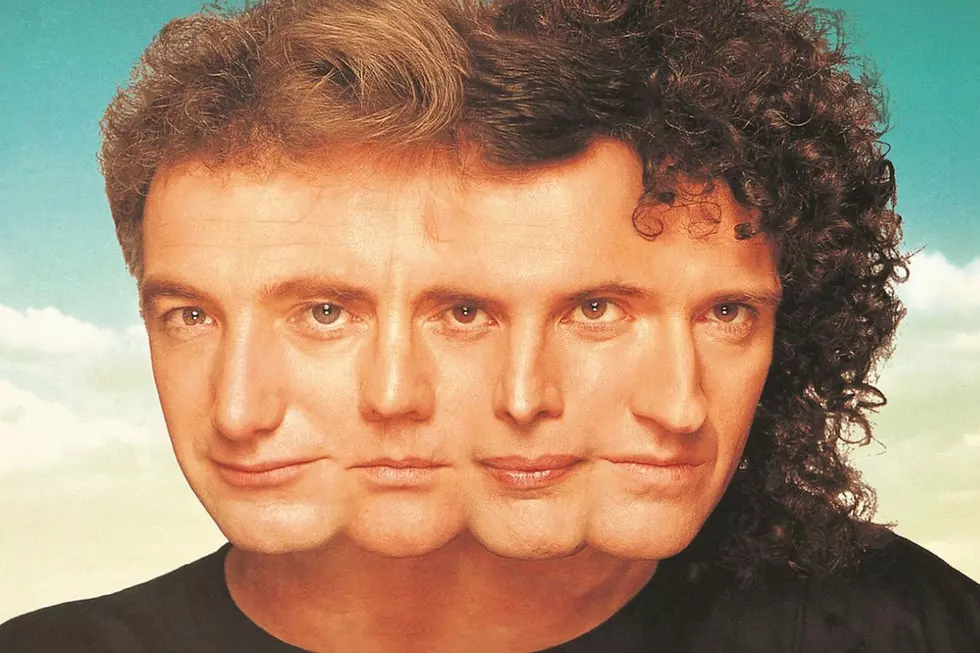 How Queen Overcame Trying Times to Finish 'The Miracle'
Capitol
The Miracle, whatever its musical intrigues, heralded the beginning of the end for Freddie Mercury's time in Queen. His looming health problems, however, weren't immediately obvious.
As the album arrived on May 22, 1989, Mercury announced that he was ready to break the tour-album-tour cycle that had long consumed the band. Queen, for the first time, didn't hit the road to support their newest studio project.
Sales, in particular in the U.K., remained robust. The Miracle topped the charts there, going platinum. In the states, Queen earned another Top 25 showing. The album's lead single, "I Want It All" added another signature anthem to their catalog on its way to the No. 3 on Billboard's mainstream rock singles chart – and the top spot in England.
As such, there seemed little reason to question Mercury's decision, at least from the outside looking in. The flamboyant frontman's longtime bandmate Brian May was beginning to realize, however, that something was amiss with Mercury. An AIDS diagnosis wasn't discussed, not even within the group. Still, as the disease ravaged the '80s gay community, May admits it wasn't hard to guess what might have been going on.
"We didn't know actually what was wrong for a very long time," May said, a couple of years after Mercury died. "We never talked about it and it was a sort of unwritten law that we didn't, because Freddie didn't want to. He just told us that he wasn't up to doing tours, and that's as far as it went. Gradually, I suppose in the last year and a bit, it became obvious what the problem was, or at least fairly obvious. We didn't know for sure."
In fact, Mercury was said to have known about his illness as early as 1987, weeks after his 41st birthday. Famous back then for his outsized hedonism, he settled down into a quiet life with partner Jim Hutton, who was introduced as his gardener.
Watch Queen's 'I Want It All' Video
The stigma of AIDS, in an era long before the acceptance of gay marriage, was only outstripped by its deadly outcome. Mercury was cursed with living in an age before today's commonly successful treatments. AIDS, to that point, was a de facto death sentence. And so, whether because of his unwillingness to go public with his illness or because he simply couldn't admit the fate that awaited him, Freddie Mercury remained silent on the subject.
Meanwhile, the layered, typically complex nature of The Miracle provided little in the way of overt clues as to what really lay ahead for Queen. Though often bogged down by the sleek synthy sheen of its day, the project found Queen again deftly melding pop, arena rock and light opera themes. All of the familiar bombast was there. "Anthems," as Roger Taylor told the Seattle Post-Intelligencer in 1989, "are our business."
Reviews at the time praised both Mercury (Rolling Stone said he "has never sounded better") and May, who adds some classic crunch to tracks like "Khashoggi's Ship" and "Was It All Worth It" – the latter of which draws a direct line back to their intricately conceived '70s triumphs. Newsday said May's runs were "as flashy and supple as ever."
In a show of solidarity, every song on The Miracle was credited to the entire band, a first. "Party," the album-opening cut, even featured a rare segment with May on the mic; he shared the bridge vocal with Mercury on "I Want It All," as well. All four of their names are embedded in lyrics for "The Invisible Man." Then there was the album's striking cover image, a combining of all four member's faces into one gestalt portrait.
"As soon as we realized Freddie was ill, we clustered around him like a protective shell," May later said. "We were lying to everyone, even our own families, because he didn't want the world intruding on his struggle. He used to say, 'I don't want people buying our fucking records out of sympathy.' We all became very close. We grew up a lot."
Four more singles followed "I Want It All" but, with no tour to prop them up, they were mostly met with declining interest. "Breakthru" reached No. 7 in their native England, "The Invisible Man" climbed to No. 12, and "Scandal" went to No. 25. The album's title track actually just missed the U.K. Top 20. None, however, charted in the U.S.
Watch Queen Perform 'Breakthru'
Soon, Taylor and May were left to solo projects. Into the '80s, of course, each member of Queen had regularly undertaken such outside work. In fact, Taylor had already issued a pair of Top 30 U.K. solo projects, while Mercury had two Top 15 recordings of his own. The difference? Back then, it was by choice. "Brian and I did our own solo stuff, and so did Freddie," Taylor reminded reporters, "and we were all very happy to do that, and express ourselves separately. But always we would come back to 'The Mother Ship.' And it was good, you know, it was this wonderful feeling of security, at the center of all things."
But this time off the road came at a particularly difficult time for May, whose personal life was also in shambles. "That tore away a layer of security," he told the Sacramento Bee in 1993. "Then I split from my wife and kids, which was the worst of all, because my whole image of myself was based on being a husband and father. I fell apart. I became very depressed, incapable of doing almost anything. Getting out of bed was hard."
The members of Queen remained close, even if they were – as Mercury became increasingly reclusive, and May struggled with depression – in actuality very far apart. May ultimately roused himself to participate in the the score for a London theater production of Shakespeare's Macbeth, and joined a series of other stars on stage, including Black Sabbath and Jerry Lee Lewis. Taylor and May worked on the Rock Aid Armenia project, as well.
Still, they were often forced to answer reporters' questions about a possible breakup. (That media buzz, and their unity in the face of it, had been the focus of "Scandal.") "The thing which holds us firmly together," May said at the time, "is the fact that Queen is a lot better than any one of us."
Unfortunately, that bond would soon be broken anyway. Queen released only one more album with Mercury, 1991's aptly named Innuendo. By then, a visibly gaunt Mercury was battling for his life – even as rumors as to just what ailed the singer continued to mount. The songs themselves, with titles like "The Show Must Go On" and "These Are the Days of Our Lives," finally began to reveal a latent concern over Mercury's fate, too. "I suppose they did," May told the Sacramento Bee. "Freddie was still looking outward, but we were writing things that he might be feeling, but not able to voice. He just said, 'You don't have to tell me what it means. I will give it my all.'
On Nov. 23, 1991, Mercury officially announced his AIDS diagnosis. "Freddie didn't want to be looked at as an object of pity and curiosity," Taylor would later recall, "and he didn't want circling vultures over his head. We thought we'd announce that he had AIDS late in the day, when it was too late to really bother him." A little more than 24 hours later, Mercury died at age 45.
The Top 100 Rock Albums of the '70s
More From WWMJ Ellsworth Maine