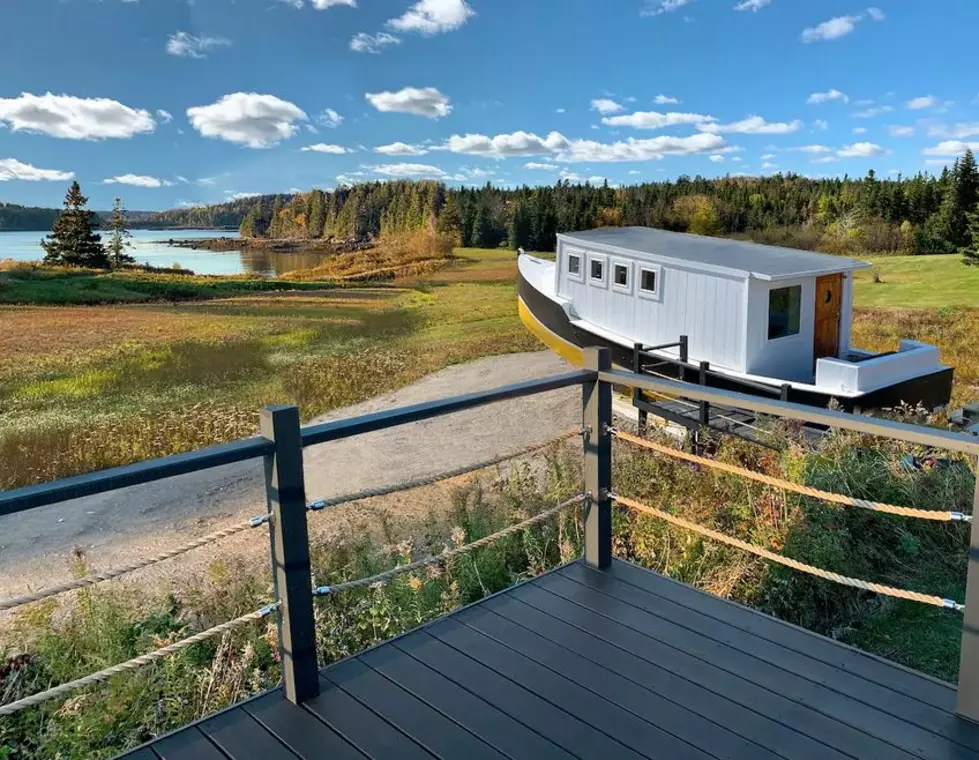 Rent This Machiasport Cottage With An Adorable Lobster Boat Lounge
Julie and Rich, via airbnb
Just 90 miles from Bangor is an Airbnb rental that offers something really cool, comfortable, and unique, and also exemplifies what the coast of Maine is all about.
This sparkling clean and well-decorated cottage for rent also comes with a lobster boat lounge!  Now we're willing to bet that you didn't even know that such a thing existed, but apparently is does.
To begin with, the Dockhouse which overlooks Holmes Bay in Washington County is uniquely styled with mid-century modern decor. With windows throughout that show a field with lupines down to the Bay, this place has one bedroom, a comfortable living room, and a sitting area to eat at while admiring Long Point nature preserve in the distance.
Then there's the attached walkway that takes you to the lobster boat library and lounge, a place to enjoy a drink or two at the end of the day while browsing through a book or listening to records on an old-time phonograph player.
Another big bonus is a walk just 350 feet down to the shore gives you access to a beautiful sandy beach that you can really sink your toes into.
Julie and Rich are your hosts and it will cost you $220 per night for a stay that we're sure you'll remember. See it all at Airbnb.
Rent This Cottage with Lobster Boat Lounge
Stay In This Maine Airbnb Complete With A Caboose
This train is going nowhere and that's all right with us.
Wow, take a peek at this
Airbnb listed
at $140 a night in
Knox
, right down the road in Waldo County. This cool and unique little setting featuring a cabin and caboose is located on farmland and can sleep up to 8 people. With 3 bedrooms and two baths, it's listed at $140 a night and looks like it would be a whole lot of fun.
The caboose itself was a working train car and part of the Maine Central Railroad up until 1992. Just imagine the train workers that stayed within it and the miles that it racked up all across Maine.
How could you not love a stay where chances are that you may interact with an emu and a Great Pyrenees Belly dog?
And the caboose looks to come in real handy if you have kids, who can sleep there while you have the cabin all to yourselves!
95% of the guests that have stayed here have given it a 5-star rating so sign us up! Let's take a peek.
Peek Inside The Most Expensive House Currently For Sale In Maine
This $10.5 million compound on Hope Island in Casco Bay is the stuff that dreams are made of. With expansive grounds, a couple of guest houses, a horse barn, and a dock that connects to deep water frontage, what more would one desire?
Take A Look Inside The Least Expensive Home For Sale In Maine
Take a peek inside and out of this very slammin' and radical property, and if you find it to be totally off the hook, then hook up with the realtor for the lowdown.
More From WWMJ Ellsworth Maine