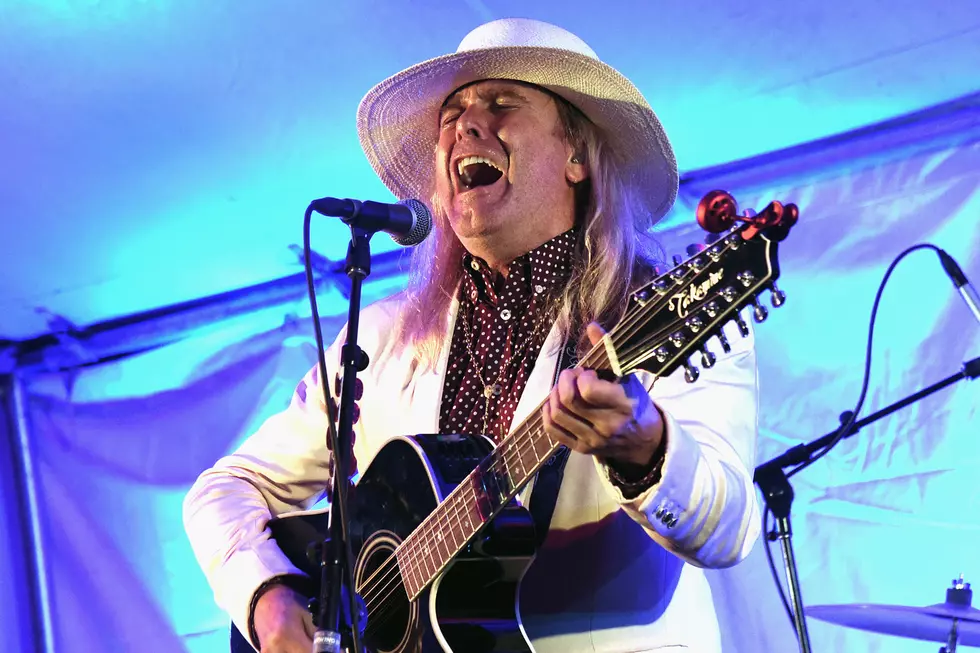 Robin Zander Says a New Cheap Trick Album Is Coming This Year: Exclusive Interview
Rick Diamond, Getty Images
After going seven years without a new release, Cheap Trick put out three records in as many years: Bang, Zoom Crazy ... Hello arrived in 2016, with We're All Alright and Christmas Christmas coming last year. Now, in an exclusive interview, singer Robin Zander says even more music is on the way, with a new album the band is currently working on and hope to get out later this year.
Add to that a busy tour calendar -- including spending May and June on the road with Poison, and Zander tells us Cheap Trick will be joining the Journey/Def Leppard tour at some point -- plus Zander spending a week on Broadway in Rocktopia in April, and you have a band that's as active as ever.
There have been three albums basically in the past two years and change, if you count the Christmas album. You guys have been on a fantastically prolific roll. What can you tell us about further new music plans presently? It seems like there has been a good amount of recording happening over the past few years, which is great to see.
You're not always in the mood to write music. Sometimes you've got [things like drummer] Bun E. leaving the band and that period, there was a big dead spot, because we were kind of in between things. But then there was a resurgence as of late. As you said, in the last two years, we've been real productive and inspired and it shows. We've got a lot of good response from these records. The Christmas album, I think it's great. It shows the public where some of our influence comes from and stuff like that. We're working on another record right now as we speak. In fact, we just did a John Lennon cover song. I'm thinking we should put it out now, because it's a great version of "Gimme Some Truth."
What I think is cool about a song like "Heart on the Line" (from Bang, Zoom Crazy ... Hello) is that it seems like you guys have been okay with going back in the archives occasionally to excavate things that didn't make it out into the world for one reason or another. Some bands are kind of weird about that stuff. Can you talk about that part of your recent process a bit? Because it's cool seeing you guys get some of these lost nuggets out as new Cheap Trick music.
I don't understand that, because the Beatles weren't afraid of doing that. And neither were the Rolling Stones. And neither were the Who! They reached back in their little bag of tricks from years gone by and said, "Why didn't that song do any better than it did" or, "Why didn't we ever record that one?" You know, if we'd thought the other way, Dream Police would have never been an album. "Dream Police" was written for our first album. So was "Surrender" and that didn't make it until our third album and so was "I Want You to Want Me." They were all written for the very first album, so if we didn't reach back in our bag of tricks for those songs, where would we be today? I don't know. But I'm just saying, I don't think that's an issue, really, to even consider being negative. I think it's a positive thing.
You guys seem to have a great association with Julian Raymond as a producer that goes back more than a decade now to the Rockford album. What does he bring to the table that you like?
We have the same sort of musical sensibility and that's hard to find. He's like a fifth member of our band. His input isn't just strategic. It's not from a record company's point of view. His input is musical and I am very appreciative of that. I think that adds another dimension to what we're doing right now, which is good. That's why we include him on every aspect, rather than, "Oh, you're just going to produce the record, now stay out of everything else." I don't think that's a good [tactic]. You know, a guy like him that we've known for so long who is not just a producer of our records, who co-produces our records, but he's a friend of ours and we've known him a long time. He understands us and where we came from. We pretty much were influential in his rise up in the ranks as far as what he does for a living. So we stroke each other's back.
The new record, will that materialize this year?
Oh, it will be this year. We've already got a couple of songs that are mixed and ready to go. I'll tell you one thing that we're working on, that we've finished already, because it might not be on the record. It might be, but it might not be. I'd like to get [the cover of "Gimme Some Truth"] out as soon as possible, even if we don't have the record ready, I'd like to put that out somewhere.
What was the inspiration in doing that song? Was it just the current climate?
I think it's the current climate. That song stuck in my head because it just explains and conveys everybody's feelings these days about what's happening in America and around the world.
What else is on deck? I know you have the tour with Poison.
We're out with Journey and Def Leppard also this summer. And we've got some shows coming up in Australia and Japan and I think we're going back to Hawaii this year, which would be cool. We haven't been there in a while. We just got back from Puerto Rico. We just did Fort Lauderdale, a big festival on the water. So we're still working. We're out there!
What's it like for you guys, churning out the amount of new music that you do as much as you work on the road? It's impressive.
That's what we do and that's what we've always done. I'm not going to sit at home and twiddle my thumbs all summer long. You know, I do enjoy being home and I love my family and all of that, but there's two things in my life, my family and my home and my work with this band. And to make that work, it takes a lot of thought and a lot of planning, but I seem to have done it. Life has held that I do it well, I guess.
Masterpieces: The Very Best Albums From More Than 100 Classic Rock Acts
More From WWMJ Ellsworth Maine