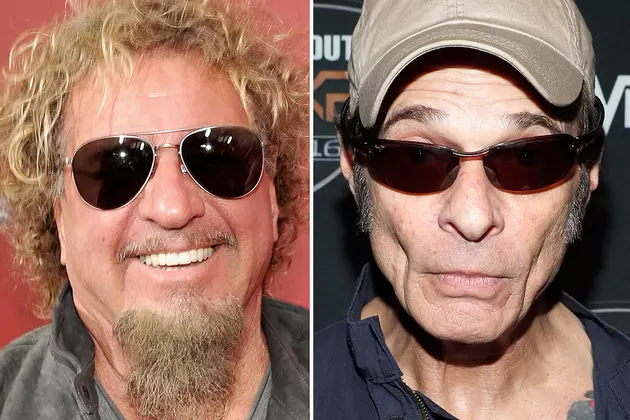 Sammy Hagar Wants to Tour With David Lee Roth and Van Halen
John Sciulli / Rich Polk / Getty Images
Sammy Hagar wants to tour with Van Halen, including original singer David Lee Roth, because he believes the competition between the two frontmen would make fans "die and go to heaven."
And he hopes the tour would also include original bassist Michael Anthony, so that all the bad feeling between the band's members can be put behind them while they're all still alive.
Hagar fronted Eddie Van Halen's band from 1986-96, then again from 2003-05. Roth has undergone three stints -- from 1978-85, in 1996 and from 2006 until the present, though the band has apparently been inactive since 2015.
The singers teamed up for a joint tour in 2002, unofficially titled Sam & Dave, though they never appeared onstage at the same time. At the time, Van Halen were on hiatus, and it wasn't clear whether the band would return.
Hagar talked up the possibility of hitting the road again with his old bandmates during a recent SXSW talk, noting, "The last thing I wanted to do was find out you are sick or something, and realize you have this bad blood and you don't want to take it to the grave. I don't do anything for money, fame or fortune anymore in my life. I do things that make money and I do things that make me more famous – but I don't do it for those reasons. I think the fans would die and go to heaven."
He suggested that he and Roth could take turns performing their classic Van Halen numbers. "The competition for that would be great," Hagar said. "He'd do 'Panama' and 'Runnin' With The Devil,' and I'd be going, 'Damn! I gotta step it up!' I'm up for it."
Still, Hagar said he accepts that he and Eddie Van Halen would have to work on their relationship, which broke down over a number of issues, including the firing of Anthony, who was replaced by the guitarist's son Wolfgang.
"We were friends up until the end," said Hagar. "For nine years Eddie and I were neighbors and writers together – best friends. I don't know if we can ever get along again because it got so bad."
Roth and Hagar appear to have been at each others' necks in recent years, exchanging insults over singing abilities. In 2015, Roth suggested the band's "Van Hagar" era suffered from a "credibility issue." "You know Roth means it – the other guy doesn't," Roth said. Hagar responded by claiming that if Roth tried to sing any of the songs from his era, a "quality issue" would arise.
Classic Rock's Most Disappointing Albums
More From WWMJ Ellsworth Maine