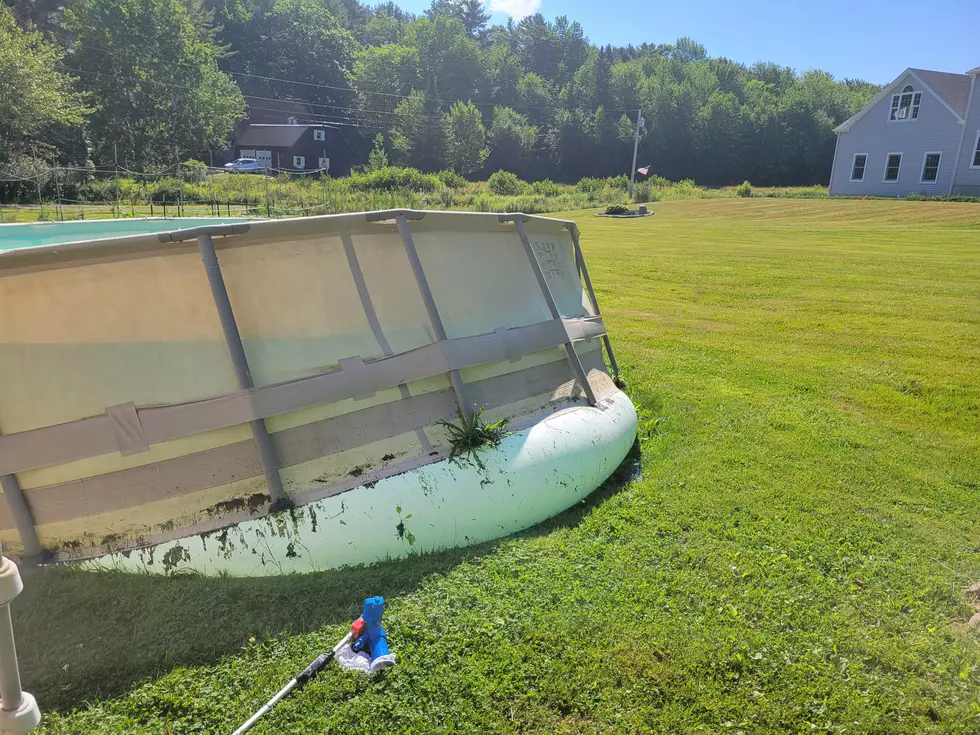 #TBT: The Time A Family Pool Popped Accidentally In Front Of Kids [VIDEO]
The Pool Popped 3, Rachel Bland Downs
Pools are a welcomed luxury for Mainers when temperatures rise, much like they're doing this week.
Last year, however, one pool, in particular, decided to pop on the hottest day of the summer, much to the dismay of the kids who were enjoying it. And their mom just happened to get the entire thing on video.
I did follow up with this family, and I'm told the pool has yet to be replaced.
---
They say you don't know what you've got til it's gone.
Well, Rachel Bland Downs and her kids suffered an unfortunate loss this week. She describes the aftermath of what happened as she watched her kids play in their pool outside of their Eddington home Friday morning.
"I was sitting in our screened-in deck on a conference call. I noticed the pool was leaning and the legs were gradually lifting. My son Connor was in the pool and I told him to get out because it was going to pop!"
Downs said the pool has seen significant use the past few weeks, as the temperatures have been in the 80s and 90s across the state.
"This is our second summer with it. We got it used and free from a friend last year."
"It has been used multiple times throughout the day by the kids, yes major use!"
As the kids cleared out of the water, the pool began to bulge even more...
Finally, to their horror and disappointment, it popped.
[video width="640" height="368" mp4="https://townsquare.media/site/543/files/2022/07/attachment-video-1658497822.mp4"][/video]
Downs says she believes erosion may have had something to do with the pool popping.
"I think it popped because the ground probably wasn't level underneath, there has been a small leak in the pool, which probably eroded the ground under it."
She says the kids are sad about their pool pooping out on them but have also been able to keep a good sense of humor about the situation. She was shocked to see it pop but was also able to laugh about it, as you can hear in the video.
"So disappointed but they are seeing the positive in it. We are laughing about it."
Downs says there are no immediate plans to replace the pool, they might look into other options to keep the kids cool this summer.
"Probably not going to replace it this year. They are a bit pricey so will probably wait until next year. We may get a small blow-up pool."
Unfortunately, there is no municipal pool in Eddington, the nearest one being in Brewer.
Downs says as amusing as the scene may have been to watch, the timing of the pool pop couldn't be worse, as this weekend's forecast has temps reaching into the 90s till Monday.
"Not a great week to lose the pool."
12 Activities in Maine Your Kids Will Actually Want to Do This Summer
Kids enjoy a lot of things but for summertime fun, it all comes down to 5 groups; amusement/water parks, animals, sports, learning, and the beautiful outdoors. If you're looking for some serious family fun this summer, start checking these off your bucket list.
More From WWMJ Ellsworth Maine