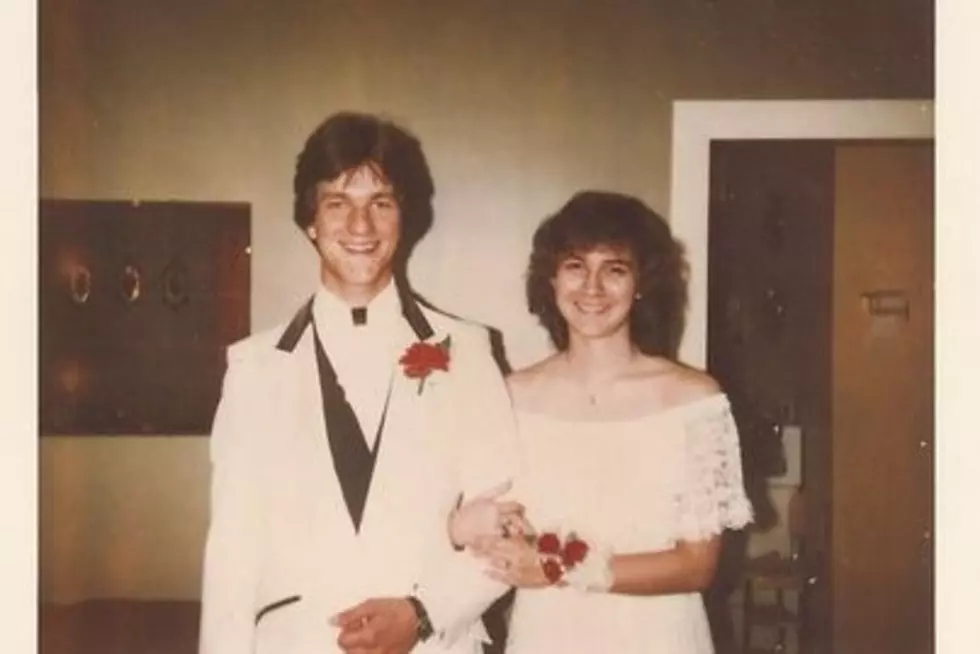 Throwback Thursday: It's Prom Season, So Tell Us All About Yours.
Cindy Campbell
Since Prom is kind of a hot button this year, with some schools canceling, and others having informal ones, we wondered what your prom might've been like...
JStew: I went to a few proms in high school. I think the only one I missed was my junior year. The girlfriend I had at the time didn't seem to be interested, so we didn't go. The photo from the article was from my senior year. Melanie, the girl in the photo with me, is still a good friend. She's a teacher these days. Fun fact, a few short years later, she is the person who actually introduced me to my wife. So I'll always have her to thank for that! But as far as our prom went, it was '92, in the middle of the grunge explosion. As you can see, we were kinda the class freaks. We wouldn't have had it any other way. Like most kids, we took off to Bar Harbor with friends afterward and caught the sunrise. Good times, actually.
Cori: While I never went to my own prom, I had a boyfriend who was two years ahead of me in school, so I went to his.
Prom...it was a disaster!
A few weeks before prom, I had decided to rent this really cool vintage black dress with a black feather boa (very me, at the time.) The morning of the prom, my mom decided that she didn't want me wearing that dress, and insisted that I go dress shopping to find something new. THE MORNING OF THE PROM! We went to about 3 different shops, until I tried a dress on, came out to show her and she started to cry and said that was the one. I was too irritated to both fighting her on it. We had to change everything because the dress was different, so my boyfriend's vest, tie, flowers... the whole thing. I had planned to get ready with some friends before prom, and my mom nixed that, too. Instead, she took me to a salon and made me get this up-do that I hated. It was uncomfortable and felt like a clumpy cat was sitting on my head. So I showered it out. I ended up getting ready for prom, with a pile of dripping wet hair,  in the back of my mom's minivan, on the way to my boyfriend's house in Orland. When I got there, after we took our miserable pictures (which I still can't find) he informed me he'd forgotten to make a reservation for dinner.
We ended up eating Chinese take-out in his Ford Taurus, which actually ended up being way more fun than being in a crowded fancy restaurant would have been, I'm sure. After the dance, we were supposed to go to this party at "a friend's camp." The camp ended up being a small, silver airstream camper in the middle of the woods. It was a very cold May evening, so all the girls were freezing. And the only thing this person had on hand to eat or drink was a huge case of ice pops. As we left "camp" we were all pulled over by the cops, who had followed the caravan of 20 cars into the woods.
So most of my promo experience was a nightmare. But looking back at it now, it was also hilarious.
It's always fun to share stories, but photos? And props to the folks who just wanna make fun of JStew's hair...You guys rule....
Jeff Bishop Who's the guy with the hair and glasses? Is that "JStew"?
Victoria Nickerson Got that Dimebag Darrell hair.
Scott Hanscom Wow kind of a weird Al Yankavik look . Lol
Melissa Avery Burns Matching hairstyles!
Steve Back when I was a kid, there were only Senior Proms. And as a young 16 or 17 year old guy, you wanted slow dances to last forever.
George My prom songs could have been Lonely Is The Night or Owner Of A Lonely Heart.  I didn't get a chance to go to my prom because I couldn't get a date.
John Stanton III I have I few of me lol! 1990
Angela Faulkner 1985! Must have been channeling Princess Di with the hair and pearls.
Stasia Williams Houp 1992.
Jen Megquier Can you believe I never went to any prom or semi-formal. Never my thing.
Cindy Campbell Senior Prom, 1980, with my friend John. We snuck bourbon into Pilot's Grill restaurant before the prom. And after prom, we drove up Cadillac Mountain and watched the sunrise. I had a huge crush on him (but he didn't know it) and he asked me so he wouldn't have to worry about asking anyone else....lol.
Kari Jo Davis 1987 I'm in all white...
Dennis Bean My 5th prom...and now wife and mother of 4!!!
LOOK: What are the odds that these 50 totally random events will happen to you?
Stacker
took the guesswork out of 50 random events to determine just how likely they are to actually happen. They sourced their information from government statistics, scientific articles, and other primary documents. Keep reading to find out why expectant parents shouldn't count on due dates -- and why you should be more worried about dying on your birthday than living to 100 years old.
LOOK: 30 fascinating facts about sleep in the animal kingdom
KEEP READING: See the richest person in every state
More From WWMJ Ellsworth Maine