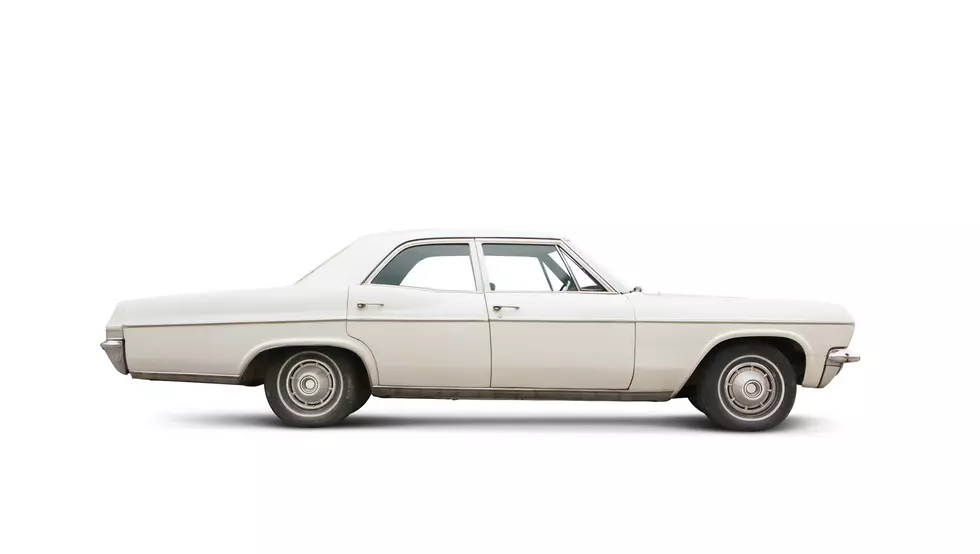 Throwback Thursday: What Was Your First Car?
Anton_Sokolov
This "Throwback Thursday" we wanted to know: What was the first car you ever had?
JStew: Like I said on the air earlier this morning, I didn't get my license until my mid-30's. Living right on the peninsula in Portland, owning a car wasn't really necessary. I used to walk to work every day, and had no problem using public transportation. But boy oh boy, did I enjoy the freedom of having my own ride when I finally got one. I honestly had no idea what I was missing, but couldn't imagine my life without a car at this point. So below, you can see my mighty 2002 Toyota RAV4. Way over 200K miles on it, and still going strong after selling it to a buddy to use as an island hopper down on the coast. Actually, I really miss that car.....sigh....
Cori: Being a weirdo, I never had any dreams or aspirations of ever owning a cool car. The budget I had (even with my family's help) was a few hundred dollars at best. And the super cool cars were all going for WAY more than that. So instead of fashion, I looked for function. I come from a big family, had a lot of friends and a ton of stuff. So I needed something that could haul a lot of people and a lot of things. Ultimately I settled on a car my neighbors were selling. It's was nothing fancy, but that thing was a living room on wheels: A 1988 Cutlass Cruiser Wagon...complete with wood paneling. It was nothing short of spectacular. And as you can see from this super-flattering picture (that was taken in the back parking lot of the radio station, some 20 years ago!) it was always full of crap!
DJ Fred: My first car.  I was 18.  1972 Dodge Coronet Super Bee
Needless to say, many of you had WAY cooler first cars than we did.\
Cheryl McManus 
1971 Plymouth Satellite Sebring Plus, triple black, 318 V8. Burned a tire like no tomorrow. I learned to drive in this car.
Sue Simard-Poliquin 
1969 RS Camaro,feeling cool driving this when i was 15
Richard Browning 
1969 Chevy Nova Custom. Sorry no pictures.
Nancy Gildred 1966 mustang pea-green. Bucket seats sat so low could hardly see over dashboard but I was in love.
Vaughn Tracy 
1966 Impala 4dr 6cyl automatic.
Wendy Clewley 
Just thought I would share mine that Iv had for the last few years 1966 Chrysler Newport,Original paint & still in mint condition.
Brad Rice 1972 Ford Maverick, Had a V8 4 speed. Was a totaled car that I rebuilt at 14 years old.
Kari Jo Davis 1977 (I think) Ford Ltd. It was grass green with vinyl bench seats, I could fit 10 people in that baby.
Carl Anderson III 
1973 Chevy c10 2wd, 1/2 Ton, 3 speed on the column, regular cab, long bed. The truck loved to get stuck in gear more than it should. Also the emergency brake cable was broken since day one. Never fixed it. Lol
Lisa Mishou '73 Dodge Charger SE. I loved everything about it! This pic was with the gang Suuuuuunday! At Winter port Draaaaagwaaaay!
Stacy George 
1991 Oldsmobile cutlass ciera. Loved that thing. Rode like a dream on the interstate.
David Jeskey 1975 Dodge pickup. Three on the Tree (3 speed on the steering column)
Jen Megquier 
1985 Olds Delta 88. Best car ever, V8, you could leave anything sitting at a light, was a land yacht. And then I discovered Jimmy Buffett had a song about it - ironically called USS Zydecoldsmobile
Cheryl McManus 1971 Plymouth Satellite Sebring Plus, triple black, 418 V8. Burned a tire like no tomorrow
Paul Keezer 65 Dodge Corenet...what was crazy was I took album covers and glued them to the ceiling had fur on the dashboard and used to drive to Dysarts after the Showring and the Bounty...it also was my 1st apartment because I would just pull it into a hayfield in Hampden and sack out all night...damn that was fun....
Jackie Batchelder '73 Toyota Celica. It was fun to drive.
Mary Klein Drouin 80 something buick skylark....it liked to overheat.
Bob Hatch Mine was a black 1966 Pontiac Lemans. $350, used. Had a 327 c.i. 'vette engine, and would pass everything but a gas station! My dad drove it, when I went into the Marines and someone ran into him and totaled it
Linda Memaw Boone This was my first car a 1963 Chevy Impala exact replica of this car from The Wonder Years. It used more oil than gas and it once belonged to an upper classmate who was known as one of the cool kids.
See the Must-Drive Roads in Every State
UP NEXT: See how much gasoline cost the year you started driving
More From WWMJ Ellsworth Maine