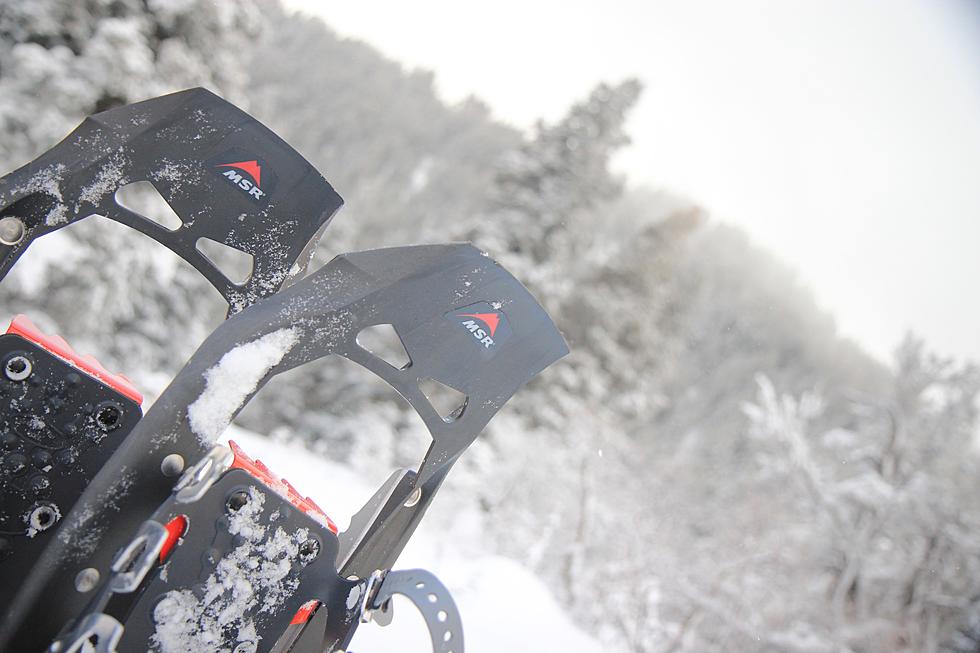 The snow has started to fly. Those looking to explore the Maine winter wonderland have excellent trails for adventuring, just a snowball's throw from the Bangor area.
With winter here, those looking to prevent a case of cabin fever are looking to the outdoors. The Bangor area has an abundance of trails perfect for snowshoeing, and also great for cross-country skiing. Before we get started, if you're new to snowshoeing, we have a few tips.
First, consider where and if you can park your vehicle. Some trailhead parking areas are not plowed in the winter. Another tip, study the trail map. In winter, finding your way along a trail can be disorienting. Trail markers may be covered with snow, and less traveled trails may not be well established in fresh snow. Also, remember snowshoeing requires more effort than hiking on bare ground. Slogging through deep snow in snowshoes is a workout.
Bangor City Forest
Our first destination is an obvious one for those in the Bangor area, the Bangor City Forest. The miles of trails offer plenty of well-marked walking paths to strap on some snowshoes and explore. If you plan to visit, remember that the Orono Bog Boardwalk is closed, and snowshoers are asked to not walk on groomed ski tracks.
Acadia National Park
The summer crowds are long gone, giving locals an excellent opportunity to explore Acadia National Park's many destinations. The park's 45 miles of Carriage Roads are a perfect way to stroll around the park. When conditions allow, volunteers groom sections of the roads for cross-country skiers. Snowshoers are asked to stay off any groomed tracks. Unplowed park roads are also great for snowshoeing and cross-country skiing, just watch for snowmobilers. Don't forget the numerous Acadia National Park trails on the Schoodic Peninsula.
Walden-Parke Preserve
Another Bangor trail system worth exploring with webbed feet is the Walden-Parke Preserve. With gentle ups and downs in elevation, paired with scenic views, the miles of trails are perfect for snowshoeing and cross-country skiing. If you want to take your pup for a winter walk, they're welcome (leashed) on the trails.
Old Pond Railway Trail
Looking for winter coastal views? The Old Pond Railway Trail in Hancock is a must on skis or snowshoes. The 3-mile trail follows a section of the old railroad bed that was part of the Maine Shoreline Railway. At the East Entrance of the trail, old rails can still be seen. The railroad was abandoned in 1985. The trail eventually leaves the rail bed, which is where the hike gets slightly more challenging. For more in-depth info, check out our past Wolfe In the Wild article.
Penobscot River Trails
Further north, where the snow falls in great abundance, is the Penobscot River Trails. Located in Sinoldiertown Township, near Millinocket, the PRT is an excellent venue for scenic adventuring year-round. In summer this extremely well-maintained trail system is excellent for walking and biking. Much of the 16 miles of trail follows the banks of the Penobscot River. Kayakers can utilize boat launches along the trail. In winter, beautifully groomed cross-country ski tracks are laid down.
Snowshoeing is welcomed on the trails, just stay off the groomed tracks. Visitors MUST sign-in, and out, at the Visitor Center in order to use the trails. There's a sign-in book inside the Visitor Center. PRT features two warming huts and vault toilets. Use of the trails is free, with donations welcome.
BONUS: Bangor Municipal Golf Course
When snow is on the ground, golfing is on hold. Each winter, groomed cross-country skiing trails are laid down at Bangor Municipal Golf Course. Snowshoers are welcome on the trails but are asked to stay off the groomed sections. Dog walking is not permitted on groomed trails.
15 Astonishing Natural Wonders Of Maine
Here are some of the bewildering and incredible sights of the natural world you can find here in Maine. How many places on the list have you visited or seen?
15 Must-Have Items For Ice Fishing Season In Maine
Ice fishing is an excellent way to embrace the cold winter months in Maine. It will get you outdoors for some fresh air, it's family friendly, and a successful day could yield a tasty dinner. If you're new to the sport, we put together a list of gear you'll need for a fun, comfortable, and successful day on the ice. Some of these items are more essential than others. Some gear may not be essential at all, depending on how you plan to fish. Again, the items we listed are geared towards those who are new to ice fishing.
Before we get to the list, remember to dress appropriately for the cold weather. We didn't put warm outerwear on the list, but it's definitely a must-have. Dressing in layers is important to ensure you're warm enough throughout the day on the ice. If you start getting too warm, you can simply take a layer off. Hand warmers are also worth packing.
10 Fun Ways to Overcome the Maine Winter Blues
Everyone needs a little pick-me-up during the long Maine winter, so here are some suggestions of activities that might help make the cold weather and short days a little more bearable.
More From WWMJ Ellsworth Maine