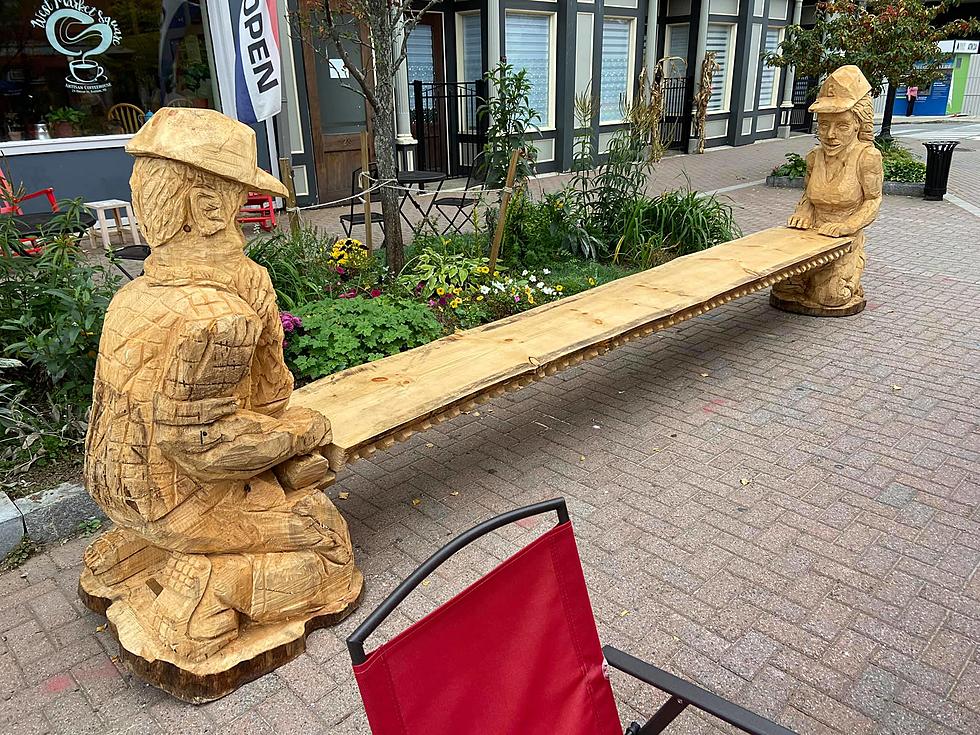 Bangor Has a Beautiful New Bench on Which To Sit
Bangor Bench 1, photo courtesy Jeff Wallace
What started as an inquiry by one local automotive manufacturer on how to get more involved in the community around them, has resulted in a new piece of interactive art for Downtown Bangor.
Betsy Lundy, Executive Director of the Downtown Bangor Partnership, says Somic America, a company based out of Brewer, reached out to her asking for ideas on how to participate in some local projects.
"At that time we were planning our Sidewalk Art Festival, and we asked if they'd like to sponsor a live artist demonstration. They said yes, and actually had an employee who works there who carves things with a chainsaw."
Lundy said Somic America's suggestion was perfect, and that's how the concept was created.
The artist, Lundy says, is a man by the name of Pasco Grove. It took Grove a couple of days to carve the bench.
"He started cutting it on a Friday morning. It was literally just blocks of wood, and he had all different sizes of chainsaws that he would switch out to do different details. It was really cool. And he would stop and answer questions. Over the course of the weekend, he carved the piece. And once he was done, he donated it to Downtown and we put it out in Westmarket Square, in from of West Market Artisan Coffee."
Bangor's response to the piece has been really positive.
"People loved it. We kind of put it out there as a photo-op moment for people, and we have definitely seen, on our social media, people tagging us with their selfies, sitting on the bench."
Lundy says the piece has a special connection to Bangor's logging history.
"He honors the logging tradition in Bangor. And it's also kind of timely and relevant that he has a male and a  female logger in there. You can see the long, detailed braid that goes down her back. And they're holding one of those big saws. So the bench itself, the part you sit on, is a saw."
Lundy says the bench is weatherproof. It's going to stay outside. It's intended to be used.
"It's really heavy and substantial. It would take a football team to steal it."
40 Years of Common Ground Country Fair Poster Art
Iconic imagery that represents the agricultural community of Maine, here are the winning designs that have represented the Common Ground Country Fair for the past four decades.
Bangor's Favorite Area Bars
One of the great things about living in the Bangor area is the huge variety of watering holes to choose from. Here are some of the best.
More From WWMJ Ellsworth Maine