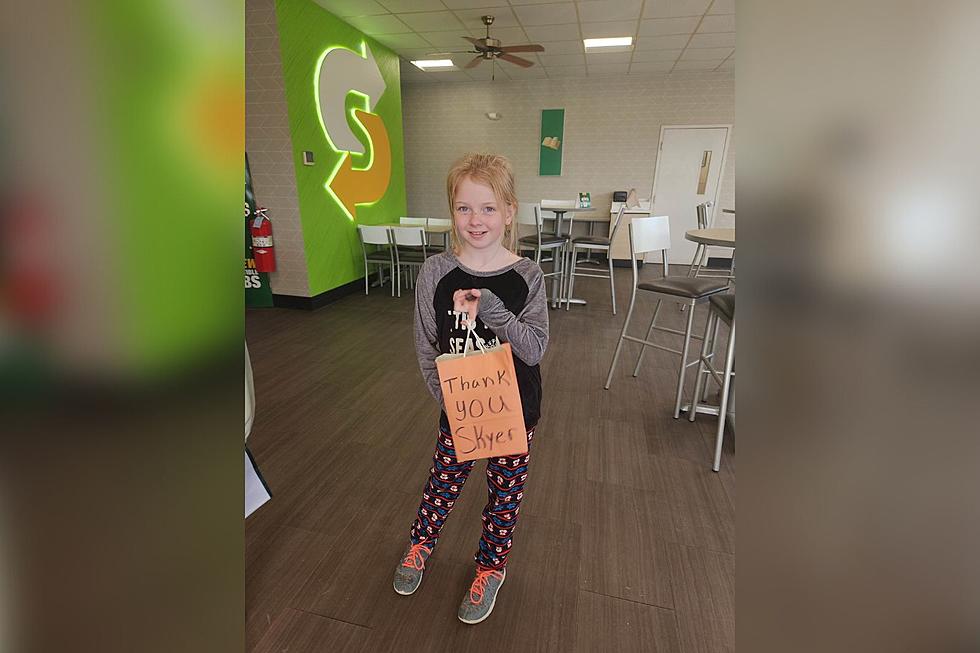 First-Time Ellsworth Girl Scout Breaks State Record For Selling Cookies
Priscilla Tripp
Liliana Osnoe is an 8-year-old girl from Ellsworth. While most 8-year-olds that I know are awesome in their own right, this young lady is slaying it in the cookie world, and setting records while she does it!
Osnoe just set the Maine record for the number of boxes of Girl Scout Cookies sold in the state. Last year, the state record was set at 2,083... by a 10-year-old. This year Osnoe topped that record by more than 500 boxes.
What's even more impressive? This is her first year as a Girl Scout, and her first time ever selling cookies!
So how does an 8-year-old achieve such record-setting results? The trick to Osnoe's success was casting a wide net.
Her mom, Priscilla Tripp, says Liliana not only went door-to-door to sell cookies, but she took her cookie sign-up sheet with her everywhere she went! The gas station, the doctor's office, the school, the grocery store check-out line! It was all fair game for cookie sales. This kid saw potential around every corner.
Added together, Osnoe's mom says the sales of said a combined total of all those boxes is somewhere in the neighborhood of $13,000 in cookie sales.
Now, having both sold (many moons ago) and purchased a number of Girl Scout Cookies in my lifetime, I can only imagine the amount of space 2,626 boxes take up. I've tried to hide five and been hard-pressed to find a spot that's out-of-the-way enough to not go noticed.
Thankfully for Osnoe, a local man named Steve O'Halloran, owner of the Amish Shed Company in Ellsworth, donated a shed for Osnoe to use free of charge, so they could store the cookies in there while they process the rest of the orders.
Osnoe's mom says Liliana's troop, Troop 1378 out of Ellsworth, isn't quite sure yet what they'll do with their cut of the cookie profits, but that part of the money will likely go to buying uniforms for the girls, as many of them aren't in a position to purchase them on their own.
I asked Osnoe what advice she'd have for other girls who were looking to get into the cookie game and she told me this,
"I would say, just do stores. Then, once you get more confident in yourself, then go door-to-door."
Osnoe's mom says this is not the first big milestone Liliana has achieved.
"She saved for two and a half years to go to Disney...She paid for everything except for food and gas. She paid for a family of 5 to go to Disney for four days and come back. "
Her mom said the young lady would sell items at craft fairs and host lemonade stands in the summer to raise money for the trip.
One of the places Osnoe went to sell cookies was Linnehan's Rightway Auto in Ellsworth. We're told, on the heels of Osnoe's successful first year, there may be a job waiting for her in car sales when she finishes up her schooling.
But Osnoe says she wants to work in a pet store when she grows up.
I'm pretty sure that whatever 3rd grader Liliana Osnoe puts her mind to, she'll do. There's very little doubt about that.
If you'd like to buy some Girl Scout cookies from Osnoe, there's still a way you can do that through this online link. The sale will end April 30.
Bangor's Best Sweet Treats
We asked listeners to name their must stop destination for sweets in the Bangor area
More From WWMJ Ellsworth Maine