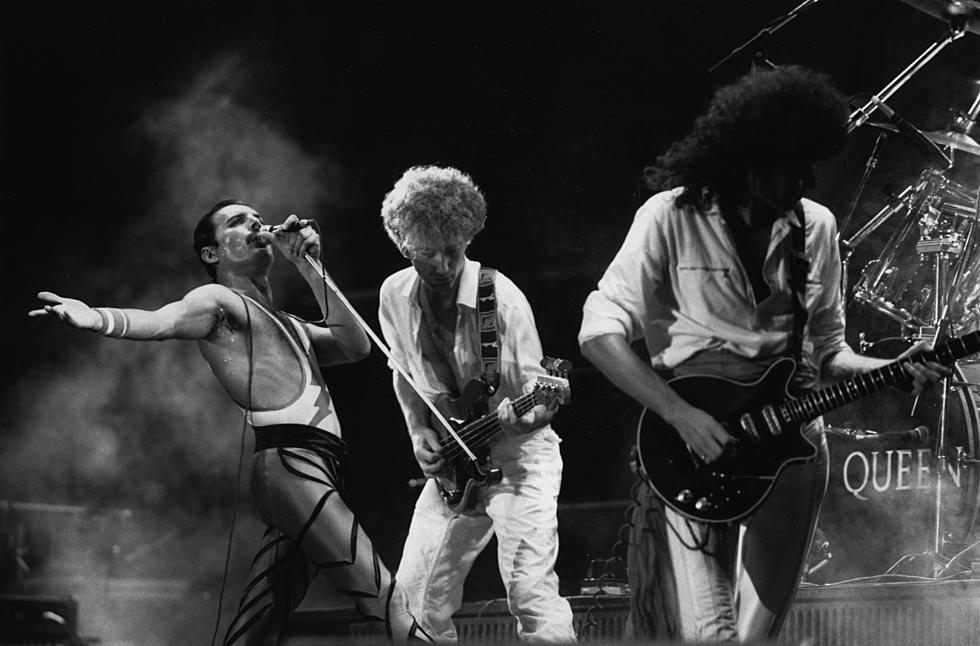 Here It Is, The Complete I-95 Memorial 500 Countdown List
Getty Images
Did you miss the #1 song?  Worry not, here's all 500 of 'em!
Over this past holiday weekend we aired the Memorial 500, a countdown of the top 500 classic rock songs of all time.  We know that you were very busy cooking hot dogs on the grill, boiling lobsters in the pot, hanging with the family and remembering those no longer with us.
So, you may have not heard the entire countdown.  Well we can't have that.
No, once was enough for the year because we really worked up a sweat "playing the platters that matter", too hard for a bunch of disc jockeys that don't know where the lawnmower is.
So, we bring you this year's Memorial 500 here in written form.  Make sure that you tell us what you think by pressing the "Message Us" button on the I-95 app, or by leaving a comment at the end of the list.
| | | |
| --- | --- | --- |
| RANK | ARTIST | TITLE |
| 500 | JAMES GANG | Funk #49 |
| 499 | J. GEILS BAND | Freeze-Frame |
| 498 | AC/DC | Shot Down In Flames |
| 497 | DAVID BOWIE | Modern Love |
| 496 | POLICE | Wrapped Around Your Finger |
| 495 | LYNYRD SKYNYRD | Tuesday's Gone |
| 494 | 38 SPECIAL | Rockin' Into The Night |
| 493 | STYX | The Grand Illusion |
| 492 | U2 | Desire |
| 491 | GRATEFUL DEAD | Touch Of Grey |
| 490 | STEVIE NICKS/TOM PETTY | Stop Draggin' My Heart Around |
| 489 | REO SPEEDWAGON | Ridin' The Storm Out (Live) |
| 488 | LED ZEPPELIN | Trampled Under Foot |
| 487 | NIRVANA | Smells Like Teen Spirit |
| 486 | AEROSMITH | Train Kept A-Rollin' |
| 485 | LOVERBOY | Turn Me Loose |
| 484 | BILLY SQUIER | In The Dark |
| 483 | FOREIGNER | Blue Morning, Blue Day |
| 482 | BAD COMPANY | Ready For Love |
| 481 | WHO | Eminence Front |
| 480 | BILLY IDOL | Cradle Of Love |
| 479 | SANTANA | Evil Ways |
| 478 | GUNS N' ROSES | Civil War |
| 477 | ELTON JOHN | Rocket Man |
| 476 | GRAND FUNK | Some Kind Of Wonderful |
| 475 | GENESIS | Land Of Confusion |
| 474 | SUPERTRAMP | Take The Long Way Home |
| 473 | BOB SEGER | Mainstreet |
| 472 | EDDIE MONEY | Think I'm In Love |
| 471 | JOHN CAFFERTY | On The Dark Side |
| 470 | LYNYRD SKYNYRD | That Smell |
| 469 | GEORGE THOROGOOD | One Bourbon, One Scotch, One Beer |
| 468 | EDGAR WINTER | Frankenstein |
| 467 | R.E.M. | Losing My Religion |
| 466 | BACHMAN-TURNER OVERDRIVE | Let It Ride |
| 465 | OZZY OSBOURNE | I Don't Know |
| 464 | STEELY DAN | Do It Again |
| 463 | AC/DC | Girls Got Rhythm |
| 462 | RUSH | Subdivisions |
| 461 | VAN HALEN | Dancing In The Street |
| 460 | SAMMY HAGAR | There's Only One Way To Rock |
| 459 | ROD STEWART | Maggie May |
| 458 | BLACK CROWES | Twice As Hard |
| 457 | TED NUGENT | Cat Scratch Fever |
| 456 | LED ZEPPELIN | Dancing Days |
| 455 | FLEETWOOD MAC | You Make Loving Fun |
| 454 | TALKING HEADS | Once In A Lifetime |
| 453 | FOREIGNER | Long, Long Way From Home |
| 452 | DAVID BOWIE | Let's Dance |
| 451 | PINK FLOYD | Us & Them |
| 450 | ELECTRIC LIGHT ORCHESTRA | Do Ya |
| 449 | GREG KIHN | Breakup Song |
| 448 | ROLLING STONES | Doo Doo Doo Doo Doo... |
| 447 | PEARL JAM | Alive |
| 446 | JOHN C MELLENCAMP | Crumblin' Down |
| 445 | VAN HALEN | Unchained |
| 444 | DOORS | L.A. Woman |
| 443 | BOB SEGER | Fire Down Below |
| 442 | POLICE | Synchronicity II |
| 441 | JOURNEY | Who's Crying Now |
| 440 | GUNS N' ROSES | Mr. Brownstone |
| 439 | DOORS | Light My Fire |
| 438 | DAVID ESSEX | Rock On |
| 437 | TESLA | Love Song |
| 436 | ALICE COOPER | No More Mr Nice Guy |
| 435 | BOSTON | Something About You |
| 434 | TOM PETTY | Here Comes My Girl |
| 433 | STEVIE NICKS | Stand Back |
| 432 | LYNYRD SKYNYRD | Saturday Night Special |
| 431 | LED ZEPPELIN | Good Times Bad Times |
| 430 | WHO | You Better You Bet |
| 429 | SUPERTRAMP | Goodbye Stranger |
| 428 | U2 | Where The Streets Have No Name |
| 427 | KANSAS | Point Of Know Return |
| 426 | AC/DC | Who Made Who |
| 425 | DIRE STRAITS | Walk Of Life |
| 424 | ROLLING STONES | She's So Cold |
| 423 | DAVID BOWIE | Space Oddity |
| 422 | PAUL MCCARTNEY | Band On The Run |
| 421 | FOO FIGHTERS | My Hero |
| 420 | ERIC CLAPTON | I Shot The Sheriff |
| 419 | JOE WALSH | All Night Long |
| 418 | DOOBIE BROTHERS | China Grove |
| 417 | SKID ROW | I Remember You |
| 416 | VAN HALEN | Finish What Ya Started |
| 415 | REO SPEEDWAGON | Time For Me To Fly |
| 414 | CARS | You're All I've Got Tonight |
| 413 | CREEDENCE CLEARWATER REVIVAL | Fortunate Son |
| 412 | POLICE | Every Breath You Take |
| 411 | PETER FRAMPTON | Baby, I Love Your Way (Live) |
| 410 | STYX | Fooling Yourself (The Angry Man) |
| 409 | LED ZEPPELIN | Houses Of The Holy |
| 408 | BOB SEGER | Her Strut |
| 407 | WHITESNAKE | Is This Love |
| 406 | TOM PETTY | Into The Great Wide Open |
| 405 | GENESIS | That's All |
| 404 | BOSTON | Feelin' Satisfied |
| 403 | TWISTED SISTER | I Wanna Rock |
| 402 | ELECTRIC LIGHT ORCHESTRA | Evil Woman |
| 401 | OUTFIELD | Your Love |
| 400 | STEVE MILLER | Abracadabra |
| 399 | HEART | Straight On |
| 398 | JOAN JETT | Bad Reputation |
| 397 | KINKS | Lola |
| 396 | BRUCE SPRINGSTEEN | Glory Days |
| 395 | JOHN C MELLENCAMP | I Need A Lover |
| 394 | STONE TEMPLE PILOTS | Interstate Love Song |
| 393 | ROBERT PALMER | Bad Case Of Loving You |
| 392 | PINK FLOYD | Speak To Me/Breathe |
| 391 | MOLLY HATCHET | Flirtin' With Disaster |
| 390 | WHO | My Generation |
| 389 | ROLLING STONES | Shattered |
| 388 | DOORS | Love Her Madly |
| 387 | DOOBIE BROTHERS | Long Train Runnin' |
| 386 | DAVID BOWIE | Changes |
| 385 | VAN HALEN | Dreams |
| 384 | T REX | Bang A Gong (Get It On) |
| 383 | ALLMAN BROTHERS BAND | Ramblin' Man |
| 382 | ZZ TOP | Got Me Under Pressure |
| 381 | DIO | Rainbow In The Dark |
| 380 | METALLICA | The Unforgiven |
| 379 | PETER GABRIEL | Sledgehammer |
| 378 | BEATLES | Revolution |
| 377 | WARREN ZEVON | Werewolves Of London |
| 376 | LED ZEPPELIN | Misty Mountain Hop |
| 375 | GUNS N' ROSES | November Rain |
| 374 | BOB SEGER | Rock And Roll Never Forgets |
| 373 | EAGLES | One Of These Nights |
| 372 | OZZY OSBOURNE | Over The Mountain |
| 371 | RICK DERRINGER | Rock And Roll, Hoochie Koo |
| 370 | RED HOT CHILI PEPPERS | Under the Bridge |
| 369 | CARS | Bye Bye Love |
| 368 | U2 | Mysterious Ways |
| 367 | TOM PETTY | You Wreck Me |
| 366 | R.E.M. | The One I Love |
| 365 | STEVE MILLER | Swingtown |
| 364 | ROLLING STONES | Brown Sugar |
| 363 | MOTLEY CRUE | Smokin' In The Boys Room |
| 362 | CREEDENCE CLEARWATER REVIVAL | Have You Ever Seen The Rain |
| 361 | METALLICA | Nothing Else Matters |
| 360 | VAN HALEN | And The Cradle Will Rock... |
| 359 | BRUCE SPRINGSTEEN | Born To Run |
| 358 | RUSH | Fly By Night |
| 357 | PHIL COLLINS | I Don't Care Anymore |
| 356 | LED ZEPPELIN | Going To California |
| 355 | SANTANA | Black Magic Woman |
| 354 | ALICE COOPER | School's Out |
| 353 | DAVID BOWIE | Fame |
| 352 | DEF LEPPARD | Too Late For Love |
| 351 | DOOBIE BROTHERS | Listen To The Music |
| 350 | PINK FLOYD | Have A Cigar |
| 349 | MOUNTAIN | Mississippi Queen |
| 348 | WHITESNAKE | Still Of The Night |
| 347 | JOHN C MELLENCAMP | Authority Song |
| 346 | AC/DC | Rock And Roll Ain't Noise Pollution |
| 345 | ELTON JOHN | Saturday Night's Alright For Fighting |
| 344 | FOREIGNER | Head Games |
| 343 | AEROSMITH | Same Old Song And Dance |
| 342 | TOM PETTY | Learning To Fly |
| 341 | PETE TOWNSHEND | Let My Love Open The Door |
| 340 | ROLLING STONES | Honky Tonk Women |
| 339 | REO SPEEDWAGON | Roll With The Changes |
| 338 | PETER FRAMPTON | Show Me The Way (Live) |
| 337 | DOORS | Touch Me |
| 336 | EAGLES | The Long Run |
| 335 | STYX | Blue Collar Man (Long Nights) |
| 334 | KISS | Detroit Rock City |
| 333 | NAZARETH | Love Hurts |
| 332 | LED ZEPPELIN | What Is And What Should Never Be |
| 331 | GRAND FUNK | We're An American Band |
| 330 | BILLY SQUIER | My Kinda Lover |
| 329 | ROBERT PALMER | Addicted To Love |
| 328 | BACHMAN-TURNER OVERDRIVE | Takin' Care Of Business |
| 327 | SUPERTRAMP | The Logical Song |
| 326 | VAN HALEN | Why Can't This Be Love |
| 325 | STEVE MILLER | Jungle Love |
| 324 | FLEETWOOD MAC | Rhiannon (Will You Ever Win) |
| 323 | JOURNEY | Stone In Love |
| 322 | GREAT WHITE | Once Bitten Twice Shy |
| 321 | EDGAR WINTER | Free Ride |
| 320 | RAM JAM | Black Betty |
| 319 | RUSH | Closer To The Heart |
| 318 | BILLY IDOL | Mony Mony |
| 317 | U2 | Sunday Bloody Sunday |
| 316 | MARSHALL TUCKER BAND | Can't You See |
| 315 | PAUL MCCARTNEY | Maybe I'm Amazed (Live) |
| 314 | EDDIE MONEY | Shakin' |
| 313 | JUDAS PRIEST | Living After Midnight |
| 312 | TOM PETTY | You Don't Know How It Feels |
| 311 | GEORGE THOROGOOD | Who Do You Love |
| 310 | STEPPENWOLF | Born To Be Wild |
| 309 | DOORS | Riders On The Storm |
| 308 | DOOBIE BROTHERS | Black Water |
| 307 | WHO | Pinball Wizard |
| 306 | LED ZEPPELIN | Heartbreaker/Living Loving Maid |
| 305 | OZZY OSBOURNE | Bark At The Moon |
| 304 | ROLLING STONES | Jumpin' Jack Flash |
| 303 | JIMI HENDRIX | Hey Joe |
| 302 | AEROSMITH | Angel |
| 301 | SAMMY HAGAR | I Can't Drive 55 |
| 300 | DEF LEPPARD | Hysteria |
| 299 | NEIL YOUNG | Rockin' In The Free World |
| 298 | DON HENLEY | Dirty Laundry |
| 297 | ELTON JOHN | Bennie And The Jets |
| 296 | BAD COMPANY | Can't Get Enough |
| 295 | BOSTON | Smokin' |
| 294 | VAN HALEN | Right Now |
| 293 | STYX | Too Much Time On My Hands |
| 292 | AC/DC | It's A Long Way To The Top... |
| 291 | QUEEN | You're My Best Friend |
| 290 | NIGHT RANGER | Sister Christian |
| 289 | SKID ROW | 18 And Life |
| 288 | LYNYRD SKYNYRD | Call Me The Breeze |
| 287 | BOB SEGER | Hollywood Nights |
| 286 | TOM PETTY | The Waiting |
| 285 | SIMPLE MINDS | Don't You Forget About Me |
| 284 | STEVIE RAY VAUGHAN | Pride And Joy |
| 283 | CARS | Shake It Up |
| 282 | U2 | New Year's Day |
| 281 | ASIA | Heat Of The Moment |
| 280 | GEORGE THOROGOOD | I Drink Alone |
| 279 | CREAM | White Room |
| 278 | EAGLES | Heartache Tonight |
| 277 | AEROSMITH | Back In The Saddle |
| 276 | ROLLING STONES | It's Only Rock 'N Roll (But I Like It) |
| 275 | AC/DC | Have A Drink On Me |
| 274 | LED ZEPPELIN | All My Love |
| 273 | TWISTED SISTER | We're Not Gonna Take It |
| 272 | NIRVANA | Come As You Are |
| 271 | OZZY OSBOURNE | Shot In The Dark |
| 270 | BEATLES | Come Together |
| 269 | DOORS | Hello, I Love You |
| 268 | BAD COMPANY | Shooting Star |
| 267 | EDDIE MONEY | Baby Hold On |
| 266 | TALKING HEADS | Burning Down The House |
| 265 | JOE WALSH | Rocky Mountain Way |
| 264 | REO SPEEDWAGON | Keep On Loving You |
| 263 | CARS | You Might Think |
| 262 | WHO | Won't Get Fooled Again |
| 261 | JOURNEY | Lovin', Touchin', Squeezin' |
| 260 | VAN HALEN | I'll Wait |
| 259 | SCORPIONS | Wind Of Change |
| 258 | FOREIGNER | Urgent |
| 257 | DEF LEPPARD | Rocket |
| 256 | BOSTON | Don't Look Back |
| 255 | FOO FIGHTERS | Learn to Fly |
| 254 | AEROSMITH | Livin' On The Edge |
| 253 | TOM PETTY | Breakdown |
| 252 | BLACK SABBATH | War Pigs |
| 251 | GOLDEN EARRING | Radar Love |
| 250 | TESLA | Signs |
| 249 | PINK FLOYD | Learning To Fly |
| 248 | LED ZEPPELIN | Hey Hey What Can I Do |
| 247 | BACHMAN-TURNER OVERDRIVE | You Ain't Seen Nothing Yet |
| 246 | ROLLING STONES | You Can't Always Get What You Want |
| 245 | BRUCE SPRINGSTEEN | Born In The U.S.A. |
| 244 | JUDAS PRIEST | You've Got Another Thing Comin |
| 243 | NAZARETH | Hair Of The Dog |
| 242 | POLICE | Every Little Thing She Does Is Magic |
| 241 | JOHN C MELLENCAMP | Pink Houses |
| 240 | RED RIDER | Lunatic Fringe |
| 239 | DOORS | Roadhouse Blues |
| 238 | DEREK & THE DOMINOS | Layla |
| 237 | JIMI HENDRIX | Fire |
| 236 | FOREIGNER | Feels Like The First Time |
| 235 | AC/DC | Shoot To Thrill |
| 234 | OZZY OSBOURNE | No More Tears |
| 233 | GEORGIA SATELLITES | Keep Your Hands To Yourself |
| 232 | AEROSMITH | The Other Side |
| 231 | VAN HALEN | Ain't Talkin 'Bout Love |
| 230 | TOM PETTY | Don't Come Around Here No More |
| 229 | U2 | With Or Without You |
| 228 | LED ZEPPELIN | Fool In The Rain |
| 227 | REO SPEEDWAGON | Take It On The Run |
| 226 | BRYAN ADAMS | Run To You |
| 225 | CHEAP TRICK | Surrender (Live) |
| 224 | JOE WALSH | Life's Been Good |
| 223 | KANSAS | Dust In The Wind |
| 222 | DEF LEPPARD | Armageddon It |
| 221 | ROMANTICS | What I Like About You |
| 220 | PINK FLOYD | Run Like Hell |
| 219 | CARS | My Best Friend's Girl |
| 218 | FLEETWOOD MAC | Dreams |
| 217 | BOSTON | Foreplay/Long Time |
| 216 | ZZ TOP | Cheap Sunglasses |
| 215 | LOVERBOY | Working For The Weekend |
| 214 | SUPERTRAMP | Give A Little Bit |
| 213 | QUIET RIOT | Cum On Feel The Noize |
| 212 | BILLY IDOL | Dancing With Myself |
| 211 | STEPPENWOLF | Magic Carpet Ride |
| 210 | QUEEN | Crazy Little Thing Called Love |
| 209 | ROLLING STONES | Gimme Shelter |
| 208 | TOM PETTY | You Got Lucky |
| 207 | GUNS N' ROSES | Patience |
| 206 | GUESS WHO | American Woman |
| 205 | BOB SEGER | Night Moves |
| 204 | VAN HALEN | Dance The Night Away |
| 203 | PAUL MCCARTNEY | Live And Let Die |
| 202 | POLICE | Don't Stand So Close To Me |
| 201 | POISON | Every Rose Has Its Thorn |
| 200 | MOTLEY CRUE | Dr. Feelgood |
| 199 | BLACK CROWES | She Talks To Angels |
| 198 | AEROSMITH | Love In An Elevator |
| 197 | AC/DC | For Those About To Rock |
| 196 | RATT | Round And Round |
| 195 | RUSH | The Spirit Of Radio |
| 194 | LED ZEPPELIN | D'Yer Mak'er |
| 193 | JOURNEY | Lights |
| 192 | JIMI HENDRIX | Foxey Lady |
| 191 | FLEETWOOD MAC | The Chain |
| 190 | DOORS | People Are Strange |
| 189 | DEF LEPPARD | Bringin' On The Heartbreak |
| 188 | QUEEN | Somebody To Love |
| 187 | OZZY OSBOURNE | Flying High Again |
| 186 | BOSTON | Rock & Roll Band |
| 185 | LYNYRD SKYNYRD | Gimme Three Steps |
| 184 | CARS | Let's Go |
| 183 | STEVE MILLER | Fly Like An Eagle |
| 182 | BILLY SQUIER | Everybody Wants You |
| 181 | EAGLES | Already Gone |
| 180 | CLASH | Rock The Casbah |
| 179 | PINK FLOYD | Time |
| 178 | FOREIGNER | Double Vision |
| 177 | BON JOVI | Runaway |
| 176 | AC/DC | Moneytalks |
| 175 | TOM PETTY | Don't Do Me Like That |
| 174 | PAT BENATAR | Love Is A Battlefield |
| 173 | ROLLING STONES | Sympathy For The Devil |
| 172 | LED ZEPPELIN | The Ocean |
| 171 | VAN HALEN | Hot For Teacher |
| 170 | STYX | Come Sail Away |
| 169 | ERIC CLAPTON | Cocaine |
| 168 | AEROSMITH | What It Takes |
| 167 | JOHN C MELLENCAMP | Hurts So Good |
| 166 | U2 | I Still Haven't Found What I'm Looking For |
| 165 | FREE | All Right Now |
| 164 | MANFRED MANN | Blinded By The Light |
| 163 | DEF LEPPARD | Love Bites |
| 162 | CARS | Good Times Roll |
| 161 | TOTO | Hold The Line |
| 160 | 38 SPECIAL | Caught Up In You |
| 159 | RUSH | Freewill |
| 158 | MOTLEY CRUE | Home Sweet Home |
| 157 | GUNS N' ROSES | Knockin' On Heaven's Door |
| 156 | POLICE | Message In A Bottle |
| 155 | TOM PETTY | American Girl |
| 154 | LED ZEPPELIN | Stairway To Heaven |
| 153 | AEROSMITH | Janie's Got A Gun |
| 152 | EAGLES | Take It Easy |
| 151 | STEVE MILLER | Threshold/Jet Airliner |
| 150 | BOB SEGER | Old Time Rock & Roll |
| 149 | PINK FLOYD | Brain Damage/Eclipse |
| 148 | LYNYRD SKYNYRD | What's Your Name |
| 147 | WHO | Behind Blue Eyes |
| 146 | ROLLING STONES | (I Can't Get No) Satisfaction |
| 145 | POISON | Nothin' But A Good Time |
| 144 | BLACK SABBATH | Iron Man |
| 143 | AC/DC | Thunderstruck |
| 142 | BON JOVI | Bad Medicine |
| 141 | JIMI HENDRIX | Purple Haze |
| 140 | ZZ TOP | Tush |
| 139 | BAD COMPANY | Rock 'N' Roll Fantasy |
| 138 | VAN HALEN | Jamie's Cryin' |
| 137 | QUEEN | Killer Queen |
| 136 | FOREIGNER | Hot Blooded |
| 135 | GOLDEN EARRING | Twilight Zone |
| 134 | DIRE STRAITS | Sultans Of Swing |
| 133 | DEEP PURPLE | Smoke On The Water |
| 132 | ELECTRIC LIGHT ORCHESTRA | Don't Bring Me Down |
| 131 | LED ZEPPELIN | Whole Lotta Love |
| 130 | EDDIE MONEY | Two Tickets To Paradise |
| 129 | DEF LEPPARD | Foolin' |
| 128 | AEROSMITH | Dude (Looks Like A Lady) |
| 127 | LYNYRD SKYNYRD | Simple Man |
| 126 | TOM PETTY | Mary Jane's Last Dance |
| 125 | JOAN JETT | I Hate Myself For Loving You |
| 124 | DON HENLEY | Boys Of Summer |
| 123 | PINK FLOYD | Money |
| 122 | STEVE MILLER | Take The Money And Run |
| 121 | ROLLING STONES | Miss You |
| 120 | BAD COMPANY | Bad Company |
| 119 | U2 | Pride (In The Name Of Love) |
| 118 | CLASH | Should I Stay Or Should I Go |
| 117 | AC/DC | Hells Bells |
| 116 | FOREIGNER | Cold As Ice |
| 115 | ZZ TOP | La Grange |
| 114 | JOHN C MELLENCAMP | Small Town |
| 113 | DOORS | Break On Through |
| 112 | LED ZEPPELIN | Kashmir |
| 111 | GUNS N' ROSES | Live And Let Die |
| 110 | VAN HALEN | Intruder/Pretty Woman |
| 109 | FLEETWOOD MAC | Go Your Own Way |
| 108 | BILLY SQUIER | Lonely Is The Night |
| 107 | MOTLEY CRUE | Kickstart My Heart |
| 106 | WHO | Baba O'Riley |
| 105 | DEF LEPPARD | Rock Of Ages |
| 104 | PINK FLOYD | Young Lust |
| 103 | 38 SPECIAL | Hold On Loosely |
| 102 | J. GEILS BAND | Centerfold |
| 101 | STEVIE NICKS | Edge Of Seventeen |
| 100 | QUEEN | Fat Bottomed Girls |
| 99 | ROLLING STONES | Paint It, Black |
| 98 | PAT BENATAR | Hit Me With Your Best Shot |
| 97 | TOM PETTY | Refugee |
| 96 | FOREIGNER | Juke Box Hero |
| 95 | AC/DC | T.N.T. |
| 94 | JOURNEY | Wheel In The Sky |
| 93 | DIRE STRAITS | Money For Nothing |
| 92 | THIN LIZZY | The Boys Are Back In Town |
| 91 | YES | Owner Of A Lonely Heart |
| 90 | STYX | Renegade |
| 89 | LED ZEPPELIN | Ramble On |
| 88 | BAD COMPANY | Feel Like Makin' Love |
| 87 | VAN HALEN | Eruption/You Really Got Me |
| 86 | AEROSMITH | Come Together |
| 85 | MOTLEY CRUE | Girls, Girls, Girls |
| 84 | PINK FLOYD | Hey You |
| 83 | HEART | Magic Man |
| 82 | GEORGE THOROGOOD | Bad To The Bone |
| 81 | ZZ TOP | Legs |
| 80 | WHO | Who Are You |
| 79 | DEF LEPPARD | Animal |
| 78 | EAGLES | Life In The Fast Lane |
| 77 | STEVE MILLER | Rock'N Me |
| 76 | POLICE | Roxanne |
| 75 | FOGHAT | Slow Ride |
| 74 | JOURNEY | Any Way You Want It |
| 73 | ROLLING STONES | Beast Of Burden |
| 72 | EDDIE MONEY | Take Me Home Tonight |
| 71 | QUEEN/DAVID BOWIE | Under Pressure |
| 70 | BLUE OYSTER CULT | Burnin' For You |
| 69 | TOM PETTY | Runnin' Down A Dream |
| 68 | AC/DC | Dirty Deeds Done Dirt Cheap |
| 67 | CHEAP TRICK | I Want You To Want Me (Live) |
| 66 | LED ZEPPELIN | Over The Hills And Far Away |
| 65 | JIMI HENDRIX | All Along The Watchtower |
| 64 | KISS | Rock And Roll All Nite (Live) |
| 63 | VAN HALEN | Runnin' With The Devil |
| 62 | OZZY OSBOURNE | Crazy Train |
| 61 | JOHN C MELLENCAMP | Jack & Diane |
| 60 | AEROSMITH | Rag Doll |
| 59 | PAT BENATAR | Heartbreaker |
| 58 | HEART | Crazy On You |
| 57 | BILLY SQUIER | The Stroke |
| 56 | CARS | Just What I Needed |
| 55 | PINK FLOYD | Wish You Were Here |
| 54 | BLACK SABBATH | Paranoid |
| 53 | BOB SEGER | Turn The Page (Live Bullet) |
| 52 | BRYAN ADAMS | Summer Of '69 |
| 51 | GUNS N' ROSES | Paradise City |
| 50 | ZZ TOP | Gimme All Your Lovin |
| 49 | LED ZEPPELIN | Immigrant Song |
| 48 | BON JOVI | Wanted Dead Or Alive |
| 47 | JOURNEY | Separate Ways (Worlds Apart) |
| 46 | RUSH | Limelight |
| 45 | TOM PETTY | Free Fallin' |
| 44 | STEVE MILLER | The Joker |
| 43 | AC/DC | Highway To Hell |
| 42 | QUEEN | Another One Bites The Dust |
| 41 | ROLLING STONES | Start Me Up |
| 40 | AEROSMITH | Walk This Way |
| 39 | BILLY IDOL | White Wedding |
| 38 | BON JOVI | You Give Love A Bad Name |
| 37 | VAN HALEN | Jump |
| 36 | BLUE OYSTER CULT | Don't Fear The Reaper |
| 35 | BOSTON | Peace Of Mind |
| 34 | SCORPIONS | No One Like You |
| 33 | LYNYRD SKYNYRD | Free Bird |
| 32 | DEF LEPPARD | Photograph |
| 31 | OZZY OSBOURNE | Mama, I'm Coming Home |
| 30 | LED ZEPPELIN | Rock And Roll |
| 29 | PINK FLOYD | Comfortably Numb |
| 28 | EAGLES | Hotel California |
| 27 | PHIL COLLINS | In The Air Tonight |
| 26 | AC/DC | Back In Black |
| 25 | BLACK CROWES | Hard To Handle |
| 24 | GUNS N' ROSES | Welcome To The Jungle |
| 23 | TOM PETTY | I Won't Back Down |
| 22 | HEART | Barracuda |
| 21 | ZZ TOP | Sharp Dressed Man |
| 20 | QUEEN | We Will Rock You/We Are The Champions |
| 19 | AEROSMITH | Dream On |
| 18 | BILLY IDOL | Rebel Yell |
| 17 | RUSH | Tom Sawyer |
| 16 | JOURNEY | Don't Stop Believin' |
| 15 | DEF LEPPARD | Pour Some Sugar On Me |
| 14 | WHITESNAKE | Here I Go Again |
| 13 | VAN HALEN | Panama |
| 12 | KANSAS | Carry On Wayward Son |
| 11 | SCORPIONS | Rock You Like A Hurricane |
| 10 | AEROSMITH | Sweet Emotion |
| 9 | BOSTON | More Than A Feeling |
| 8 | AC/DC | You Shook Me All Night Long |
| 7 | LYNYRD SKYNYRD | Sweet Home Alabama |
| 6 | GUNS N' ROSES | Sweet Child O' Mine |
| 5 | BON JOVI | Livin' On A Prayer |
| 4 | LED ZEPPELIN | Black Dog |
| 3 | PINK FLOYD | Another Brick In The Wall(Pt II) |
| 2 | QUEEN | Bohemian Rhapsody |
| 1 | JOAN JETT | I Love Rock 'N Roll |
CHECK IT OUT: Top 100 '70s Rock Albums
More From WWMJ Ellsworth Maine