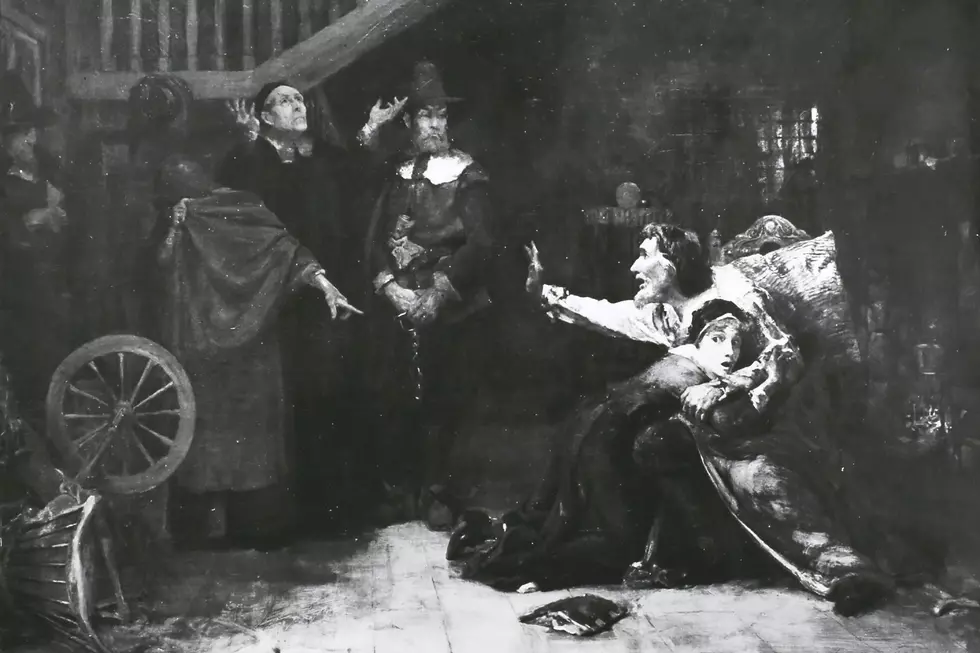 This Maine Town Has an Interesting Connection to the Salem Witch Trials
Getty Images
How does Houlton, Maine have anything to do with the infamous Salem Witch Trials?
After all, the town of Houlton -- some 300 miles away from Salem -- didn't even exist in 1692, when 25 people -- 19 of whom were hanged -- ultimately died after being accused of practicing witchcraft.
In fact, there is a connection. The town of Houlton was settled by (and named for) Joseph Houlton. Genealogical records provided to us by the Cary Library in Houlton show he and his family settled in the area in August of 1807.
Editor's note: This story originally was published on Oct. 14, 2022.
Joseph was the great-great-grandson of another Joseph Houlton, an important landowner in Salem who had a documented role in the Salem Witch Trials. During the trials, great-great-granddad Houlton, who was in his 70s at the time, came to the aid of one woman accused of witchcraft.
The Salem Witch Trials were contentious, to say the least. Townsfolk and families were deeply divided by their beliefs of who was really a witch, and who was falsely accused. The Houlton family is a prime example of this division.
According to the Salem Witch Museum, Joseph Houlton, his wife Sarah, and his son Joseph Houlton Jr. signed a petition in defense of Rebecca Nurse, who was accused of witchcraft. It was a grand endorsement for Nurse, who was accused of bewitching Houlton's son Benjamin to death. Those accusations came from Benjamin's widow, Joseph's daughter-in-law, Sarah.
Records provided to us tell the story of Nurse's "bewitching" of Benjamin in 1689:
"During the witchcraft trials, his widow testified, but entirely without malice, against Rebecca Nurse. It seems that Benjamin Houlton's fences being down his cattle strayed into the Nurse enclosure and that a little trouble arose. Immediately upon returning to the house, he became suddenly ill and never recovered. At times he was blind."
Ultimately, Houlton's endorsement of Nurse did not save her. Nurse was hanged on July 19, 1692, on Proctor's Ledge at Gallows Hill.
While Joseph Houlton defended Nurse, another of his sons, John, would accuse 10 people in the village of witchcraft. On May 28, 1962, John Houlton and Johnathan Walcott accused the following:
Nehemiah Abbott Jr. - Arrested of witchcraft
Arthur Abbott - Arrested of witchcraft
John Alden Jr. - Arrested of witchcraft
Martha Carrier - Executed, August 19, 1692
John Flood
Elizabeth Fosdick - Arrested of witchcraft
Elizabeth Howe - Executed, July 19, 1692
William Proctor - Arrested of witchcraft
Wilmot Redd - Executed, September 22, 1692.
Sarah Rice - Arrested of witchcraft
Mary Toothaker - Arrested of witchcraft - Cleared of all charges - Released from jail in 1693.
According to records in the book The Salem Witch Trials: A Day-by-Day Chronicle of a Community Under Siege, three of the 10 people John Houlton accused of witchcraft were hanged in 1692.
It was more than 100 years later when Joseph Houlton (the great-great-grandson) and John Putnam traveled to Maine (then still part of Massachusetts) and settled in the town of Houlton in 1807. The pioneers came to Houlton from New Salem, Mass.  As its name suggests, the town was settled by former Salem residents -- including several members of the Houlton family -- starting in 1734.
Joseph Houlton died in 1832 in Maine at the age of 76. He is buried in Evergreen Cemetery.
True Events That Happened In Maine That Should Be Made Into Horror Movies
From time to time you see a local headline that reads like the synopsis to a horror movie. Maine has seen its fair share of grizzly murders, ghost stories, and possible proof of cryptid beats in the woods. While some stories may be hard to prove true, their basis is believable enough to live in infamy in local folklore. Here are five movie-grade events that happened in Maine that we'd watch if turned into a horror flick.
Gallery Credit: Paul Wolfe
More From WWMJ Ellsworth Maine