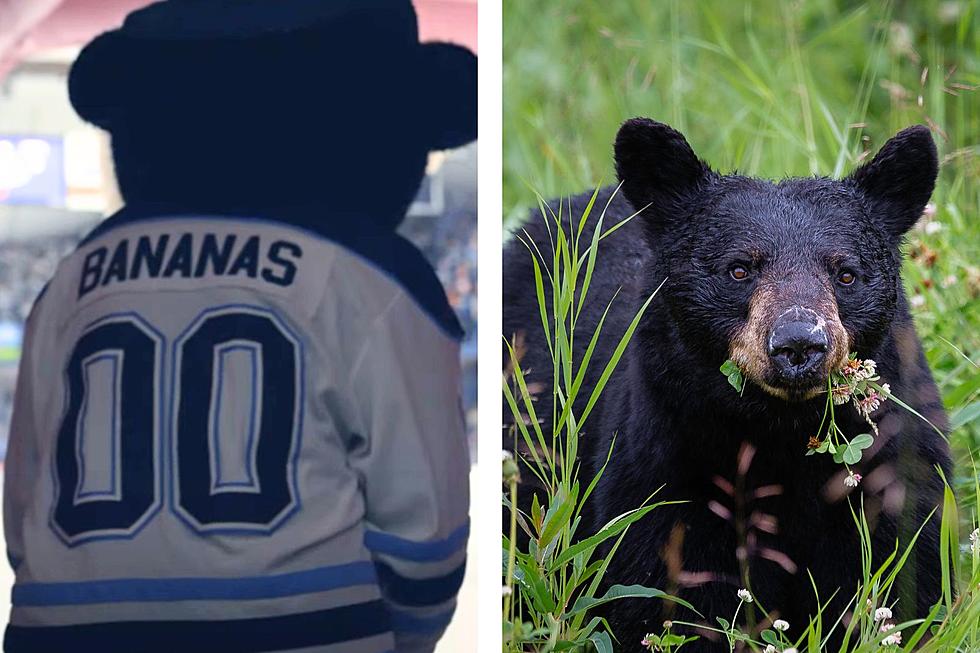 Hey Mainers, Saturday Is National Black Bear Day
Credit: Maine Black Bears on YouTube / Pete Nuij on Unsplash
I'm not talking about the guy who sings "hot girl bummer," although, I'm sure he'll be celebrating, too.
It may be June, but it'd be "bananas" not to honor National Black Bear Day in our great Pine Tree State. Acknowledged on the first Saturday in June, the day is meant to celebrate the majestic American black bear, a symbol deeply intertwined with our region's history and identity.
Also known as Ursus americanus in scientific terms, the black bear is the most commonly found bear species in North America. Contrary to its name, this incredible creature can exhibit a variety of colors, ranging from shades of cinnamon and dark blue to light blue and gray. In rare instances, they can even sport a stunning white coat. 
One fascinating characteristic of black bears is their uncanny resemblance to humans when standing on their hind legs. This resemblance has captured the hearts of nature enthusiasts and wildlife lovers alike. Despite their formidable appearance, black bears possess a prey mentality rather than a predator mindset. They have little interest in making a meal out of you or your pets. As omnivores, their diet consists of both plants and animals. These resourceful bears forage for berries, roots, and insects while indulging in small mammals, and fish. 
Maine holds a particularly special place in its heart for these magnificent creatures. With an estimated population of over 35,000 black bears, we boast the highest concentration of these bears among all New England states. These remarkable animals have become an integral part of the state's ecosystem and cultural fabric.
But, obviously, the connection doesn't end there. The University of Maine proudly embraces the black bear as its official mascot. The Maine Black Bears represent the university's athletic teams and student body as a whole, the Black Bears embody the spirit of sportsmanship and dedication.
The Maine Black Bears men's ice hockey program in particular has garnered tremendous success over the years. Competing in the Hockey East conference, they have earned appearances in 11 Frozen Fours. Furthermore, their exceptional performance has led them to two national championships, proudly clinched in 1993 and 1999. 
While the association between black bears and the University of Maine has a long-standing tradition, according to The History of the Maine Bear, compiled by UMaine's Sigma Xi Chapter of Alpha Phi Omega (APO) service fraternity, it all began with a tiny black bear cub named Jeff. 
Born on the northeast slope of Mount Katahdin in 1914, Jeff was presented to O.B. Fernandez, a former Old Town police chief, and avid collector of wild animals. Fernandez, recognizing the cub's potential, loaned Jeff to the university, where he made his grand entrance at a football rally. As the adorable bear cub stepped into the auditorium, the crowd erupted with applause. And when Jeff displayed his acrobatic skills by standing on his head, the crowd went absolutely "bananas."
From 1915 to 1966, UMaine hosted numerous live bear mascots. However, when live mascots were eventually prohibited in the state, UMaine adopted a "human-bear" as their representative. In 1969, the responsibility of providing a mascot was taken over by Alpha Phi Omega (APO). As part of their community efforts, APO embraced the cherished role of the UMaine mascot, keeping the legacy of the black bear alive.
So, as National Black Bear Day approaches, we Mainers should be eager to celebrate these extraordinary creatures who call our state home.
Happy National Black Bear Day, Maine!
10 Fun Facts You Might Not Have Known About Maine
More From WWMJ Ellsworth Maine