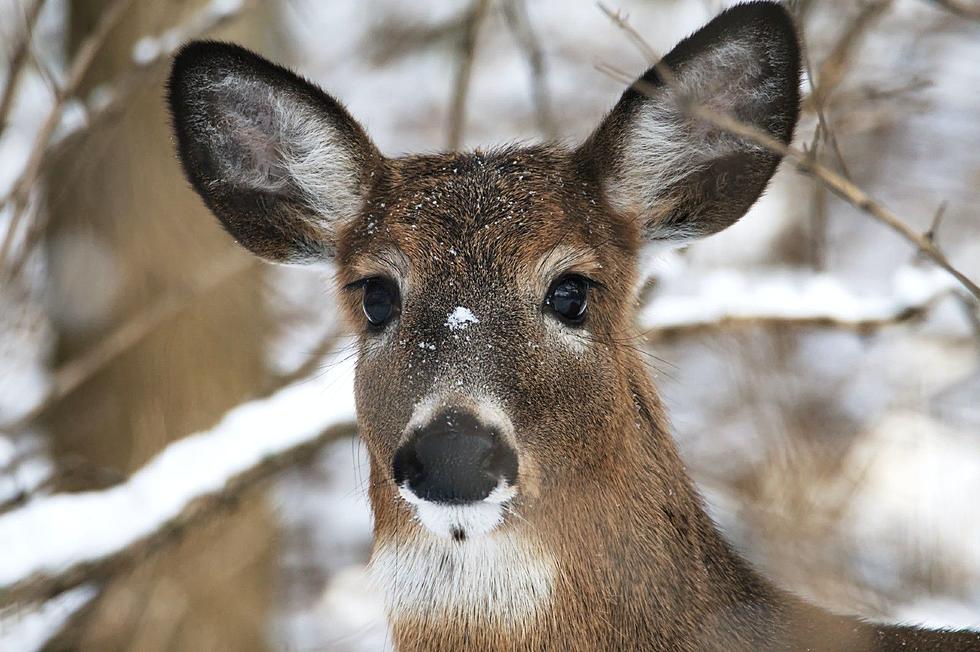 One Man From Brownville Has Been Feeding Herds Of Deer For Almost 30 Years, And You Can Watch
Karl Heinz Muller via Unsplash
Deer in Brownville will eat well again this winter, thanks to one local family who has been helping animals survive the harsh Maine winters for decades.
Richard McMahon has been feeding deer for almost 30 years.
"I used to be a hunter. But now I'd rather feed 'em than eat 'em,"
Staring in Medford, McMahon took up the deer feeding mantle when he moved to Brownville, and the local man who had been feeding them around the Brownville Junction area passed away.
"It took them a little while to go from where he was feedin' em at Brownville Junction to my place in Brownville."
He set up the Brownville Food Pantry, a non-profit organization with a mission to feed the deer in the area, over ten years ago. 2023 marks the 15th year McMahon has provided the deer with food and live-streamed their comings and goings.
This year, the pantry will start serving deer on December 16th.
"It will take a couple of weeks to get going but they will come."
McMahon has made some serious upgrades a few years ago that make the process of feeding all of those deer a little bit easier.
The addition of a new PTZ camera, which can be focused and moved around, and a new 4K camera, will help the Pantry's 45,000 followers from 199 different countries get a better view of the feeding crew.
You can pop on at any time and check out the Livestream of the deer eating the food. 
Or you can check them out on their YouTube channel, where you choose from multiple camera angles that they have set up to watch the feedings.
Another game-changer this year has been the addition of a silo, so he can buy the oat in bulk, rather than 50lb bags.
McMahon says he goes through about 4-5 tons of grain a month. Last year, he went through 25 tons for the year and expects that to go up by at least 2 tons this year.
"We save about $100/per ton buying in bulk rather than bags."
The installation of the silo means that not only is it easier to store the oats, but it's easier for McMahon to load them as well, not having to deal with the large 50lb bags by himself.
"I just drive my truck under it and push a button."
The oats are delivered by a company out of Houlton.
McMahon says that most of the expenses are covered by donations that come in from all around the world.
And this year, they've made even more changes, according to a recent Facebook post:
"We met our 1000-pound acorn goal and were able to dry them in a local kiln for the first time in hopes of preserving their freshness. Thank you to the local businesses and friends for allowing us to pick up the acorns and Heath's Firewood for the kiln time. We also just took delivery of a 20' steel storage container to store all feed supplies in to help save our wood-framed building from any more squirrel holes. The oatmobile has been serviced and we'll soon get the hopper installed. New cameras are on order for a better viewing experience with higher-quality audio and video. Their presence gives us a sense of peace in this crazy world we live in.
If you'd like to make a donation towards the cost of oats for the deer this winter, there are a number of different options to do so.
There's a GoFundMe page: https://www.gofundme.com/f/brownville-food-pantry-for-deer.
You can make a donation via PayPal by sending it to: brownvillefoodpantryfordeer@gmail.com.
Or if an old-fashioned check is more your speed, you can send those to: Brownville Food Pantry For Deer, 16 Rips Road, Brownville, Me 04414.
The folks who run the pantry say that at its peak sometimes, there can be anywhere between 100 and 200 deer who come to feed along with dozens of wild turkeys.
McMahon says the satisfaction of seeing multiple generations of deer, year after year, that keeps him motivated to do this labor of love.
"I get to see the same deer, year after year, and then they bring their babies...and they're all healthy."
They have a safe place with plenty of cover and food and they're safe from predators. I like to see the fat deer."
The Brownville Food Pantry for Deer will stay open, feeding the animals till April.
Speaking of deer, it's getting darker earlier now and you want to keep an eye out on the roadway so you don't end up colliding with one. 
LOOK: Here are the states where you are most likely to hit an animal
Hitting an animal while driving is a frightening experience, and this list ranks all 50 states in order of the likelihood of such incidents happening, in addition to providing tips on how to avoid them.
Gallery Credit: Dom DiFurio & Jacob Osborn
Absolute Top 10 Necessities To Survive A Maine Winter
As the tundra begins to freeze over and as Mainers begin their seasonal refuge to the bunker, there are a few necessities needed in order to successfully make it to the other side, where the palm trees reside.
So, take heed and pay attention to our advice, because these are the exact necessities that will ensure your survivability, mental good health, and that you'll eventually see another summer season up to camp.
Gallery Credit: DJ Fred
Here Are 17 Things In Maine That Will Bite You
Here in Maine, there are plenty of critters that can take a bite out of you if they do desire.
Gallery Credit: Fred Miller
More From WWMJ Ellsworth Maine