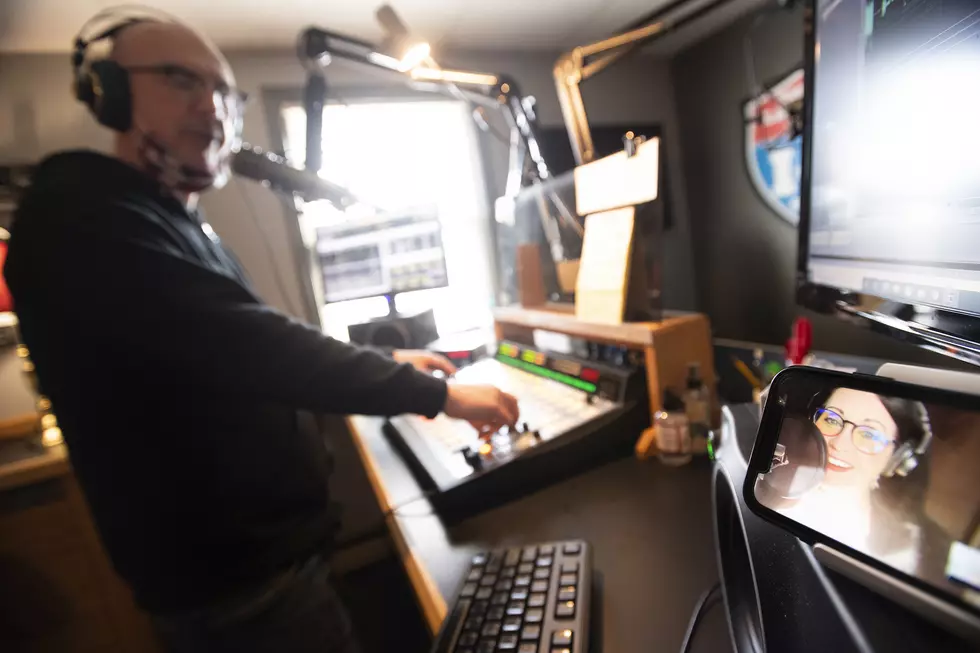 JStew & Cori Celebrate 3 Years Together! Here's How It All Started…
Making it work despite being miles apart. Photo credit: Kevin Bennett
As we celebrate three full years of being on the air together, we're giving you a glimpse into how it all got started, and what that first year on the air, as Covid became a household name, was like for our new little morning show. Here's a look back at JStew & Cori and how they came together, and then came to be the morning show you know today.
---
What happens when you're supposed to start a new gig, and a pandemic hits the world, bringing life, as you know it, to a screeching halt?
You do what everyone else around you is trying to do, too: Make the best of what you can to support your community, friends, and loved ones, and adapt.
It's been a year unlike any, and with uncertainty still looming in the forefront, albeit some hope now in the distance, we wanted to take a moment to look back at the last 365 days, to appreciate how far we've come, to thank those who have helped us along the way, and to mark a happy milestone...because that's at the heart of what we've been trying to do this entire time; rock out and spread some love and happiness around.
Here's the story of how two very different situations have come together to create the I-95 Morning Show, with JStew & Cori.
JStew: It certainly is a tale of two cities. Well, more like three different towns. It involved computers in Hampden and Bangor, linking into a computer in Brewer. What could possibly go wrong?! Well, the very first day, we got booted off the air when my wife logged in to do her work, as she'd been sent home for the foreseeable future as well. And that kind of set the tone for the next 90 days.
Not in a bad way, just that we were always pivoting. Through the first few weeks, Cori and I had technicians at our house, bought all sorts of different devices to interface our computers with our new audio world, and fought through all the pop-up scenarios that our new work world presented.
Things eventually started to smooth out, and we were finding our rhythm. Not just with the daily challenges of just simply staying on the air, but also making room for each other as people on the air. Cori had some experience having co-hosts before, and I did not. I've been an afternoon guy most of my life, so mornings with people seemed more than my cup of coffee knew what to do with, haha.
Certainly, we bring different life experiences to the scene. Cori is a badass single mom of four kids. And I'm an emotionally crippled man-child who needs constant supervision. So it kind of works out. It's been a good foil for having an entertaining morning show.
And it's been very organic. If I had to pick anything that's different about what we do, it's that we always present ourselves in a humble and real way. There's no pretense or swelled-headed DJ bullcrap. There are no "stars" on our show. It's two people who just talk about what they know, and that we go through normal everyday stuff like everyone.
If there's one thing that has been enjoyable about working in two different studios, is that real life happens in the middle of everything. even stuff that folks don't hear on air. Instead of sitting in the same room together, I get to watch Cori keep her family going in real-time, while we do our thing.
We're always solid on the mic, but off-air, to watch a mom in action always impresses me. I can barely get myself out of bed in the morning, and Cori does it all. Sure, she drinks too much coffee and is a one-woman cheering section for the world, but it keeps things interesting every morning.
Her family has just become another part of the show, but again, it's another thing that's going on in every other house in the world, so why not bring that homey element into what we do? We never wanted to be a stale, hoity-toity show with a lot of egos. It's about having fun and cranking classic rock. That's what we do.
It's been a hell of a ride for our first year. Sometimes it's felt like it's been 10 years because we've packed so much action into such a short period of time, but it's also given us memories that we'll always have. Show me who else started a brand new morning show from their house and made it work without throwing in the towel. Trust me... It'll be a story for the ages...
Cori: "This is not at all how this was supposed to go."
That was the thought that kept circulating in my mind, the first week in March of 2020 when the world had just started to hear about Coronavirus.
As a single mom to four kids, returning for the first time in a decade to a full-time career, I was already a ball of anxiety. I tried to make sure I had planned for every contingency with regards to how and who would get the kids up, ready, and out the door to school- since I would be getting up so early that I'd be out of the house and not a part of the usual morning routine. But I finally felt like I had the right support team in place. I made charts about outfits and schedules. The young woman I had hired was all set to do a final run-through/ ride-along to the schools to meet teachers. I felt like this could actually work!
And then two major things punched me right in the gut; a close family member received a medical diagnosis that shook our entire family, and a day later, Covid became the top news story in the world.
JStew and I had been making plans to launch our new show, but two days before that was set to happen, we got word that the office would be closing, and we would have to figure out how to broadcast the show from home. That same day all of the kids' schools closed. And the woman I had hired to come help with the kids, who happened to be a college student, had to go home, as well. And my family, who have always been a huge part in making life as a single mom work out so well, was now in the high-risk category for this new virus, and could not help me.
All the plans I had made just disintegrated.
But this is not my first rodeo when it comes to dealing with a crisis, unfortunately. I knew that, as everyone else around me was doing, I needed to tighten my bootstraps and keep marching forward--we'd figure it out along the way. As fate would have it, a long-time family friend had just been furloughed from their job and agreed to come to stay with me, so that I could have someone help the kids with their distance learning, as they had all gone to remote schooling the next week.
We wouldn't be starting the show off with any fanfare or anything at all, really, but two friends, going through what the entire world was going through, just being there for whoever needed us with gentle humor and good music. We knew it was not about us at all anymore...it was about giving what we could to the community to help take their minds off of the fear and uncertainty that everyone was feeling.
The first morning on the air, JStew gave me a brief introduction, and off we went...
I cannot say enough good things about how hard everyone at the station, our bosses and the sales team, but especially our engineers (and JStew, too) worked to figure out how to logistically set us up to broadcast from three different spots: Me, in Bangor, JStew from Hampden, and then beaming the mixed signal from the radio station in Brewer. I still don't understand how any of it works, but we figured out what equipment we needed, tweaked it on the fly, and somehow, it all magically came together! I have to also thank my dad and friend who helped me turn this tiny little nursery on my second floor into a broadcasting studio!
For the first three months, JStew and I couldn't see each other. It's pretty tricky to do a show where two people speak together, but can't see when the other one is talking. We were afraid that if we FaceTimed, while we were broadcasting, we'd eat up too much bandwidth and get kicked off the air. There were several calls to the cable company in those first days, too. They made many house calls to get everything set up.
As the months went by and JStew went back to the studio in Brewer, and eventually the kids went back to school, which presented a whole new set of challenges. But, as we had up until that point, we just kept plugging on and adapting.
When JStew was able to go back into the studio, one of the key components that had been missing for us, was the ability to interact with our listeners on the phone. We were finally able to take phone calls, and to be able to hear, with our own ears, that people were listening, liking what we were doing, and were out there living it with us! That was the best feeling ever! That connection is what's key to any morning show, and we had been without it to start. Once we got that, everything started to fall into place, and I think we've established a nice little rhythm and rapport now.
It's been an honor and our pleasure to get to spend time with you each morning. Your phone calls, emails, and messages have meant the world to us and have kept us going. We thank you for inviting us into your lives during this past year and becoming a part of ours. We look forward to enjoying what the future brings for all of us.
We've put together a little picture timeline/gallery of what the last year has been in the life of JStew & Cori in the morning.
J. Stew + Cori's First Year
Since those early days, we have been able to get back into the studio together.
Here's the evidence!
Jstew & Cori, The First 3 years
The Evolution of the I-95 Studio
More From WWMJ Ellsworth Maine