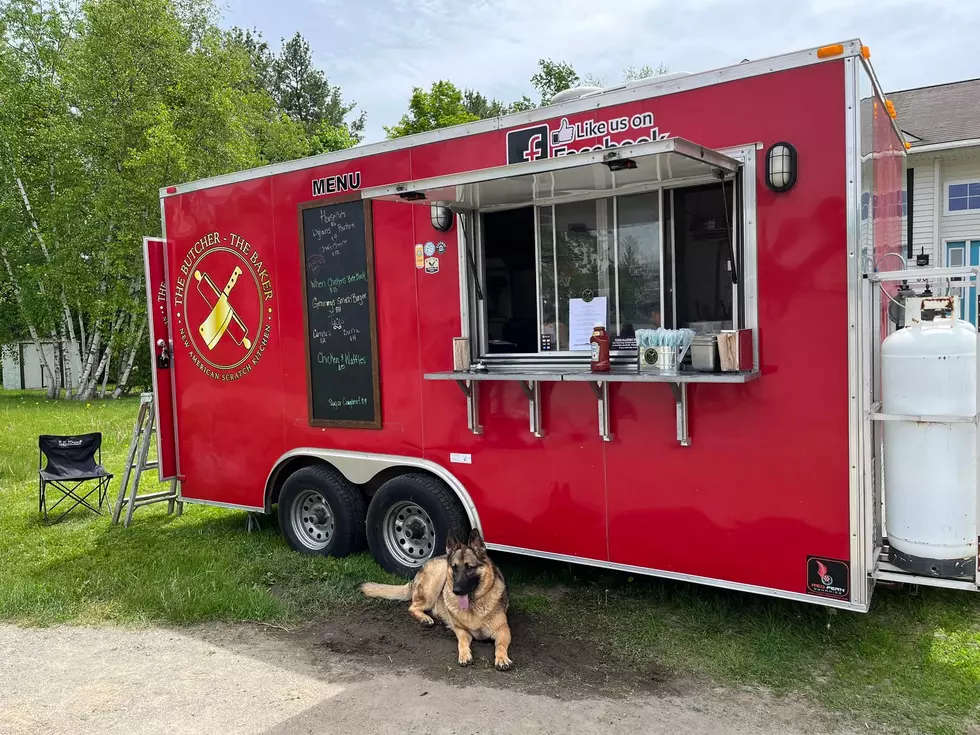 'The Butcher-The Baker' Is A Cool New Bangor Area Food Truck
Permission Via The Butcher The Baker Facebook
Have you checked out the new food truck that everyone is talking about?
I can't lie, I have a fairly huge love for food trucks. I really get excited when there are multiple trucks in one space at the same time, so it goes without saying that I have spent more than a few days on the Bangor Waterfront, and other places, sampling all kinds of mouth watering lunch-time treats.
The Butcher, The Baker is a locally owned Maine pop up kitchen. They take pride in all their ingredients being prepared from scratch.
They serve up a New American style menu, with a personal twist! Freshly baked breads, smoked meats, and their own cured cheeses and meats.
One of the more popular items is "Grammys Smashed Again Burger" which features two homemade sugar jelly doughnuts, two smashed burgers with scratch pickles and maple bacon.
Their mouth watering menu also features poutine, a variety of tacos, and a personal fave, chicken & waffles!
Be sure to check out their Facebook page to find out where they will pop-up next. And, if you are
looking to host an event, have a dinner party for some close friends, or impress a new client, be sure to message The Butcher The Baker.
You can check them out in Old Town, at the The 2nd Annual Wings & Wheels Car Show & Fly-In'. The event is June 11th at Dewitt Field.
To give you an idea of just how good this new food truck is, check out this review by one very impressed customer on Facebook:
The Butcher The Baker Chicken & Waffles - Official Review:
Chicken & Waffles is an often attempted, rarely well executed dish I've only once raved about at a restaurant in San Francisco. Until now.
I don't know what you believe in, but as of 12:31pm I can tell you that heaven is real. And it has the best chicken & waffles ever. How else could the most impossible combo of a perfectly crispy, lightly-coated exterior and buttery tender boneless chicken breast be achieved?! The taste buds of Mr. Gordon Ramsay himself are not worthy of such an intricate flavor combination. The fork glides through each piece of chicken, initiating a crunch as it breaks the light outer coating to deliver the savory flavors and crunchy textures that could only be made better with bacon crumble accents and… is that sweet… corn bread I taste?? Yes, it is, from the most magnificent waffle I've ever seen. Adorned with an apple slaw that simply upper cuts your flavor center and leaves you breathing heavy & confused.

Price? I'd steal from a child for these waffles. I've eaten utter drivel for $14 and would consider an organ in exchange for this culinary concoction. The only down side to this meal is everything hereafter will be bland and mundane.
And, if you really love food trucks, our BEATS & EATS food truck festival is back.
Saturday, June 25, 2022 on the Bangor Waterfront, get ready to chow down at the party of the summer on the Bangor Waterfront! Food trucks & street food vendors from all over Maine will be dishing up a big selection of crazy good street food. Get your foodie friends and friends who like to party and head to the Bangor Waterfront to try out some new, mouth-watering dishes or indulge in your usual favorties, complete with ice cold adult beverages, games and awesome live music.
Get your tickets here
25 Food Festivals of Maine
Take a tour of Maine -- while taking in what makes Maine -- in the year-round festivals offered all over the state. From great Maine seafood and fish to delicious sweet treats to those odd and unusual Maine pride products, here are 25 festivals that Mainers put on to celebrate the great things of Maine with the community.
More From WWMJ Ellsworth Maine