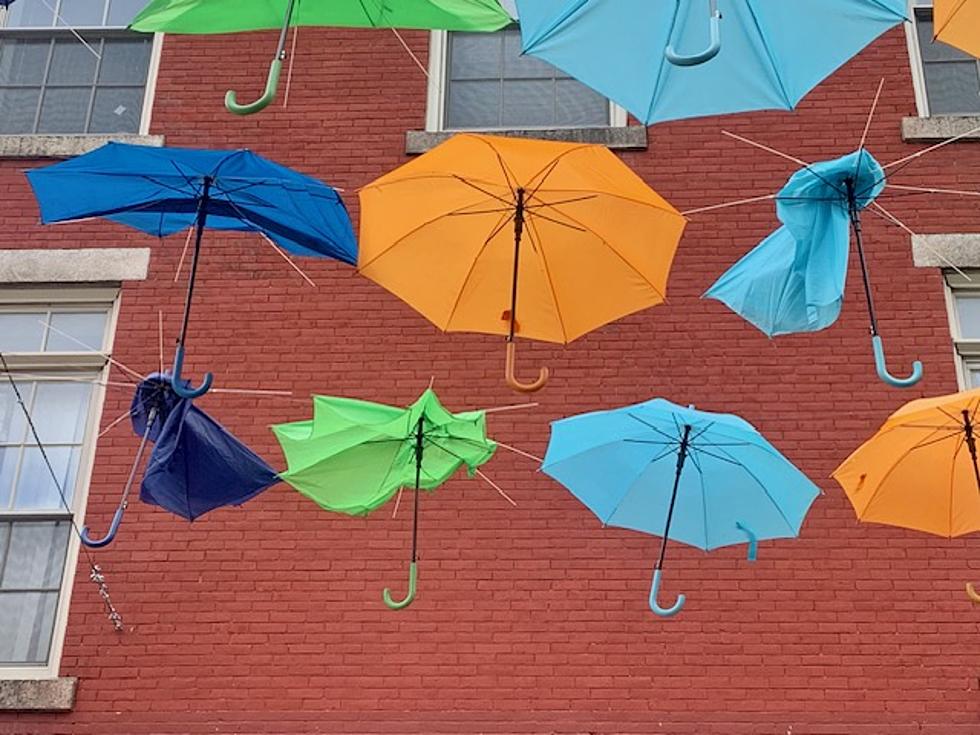 What Happens If This Weekend's Weather Wrecks Bangor's 'Umbrella Sky' Exhibit?
Umbrella Sky 8, Cori Skall
It's been a couple of months since the "Umbrella Sky" exhibit was installed on Cross St. in Bangor. The bright umbrellas drew quite the crowds following their unveiling, but as soon as the first big storm came through the area, some of the umbrellas were damaged and became entangled or came apart altogether.
I had heard they were repaired at one point but then noticed some more damage following another storm.
So that got me wondering what kind of challenges caring for an exhibit might create. Is there a maintenance budget? And who's responsible for that and how does the repair work get done?
I reached out to Betsy Lundy, Executive Director of the Downtown Bangor Partnership, (one of the organizations that helped bring the exhibit to Bangor) and she said there was, indeed, a plan in place for all of that, especially in light of this weekend's coming storm.
"The upcoming hurricane will definitely test the integrity of the installation. There is an installation in Miami very near the beach that is up year round and fares well even with their extreme weather."
Lundy said they have a budget specifically for taking care of damages the installation sustains in bad weather.
"We do have ongoing maintenance of the installation. We did have Impact Plan send us replacement umbrellas to complete the reset."
"We did build maintenance into the budget, however during our last reset of the umbrellas, we had our contractor investigate why some of the umbrellas are not faring well and it is because there are a number that do not have the fabric glued properly to the spines of the umbrellas causing them to unhook.  When we take them down this Fall, we will be able to get them completely shored up for reinstallation in the Spring."
"Beyond that, next year we will continue with a monthly reset of the installation, if necessary. Hopefully, by replacing the umbrellas that were improperly affixed by the manufacturer, it will be just a check-in and require little servicing."
 So regardless of what Tropical Storm Lee may bring us this weekend, it's good to know that if the installation doesn't whether the weather so well, there's already a plan in place that takes into consideration the repair and replacement of anything that gets wrecked.
Vintage Bangor Postcards
It's a super cool blast from the past.
These Are The Most Fun Street Names In the Bangor Area
A bunch of Bangor area streets and roads that are just darned fun to say out loud.
10 Bangor Playgrounds You Can Visit With Your Kids
If you're looking for a place to take your kids to run, jump and play, here are some options in the Bangor area.
More From WWMJ Ellsworth Maine