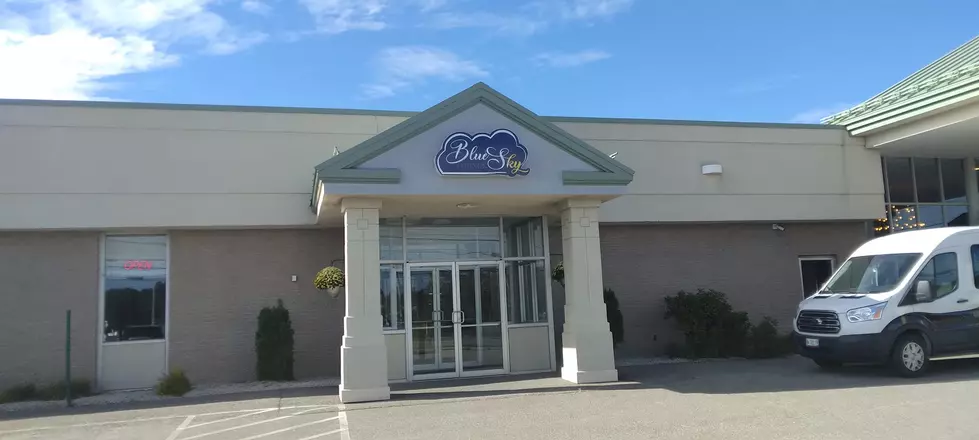 Bangor's "Blue Sky Lounge" To Ramp Up Saturday Dance Nights
Aj Photo
There was a time when Bangor had more than its share of options for those who wished to dance. That time has passed, and with the recent closing of the latest dance space, Half-Acre on Harlow St. there aren't many places left for those who want to shake a leg.
Last fall, right around Halloween, the newly renovated Blue Sky Lounge on Odlin Rd. in Bangor, capitalized on our sense of nostalgia, and brought back, for one night only, the dance club experience of days past, when they threw a big "Barnaby's" style Halloween Dance Party. (Barnaby's was one of Bangor's dance destinations many years ago, before closing for good in the fall of 2013. Blue Sky Lounge opened in its place last year.)
To say it went over well is an understatement.
People flocked to cash in on those old memories and make some new ones. Having been gutted and completely redesigned, the new floorplan means even more folks can fit on the dance floor.
This caught the attention of management, and they quietly started to bring back what was once a staple during the old Barnaby's days: Wednesday Nights, Ladies' Night.
"We've been doing Ladies' Night every Wednesday which includes an all-request DJ, so that's been going pretty well for us overall. People have been coming in and dancing. We run Ladies' Night specialty drinks so it's a great opportunity to bring their girlfriends and have a fun dance night."
Blue Sky Lounge's General Manager, Caitlyn Arellano, says there will soon be another weekly option for folks to go take part in.
"So what we're looking at doing, starting on February 4th, we'll be doing a DJ every Saturday and that will be running 8 PM till 11 PM. Once a month we'll be doing a theme night as well, relevant to the DJ; like decades (70's/80's nights) boy bands, and things of that nature. "
Arellano says it's an opportunity to fill a bit of a void for a specific age group in Eastern Maine who really want to dance.
"At this time, there's really not a spot for a lot of the demographic we're seeing, so it's great to have a spot, a dance area in particular, that isn't geared at the college-aged kids. It's a little bit more fun because we can work on those 'throw-back' and those 'retro' vibes, which is something people really seem to enjoy."
The new set-up allows for a bit more of an integrated experience, with 2 dance floors, a stage for the DJ and some separation from the bar, for folks who don't necessarily want to spend the entire night on the dance floor.
Arellano says folks can keep an eye on the Blue Sky Lounge Facebook Page, for up-to-date info on events.
The first big theme night will be the weekend of February 11th, Valentine's Day weekend, and it will be an 80's theme dance party.
24 Essential Things To Do and See In Bangor Maine
Must see and must do list of all the places locals and tourists alike should visit in the Queen City.
More From WWMJ Ellsworth Maine