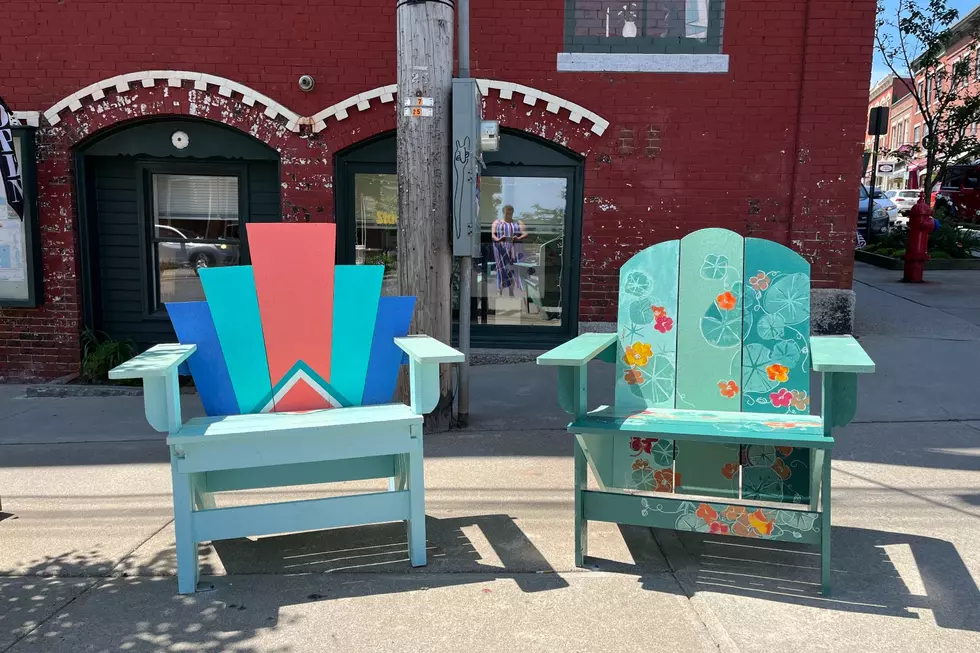 Belfast Wants You To Sit Down, With 15 New Places To Do It
Courtesy Our Town Belfast
Sit a spell.
Nothing like strolling through a town on foot, seeing what you rarely see from the car. But sometimes it can get tiring.
If you're in Belfast, walking that wonderful place, and want to sit a spell and take a breather, they have you covered.
The latest Our Town Belfast project is the installation of 15 artist-designed and painted chairs along Main Street.
Amanda Cunningham, executive director of Our Town Belfast says
This project is the most recent step of our placemaking strategy to create spaces with an emotional connection, where people want to be, in turn creating a strong, sustainable, interconnected community.
The OTB Design Committee identified a need for additional seating throughout downtown and thought of an iconic Adirondack chair, However, the traditional design often poses a challenge to get in and out.
These chairs are an updated version. Created locally.
The committee worked with locals for design and finished product painting and even had the wood cut locally.
No two chairs are alike and there are 15 between Post Office Square and the Park on Main.
Each chair has a plaque representing the artist, individual sponsor, and the presenting sponsors.
To learn more about the project, visit Our Town Belfast, a community-driven and nationally accredited Main Street organization whose mission is to grow and sustain Belfast's historic downtown while celebrating unique cultural heritage.
It's a great place to have a seat. Got a favorite?
Top-Pick Best Eats In Belfast Maine
Belfast, Maine is a quaint coastal community on Maines Mid-Coast. It is a haven for artists and very popular in the summer being right at the mouth of the Passagassawakeag River where it meets Belfast Bay. Belfast boasts a great downtown which is very dog friendly and a great place to walk and check out store unique storefronts and some hidden gems when it comes to restaurants. Here's a few of my favorites.
37 Essential Things To Do And See In Belfast
If you are visiting Belfast as a resident of Maine or as a tourist from out of state, this little town has a lot to offer those from near and far. With the help of
TripAdvisor.com's list of Belfast attractions
let's check out this comprehensive list of creative, historical, unique, and tasty finds that await you in Belfast, a bustling town on the coast of Maine.
More From WWMJ Ellsworth Maine